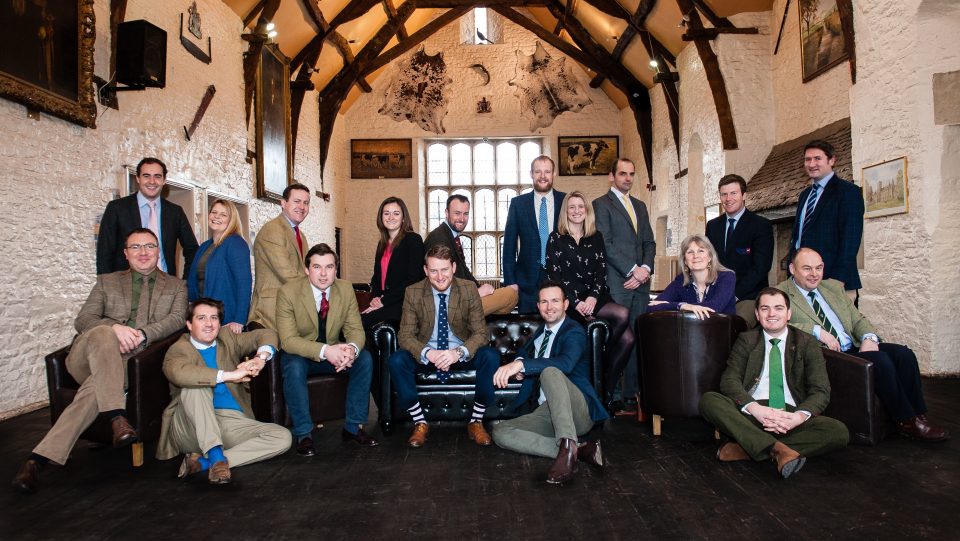 The Advanced Course in Agricultural Business Management (ACABM)
The ACABM is a three-week residential course run, on behalf of the Worshipful Company of Farmers, by the Royal Agricultural University. It is held each year on the Royal Agricultural University's campus in Cirencester, an excellent location that enables delegates to live in close proximity to the lecture facilities and to mingle, interact and exchange views and ideas with the full-time students attending the college.
The objective of the course is for the delegates to develop a deeper understanding of the wider business environment and to improve their capacity to operate effectively within their own businesses. This is achieved through a carefully balanced mix of lectures given by academics and industry leaders, together with hands on engagement in real life business case studies. Delegates are usually already in management positions when they attend the course and are typically those managers who recognise the value in broadening their knowledge base and being exposed to management 'best practice'.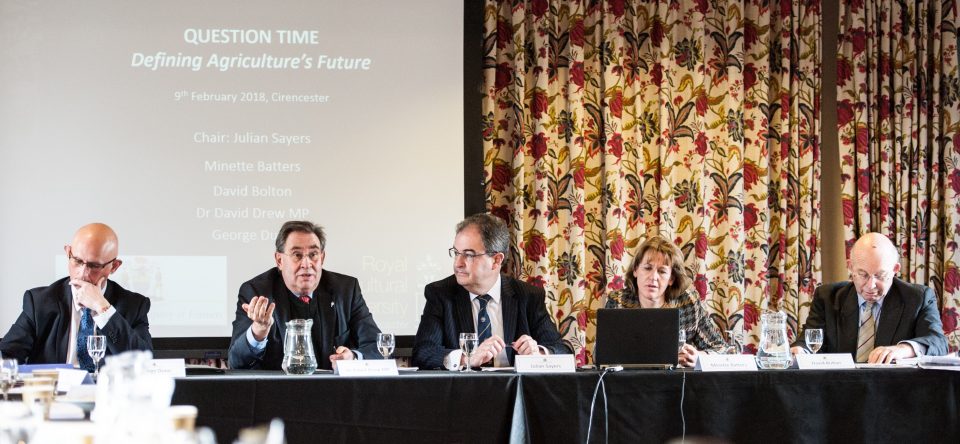 A great deal of emphasis is put on case study work. This is conducted in a close knit, team environment with delegates able to work on a number of different case studies during the three-week period. Such is the trust and camaraderie built up during these courses, that the case study work will often include looking at aspects of the delegates own businesses.
Some of the case studies also involve travel off-campus to the actual businesses. Here the delegates have a direct briefing from the business owners/managers and have the chance to ask questions to deepen their understanding and to study the issues, opportunities and facilities first-hand. The ACABM teams feedback their responses to the business owners/managers together with their recommendations for the future development and direction for the business studied.
Lectures are not confined to agricultural matters but instead cover the broad spectrum of disciplines needed to run successful businesses in today's tough economic environment. Presenters include senior officers from the military, experts in communications and marketing and leaders from industries either associated with agriculture or with something to teach agriculture.
To-date some 1400 delegates have been through the course, with many now in senior management positions throughout agriculture and allied businesses. Previous delegates have commented that attending the course has been 'life-changing', that they have made 'friends for life during the course' and that attending the course has been 'the best value for both money and time they could imagine'.
68th ACABM - November 2018
The 68th course, under the tutelage of Keith Barriball, will be held between Sunday 11th November and Saturday 1st December 2018. N.B. This late Autumn timing will remain the standard timing for the foreseeable future.
Interviews for the 68th course will be held at Farmers' and Fletchers' Hall,Three Cloth Street, London on Wednesday 5th September 2018.
For enquiries please contact Liveryman Stephen Watkins (stephenwatkins@farming.co.uk) or Chairman of Education Karen Mercer (karen@kjmercer.co.uk)
For further information on the Course and an application form follow this link https://www.rau.ac.uk/study/sh...
67th ACABM - January 2018
There were eighteen delegates on the 67th ACABM held at the Royal Agricultural University, Cirencester between late January and early February 2018 - including farmers, farm managers, consultants and delegates from Australia and New Zealand. The 2018 course was run by John Wibberley and Rita Walsh, who stepped in at short notice after the very sad and untimely death of long time Course Director John Alliston. It is very reassuring to be able to report that the delegates all gave a resounding thumbs up to the experience and its value to them as managers within the agricultural sector.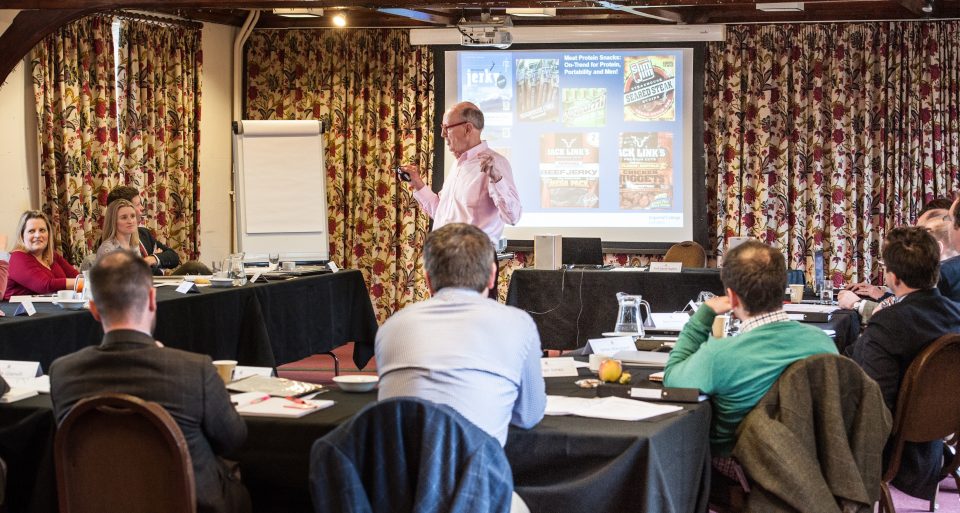 Mark Glanville applied to join the course on the advice of NFU President, Meurig Raymond, whose son had attended the year before, he had the following to say in his post course report. 'The beauty of the course is that everyone has a desire to be there. Every delegate had taken time to arrange cover whilst they were away from their business, family and other commitments. Our group bonded instantly and it was clear from the first evening that it was going to be a fulfilling 3 weeks!' He goes on to say, 'This course is one of the best things I have done for my career in agriculture. I enjoyed every moment, made friends for life and cannot recommend it enough for anyone who is serious about a life in business and farming.'
Another of the 67th course delegates was Australian rice farmer, Anthony Vagg. Anthony, already a Nuffield Scholar in Australia says 'The course ran over the three weeks and provided an intense schedule to stimulate and challenge delegates but also guests and presenters. The challenging nature of many topics, particularly Brexit and Succession planning provided rigorous debate which was encouraged and only led to better outcomes.'
'The speakers throughout the course were nothing short of exceptional. Notable speakers include Sean Rickards – Global competitiveness, David Hughes – Agricultural Food Marketing, Peter Morris – Media and Networking, John Alvis - Succession, Robert Shepherd - Leadership, Rod Parker – Agricultural future in the UK, Minette Batters - NFU and James Thompson – Dyson in Agriculture.'
'I cannot recommend this course highly enough to those individuals looking to develop managerial skills and are excited by the opportunity to be challenged by industry leaders and also their peers. The lifelong friendships we all have gained as a result cannot be underestimated and the greater Worshipful Company of Farmers Networks is always there for us to call on.'
A third delegate Emma Blandford joined the course on the advice of local peers in the industry and family contacts and friends who had attended previous courses. She says that her expectation levels were very high going into the three weeks because the course has established such a good reputation and to judge by her comments, we didn't let her down.
'The delegates brought with them a diverse range of agricultural business experience and skill sets, which was hugely beneficial to the group dynamic. Everyone could relate to each other, everyone had something in common but equally we were able to learn from each other, through insight into new ideas and experiences.'
'Personally I have taken a huge amount from the course from both a personal and business perspective. We have made great contacts and lifelong friends.'
With comments like these we can, as a Company, rightly be proud of this course and what it delivers to agriculture not just in the UK but around the world. But we can't and won't rest on our laurels say Chairman of Education Karen Mercer. "We are determined to ensure that our courses represent the very highest standards in the industry, which means keeping them under constant review and ensuring the contents and speakers are always top-notch, relevant and challenging. We will be working with our partners to ensure that the 68th Course which runs in November 2018 is at least as good as what has been a very good 67thcourse indeed."
66th ACABM - January 2017
The 2017 running of this prestigious course was held at the Royal Agricultural University in Cirencester between 17th January and 5th February. Once again we were blessed with a strong candidate list and the selection process produced a really impressive list of delegates. So it was that eighteen very diverse and interesting agri-business managers arrived in the RAU's delightful and inspiring halls to start their three weeks of intensive and demanding work. The course is residential and intended to be entirely immersive with the delegates delving deeply into each others businesses and providing the external perspective that we all need to be truly effective.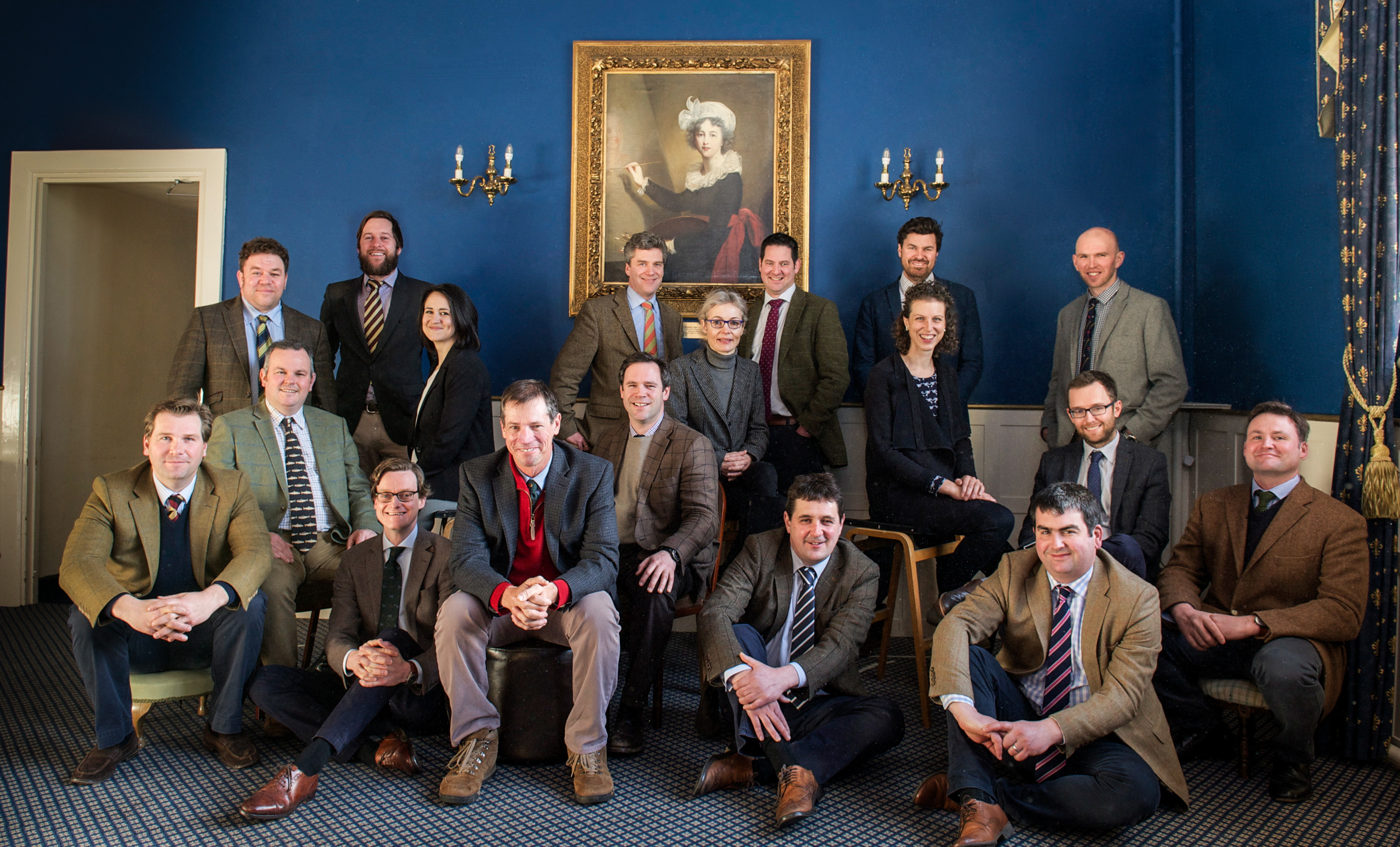 This 2017 group with three females and fifteen males had a lower gender mix than we would ideally have wished for, but did contain the caliber of candidate and diversity of interests so important for the success of the course. Adding to the dynamics of the group were two delegates from Germany and one from Australia.
The aim of the ACABM is to develop the managerial skills of the delegates and their understanding of the management of land based businesses. This is achieved through enhancing present knowledge by the use of a range of educational techniques and exposure to influential industry leaders. The 2017 cohort were treated to a very high class group of speakers that included Professor David Hughes, Lord Don Curry, Sean Rickard, Jane King and Allan Wilkinson to name just a few of the excellent cast of presenters that Professor John Alliston had engaged.
At the end of the course the delegates gave a summing up presentation and answered questions from the Company.
Some of the concluding comments, that seem to reflect the overall impression of the whole group were ... 'The RAU is an excellent venue', 'The course was all I had expected and more besides', 'The leadership and organisational skills of John Alliston's team were first class', John Alliston must have a truly impressive 'Little Black Book' of contacts and speakers, the ones he chose for us were top notch'.
But perhaps the most significant comment, and this is something we have heard before, was ....
'This has been a life-changing experience and I have made friends in these three weeks that I believe will last a lifetime.'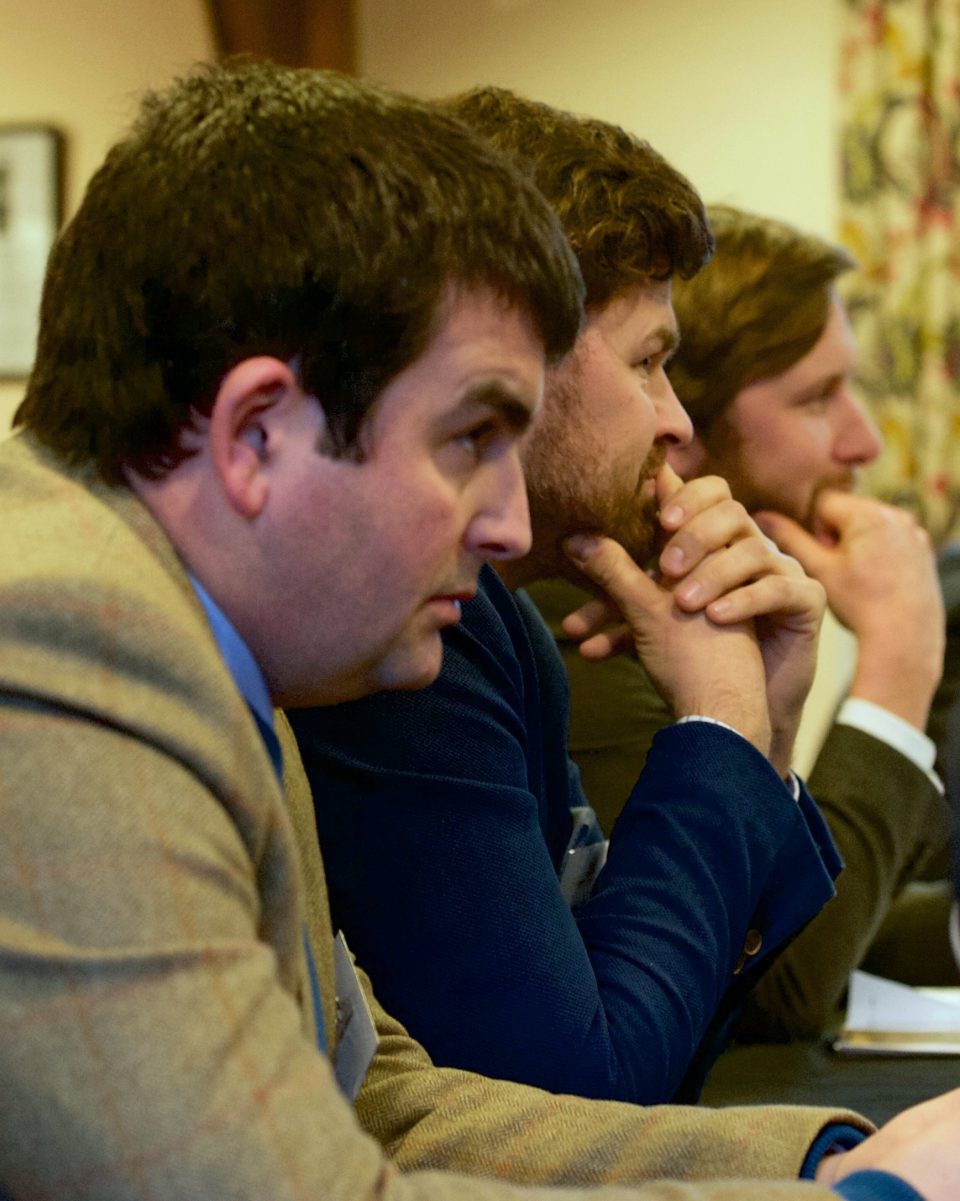 The delegates for the 2017 course.
Contantin Paeschke - Germany
Mauritz von Wersebe - Germany
Simon Mattson - Australia
Alister Morbey - Cambridgeshire
Thomas Morton - Cambridgeshire
Anna Leadbetter - Cambridgeshire
Sam Philips - Gloucestershire
Joseph Edwards - Hampshire Richard Evans - Kent
Paul Waterfall - Leicestershire
Charles Anyan - Lincolnshire
Rowan Adams - Northamptonshire
Emma Harle - Northumberland
Paul Raymond - Pembrokeshire
Chris Owen - Shropshire
David Ullyat - Wiltshire
Jonathon Smales - Wiltshire
David Helliar - Wiltshire