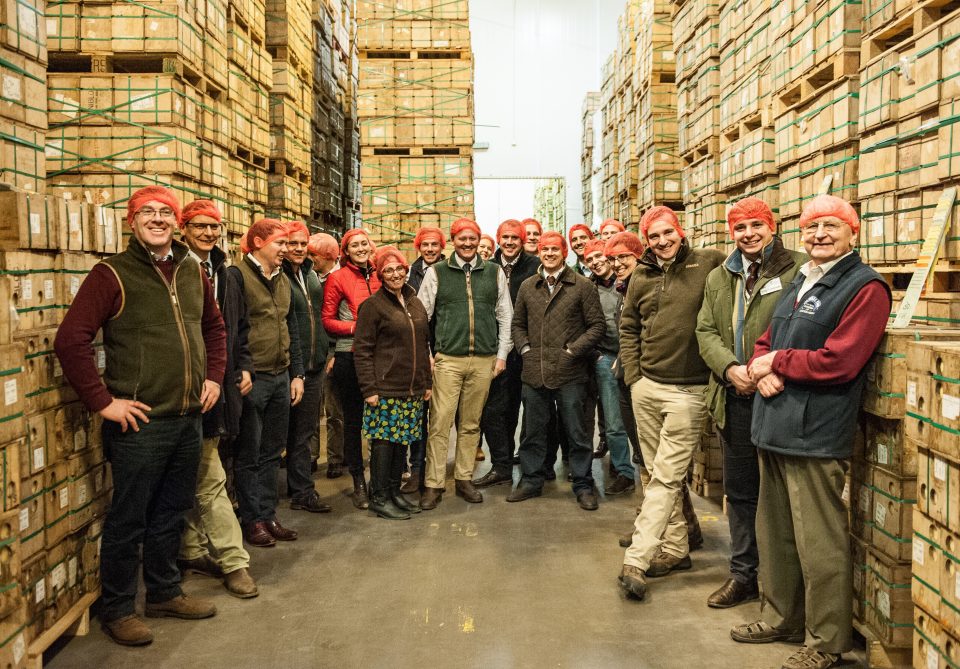 The Advanced Course in Agricultural Business Management (ACABM)
The ACABM is a three-week residential course run, on behalf of the Worshipful Company of Farmers, by the Royal Agricultural University. It is held each year on the Royal Agricultural University's campus in Cirencester, an excellent location that enables delegates to live in close proximity to the lecture facilities and to mingle, interact and exchange views and ideas with the full-time students attending the college.

The objective of the course is for the delegates to develop a deeper understanding of the wider business environment and to improve their capacity to operate effectively within their own businesses. This is achieved through a carefully balanced mix of lectures given by academics and industry leaders, together with hands on engagement in real life business case studies. Delegates are usually already in management positions when they attend the course and are typically those managers who recognise the value in broadening their knowledge base and being exposed to management 'best practice'.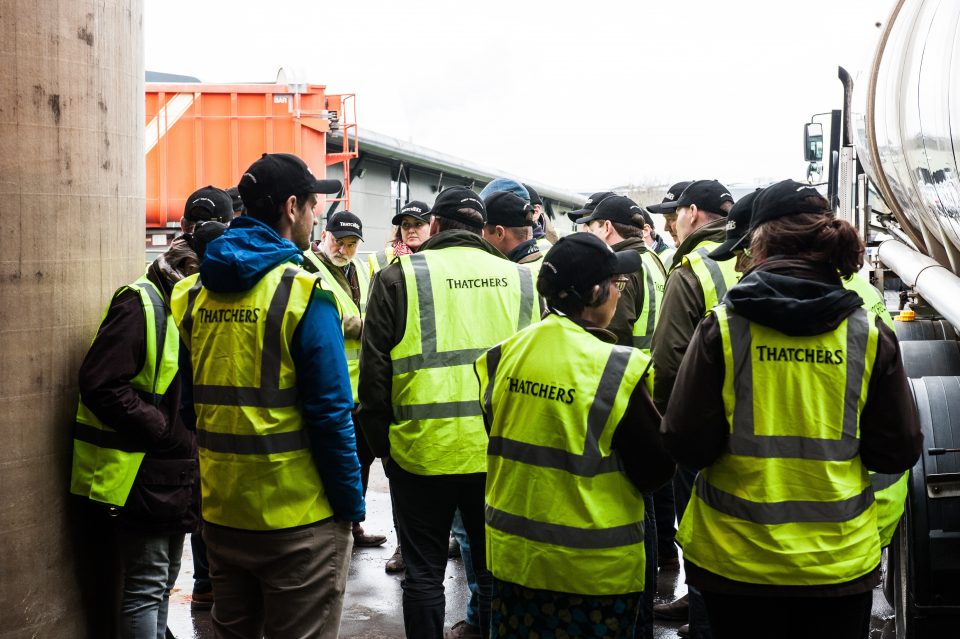 A great deal of emphasis is put on case study work. This is conducted in a close knit, team environment with delegates able to work on a number of different case studies during the three-week period. Such is the trust and camaraderie built up during these courses, that the case study work will often include looking at aspects of the delegates own businesses.
Some of the case studies also involve travel off-campus to the actual businesses. Here the delegates have a direct briefing from the business owners/managers and have the chance to ask questions to deepen their understanding and to study the issues, opportunities and facilities first-hand. The ACABM teams feedback their responses to the business owners/managers together with their recommendations for the future development and direction for the business studied.
Lectures are not confined to agricultural matters but instead cover the broad spectrum of disciplines needed to run successful businesses in today's tough economic environment. Presenters include senior officers from the military, experts in communications and marketing and leaders from industries either associated with agriculture or with something to teach agriculture.
To-date some 1400 delegates have been through the course, with many now in senior management positions throughout agriculture and allied businesses. Previous delegates have commented that attending the course has been 'life-changing', that they have made 'friends for life during the course' and that attending the course has been 'the best value for both money and time they could imagine'.
Contact for more information:
Course Administrator - Course Administrator, Elizabeth Badger on elizabeth.badger@rau.ac.uk or WCF Chairman of Education, Richard Davies on richard@redcomms3d.com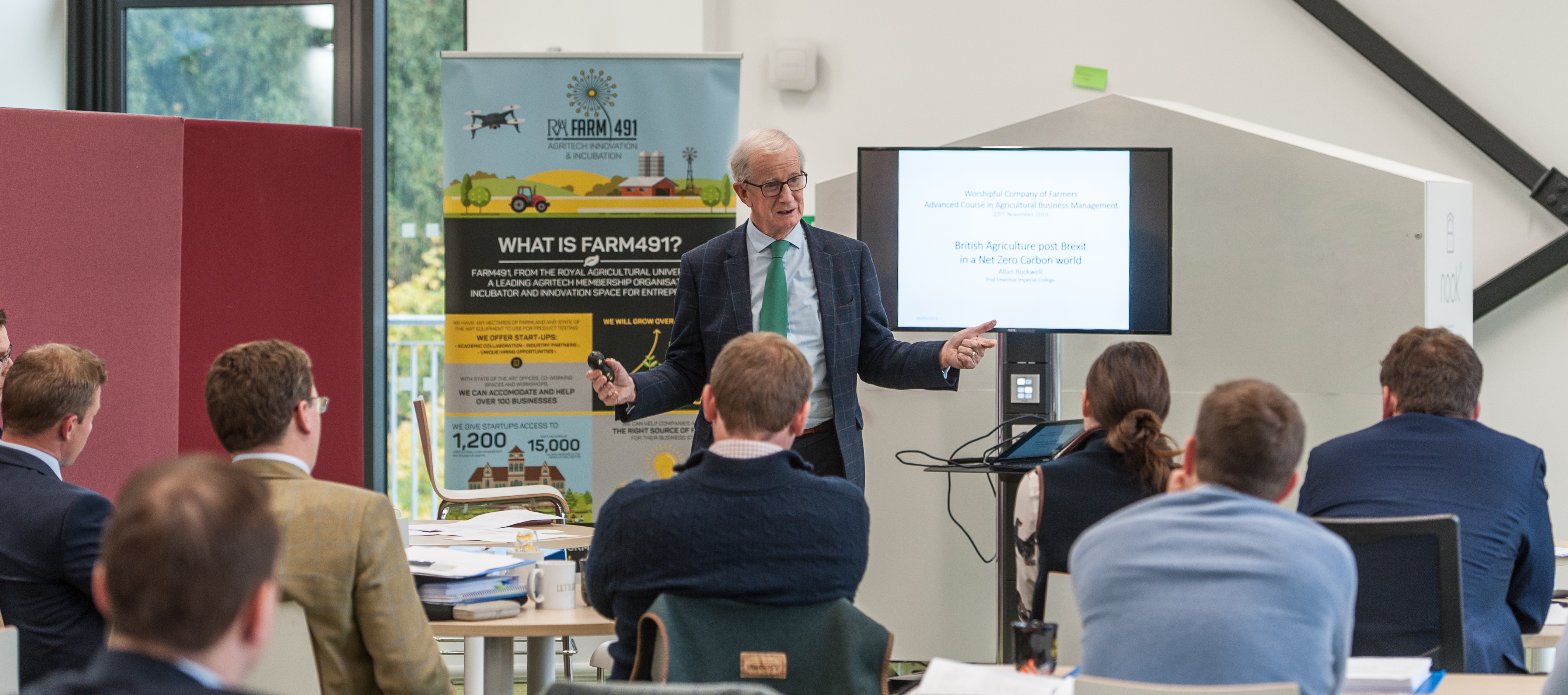 69th ACABM - November 2019
Friday 29th November saw the wash-up session and final dinner at the conclusion of another really excellent Advanced Course in Agricultural Business Management course.
There were 19 excellent delegates all now also signed up as members of the WCFA association. It had been clear from interview day onwards, that this would be an exceptional group and so it has proved. A good mix of farmers from small family farms to large commercial units, and the associated professions and industries and from all over the UK from Somerset to Fife and pretty much every region in between. Unfortunately only three of the delegates were women and this is something the delegates themselves suggested they might be able to help address for future courses.
There was an overwhelmingly positive response to the range and quality of the over forty external speakers who presented during the three weeks. The course delivery team of Keith Barriball, Louise Manning and Elizabeth Badger were also singled out by the delegates for high praise.
It was evident during the wash-up just how well this particular cohort had gelled and the degree of support they all felt from their fellow delegates. It was equally clear that for many the course had not only been inspirational but also emotional. For farmers unused to being able to share their innermost thoughts the opportunity to express their concerns, aspirations and emotions within a really supportive environment had been, to use. the words we hear so often about our courses, life changing.
Feedback from delegates was overwhelmingly positive as was their commitment to helping the Company to encourage others to attend in future.
The full list of delegates attending the 69th ACABM
| | |
| --- | --- |
| Mark Seager | Somerset |
| Holly Smallman | London |
| Mark Jelley | Northamptonshire |
| Mark Ward | N Yorkshire |
| Paul Carrott | Lincolnshire |
| Alan Clifton-Holt | Kent |
| Greg Colebrook | Cambridgshire |
| Carolyn Coxe | Lincolnshire |
| Roy Fisher | Fife |
| Charles Ford | Essex |
| Hamish Gairdner | Oxfordshire |
| Paul Gillies | Suffolk |
| Craig Livingstone | Hampshire |
| Amelia McClean | Kent |
| Jason Noy | Wiltshire |
| Antoon Smits | Netherlands |
| Guy Taylor | Suffolk |
| Patrick Tomlinson | Lincolnshire |
| George Whelan | Kent |
68th ACABM - November 2018
Delegates for the Worshipful Company of Farmers' 68th, Advanced Course in Agricultural Business Management, the first in the new November annual timing slot, met at the Royal Agricultural University on Sunday 11th December under the tutelage of Keith Barriball to start three weeks of what proved to be intense and 'life-changing' study and engagement.

Here's what delegate George Hurrall thought about the the experience of being one of the delegates on this course:-
George Hurrell – My thoughts on the 2018 ACABM I attended in November
Now the dust has settled, having completed the WCF Advanced Course in Agricultural Business Management, I can reflect and conclude that this course has been the most helpful and thought-provoking experience of my professional career. Having hit what I considered a 'glass ceiling' in farm management and with uncertain times ahead, I thought that now was the right time to push myself and interview for the 68th ACABM. I wanted to ensure that I knew my business inside out, have my mind opened to diversification projects and focus on the way that I lead employees going forward.
The course itself taught me to rethink the way I run our family business, it is essential that as an industry we become more professional and the ACABM is the first step in this process, it built my confidence and tought me new skills that I now use on a daily bases. The opportunity to benchmark against others on the course is invaluable and all delegates will make new friends for life.
Testimonial - from 68th ACABM delegate Rupert Haywood
There are two main reasons why I chose to do the ACABM. I was listening to the radio one day in the pickup and a gentleman was being interviewed about his business. The discussion was about further business training and he said I am the biggest restricting factor for growth in my business. This resonated with me and from that point started looking at options.
This was a fairly daunting task at the age of 45, not a lover of school and the education system. I had heard of the WCF and a friend of mine had completed the Challenge for Rural Leadership Course about 4 years ago. Since completing the course he has implemented many changes to his faming business. Looking in from the outside it was clear to see the WCF course had given him the confidence to take his business a step further but when I looked at the course content and structure, I felt this course wasn't for me - however after digging a little deeper thought the ACABM might be worth a go.
So I gave the coordinator for the course Elizabeth Badger a call. She was so very helpful; having a small environmental contracting business and upland farm I had many questions on how applicable the course contents would be to me; the delegate makeup and topics covered.
My two main concerns however were, firstly that I might be out of my depth and secondly, that the course would be dominated by large arable farmers, with whom I would feel no affinity. I felt course diversity was key.
After a number of long discussions with Elizabeth she was able to give me the confidence that I could possibly be worthy enough for a place on the 2018 ACABM course.
The application process was brilliant, for the first time ever I sat back and actually wrote down my business achievements and what I do on day-to-day basis. Which made me realise what I had actually already achieved and what I was doing. I can quite honestly say this was one of the most constructive thing I have done in a very long time.
The application process was brilliant, for the first time ever I sat back and actually wrote down my business achievements and what I do on day-to-day basis. Which made me realise what I had actually already achieved and what I was doing. I can quite honestly say this was one of the most constructive thing I have done in a very long time.
The next stage was the interview, trip to London, jacket and tie. I thoroughly enjoyed the interview, course diversity was very much on my agenda and I felt very much this was addressed.
November came round very quickly, lots of shirts were ironed; the pickup loaded-up and off to the RAU. With one main objective to try and let the lads back at home manage without me for three whole weeks. I left the RAC in 1994 with a BSc in Agriculture and Land Management, so it was all a bit of shock being back in the classroom. I met the other delegates, all very interesting people and all feeling quite chuffed we were on the course.
Keith Barraball directed the course and immediately captivated us with his knowledge and drive. We presented case studies on our businesses and then presented case studies on other delegate's businesses. By the end of the first week we had all been brought down to a similar level. Very little was left unturned and everyone was being very honest with each other and egos suppressed. This was a very humbling experience I was amongst some big players and very much felt part of the gang. Week two and three we all built-up in confidence challenging speakers as a team.
Three weeks was definitely necessary to build up the relationship with the other delegates. Everyone had something to offer, going forward the WhatsApp chat has been great, with 17 other delegates someone is bound to know something about your question, often experiencing it first-hand. What an amazing tool for any business.
Looking into the future, I am so very excited about what we can do, I have been given the confidence to implement many new projects; really I feel the sky is the limit. What's more we plan to all meet annually and I don't want to be the one that's says its just 'same old', 'same old'. What a driver!
In respects for recruiting for the ACABM, this is a hard one. To try and persuade someone to part with a significant sum of money AND take a chunk of time off work is a hard sell. However after completing the course, the best sales advice I can give, speak to someone who has done the course. Or just sit back and observe someone who has and see how they have changed their business. For me it is a life changer.
The full list of delegates attending the 68th ACABM
| | |
| --- | --- |
| Edward Corbett | Shropshire |
| Peter Craven | Lincolnshire |
| Peter Cox | Suffolk |
| Simon Day | Lincolnshire |
| Adam Driver | Suffolk |
| William Forsyth | Warkwickshire |
| Alex Hall | Essex |
| Edward Hammond | Nottinghamshire |
| Rupert Haywood | Northumberland |
| George Hurrell | Cambridgshire |
| Stuart Laws | Norfolk |
| Ryan McCormack | Kent |
| Charles Marshall | Linccolnshire |
| Michael Patch | Gloucestershire |
| Stephen Siddorn | Northumberland |
| Pieter Smits | Netherlands |
| James Trotter | Gloucestershire |
| Helen Thomas | Australia Nuffield |
67th ACABM - January 2018
There were eighteen delegates on the 67th ACABM held at the Royal Agricultural University, Cirencester between late January and early February 2018 - including farmers, farm managers, consultants and delegates from Australia and New Zealand. The 2018 course was run by John Wibberley and Rita Walsh, who stepped in at short notice after the very sad and untimely death of long time Course Director John Alliston. It is very reassuring to be able to report that the delegates all gave a resounding thumbs up to the experience and its value to them as managers within the agricultural sector.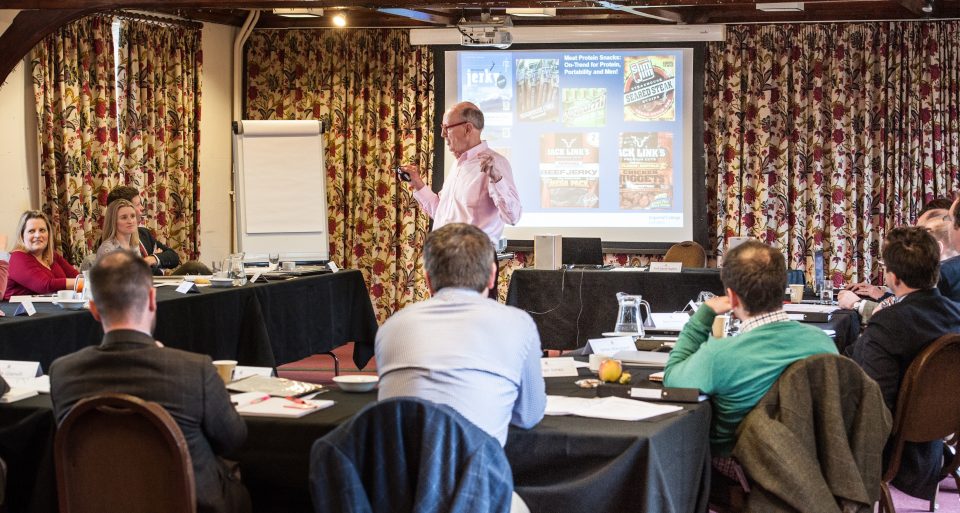 Mark Glanville applied to join the course on the advice of NFU President, Meurig Raymond, whose son had attended the year before, he had the following to say in his post course report. 'The beauty of the course is that everyone has a desire to be there. Every delegate had taken time to arrange cover whilst they were away from their business, family and other commitments. Our group bonded instantly and it was clear from the first evening that it was going to be a fulfilling 3 weeks!' He goes on to say, 'This course is one of the best things I have done for my career in agriculture. I enjoyed every moment, made friends for life and cannot recommend it enough for anyone who is serious about a life in business and farming.'
Another of the 67th course delegates was Australian rice farmer, Anthony Vagg. Anthony, already a Nuffield Scholar in Australia says 'The course ran over the three weeks and provided an intense schedule to stimulate and challenge delegates but also guests and presenters. The challenging nature of many topics, particularly Brexit and Succession planning provided rigorous debate which was encouraged and only led to better outcomes.'
'The speakers throughout the course were nothing short of exceptional. Notable speakers include Sean Rickards – Global competitiveness, David Hughes – Agricultural Food Marketing, Peter Morris – Media and Networking, John Alvis - Succession, Robert Shepherd - Leadership, Rod Parker – Agricultural future in the UK, Minette Batters - NFU and James Thompson – Dyson in Agriculture.'
'I cannot recommend this course highly enough to those individuals looking to develop managerial skills and are excited by the opportunity to be challenged by industry leaders and also their peers. The lifelong friendships we all have gained as a result cannot be underestimated and the greater Worshipful Company of Farmers Networks is always there for us to call on.'
A third delegate Emma Blandford joined the course on the advice of local peers in the industry and family contacts and friends who had attended previous courses. She says that her expectation levels were very high going into the three weeks because the course has established such a good reputation and to judge by her comments, we didn't let her down.
'The delegates brought with them a diverse range of agricultural business experience and skill sets, which was hugely beneficial to the group dynamic. Everyone could relate to each other, everyone had something in common but equally we were able to learn from each other, through insight into new ideas and experiences.'
'Personally I have taken a huge amount from the course from both a personal and business perspective. We have made great contacts and lifelong friends.'
With comments like these we can, as a Company, rightly be proud of this course and what it delivers to agriculture not just in the UK but around the world. But we can't and won't rest on our laurels say Chairman of Education Karen Mercer. "We are determined to ensure that our courses represent the very highest standards in the industry, which means keeping them under constant review and ensuring the contents and speakers are always top-notch, relevant and challenging. We will be working with our partners to ensure that the 68th Course which runs in November 2018 is at least as good as what has been a very good 67thcourse indeed."
66th ACABM - January 2017
The 2017 running of this prestigious course was held at the Royal Agricultural University in Cirencester between 17th January and 5th February. Once again we were blessed with a strong candidate list and the selection process produced a really impressive list of delegates. So it was that eighteen very diverse and interesting agri-business managers arrived in the RAU's delightful and inspiring halls to start their three weeks of intensive and demanding work. The course is residential and intended to be entirely immersive with the delegates delving deeply into each others businesses and providing the external perspective that we all need to be truly effective.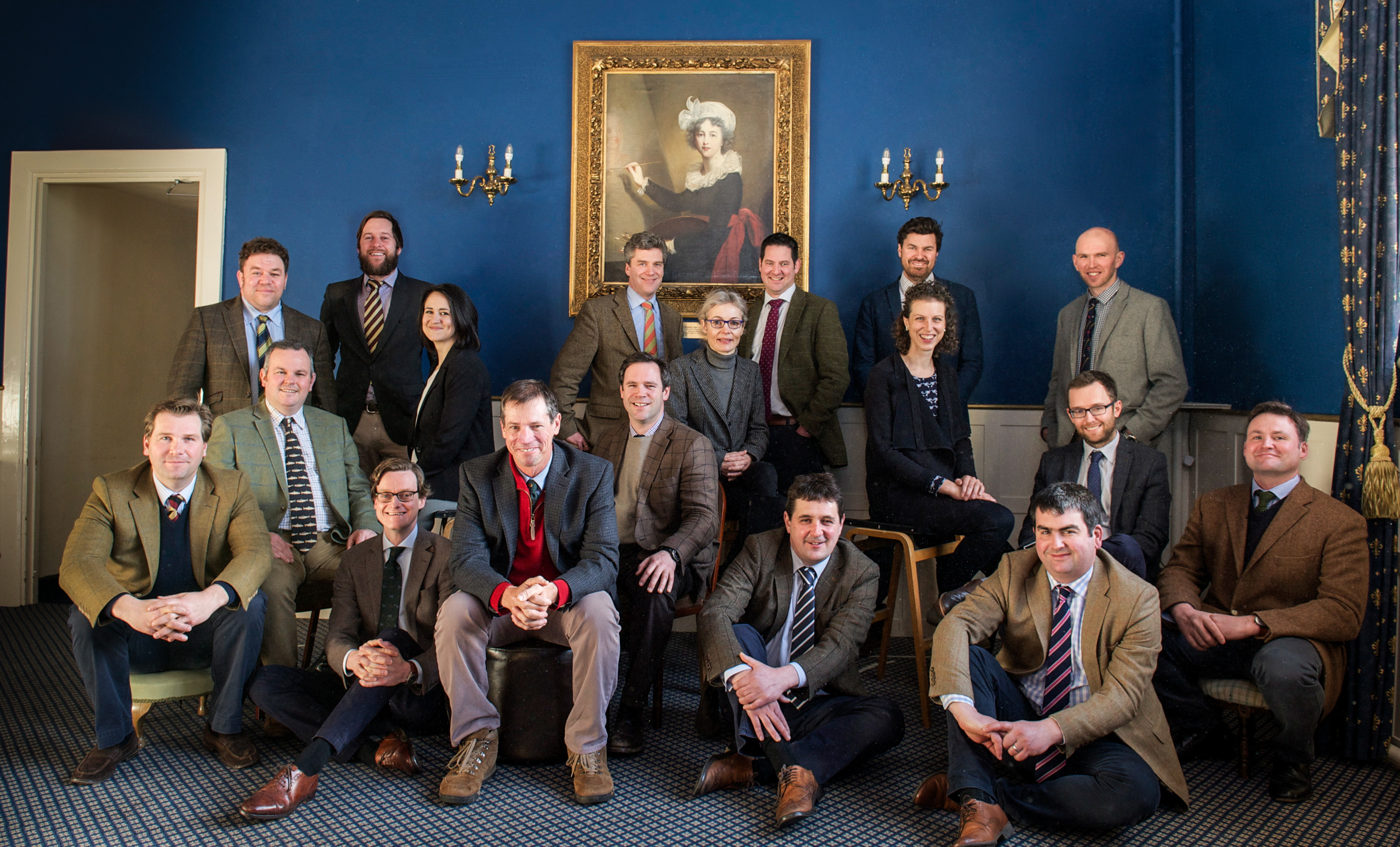 This 2017 group with three females and fifteen males had a lower gender mix than we would ideally have wished for, but did contain the caliber of candidate and diversity of interests so important for the success of the course. Adding to the dynamics of the group were two delegates from Germany and one from Australia.
The aim of the ACABM is to develop the managerial skills of the delegates and their understanding of the management of land based businesses. This is achieved through enhancing present knowledge by the use of a range of educational techniques and exposure to influential industry leaders. The 2017 cohort were treated to a very high class group of speakers that included Professor David Hughes, Lord Don Curry, Sean Rickard, Jane King and Allan Wilkinson to name just a few of the excellent cast of presenters that Professor John Alliston had engaged.
At the end of the course the delegates gave a summing up presentation and answered questions from the Company.
Some of the concluding comments, that seem to reflect the overall impression of the whole group were ... 'The RAU is an excellent venue', 'The course was all I had expected and more besides', 'The leadership and organisational skills of John Alliston's team were first class', John Alliston must have a truly impressive 'Little Black Book' of contacts and speakers, the ones he chose for us were top notch'.
But perhaps the most significant comment, and this is something we have heard before, was ....
'This has been a life-changing experience and I have made friends in these three weeks that I believe will last a lifetime.'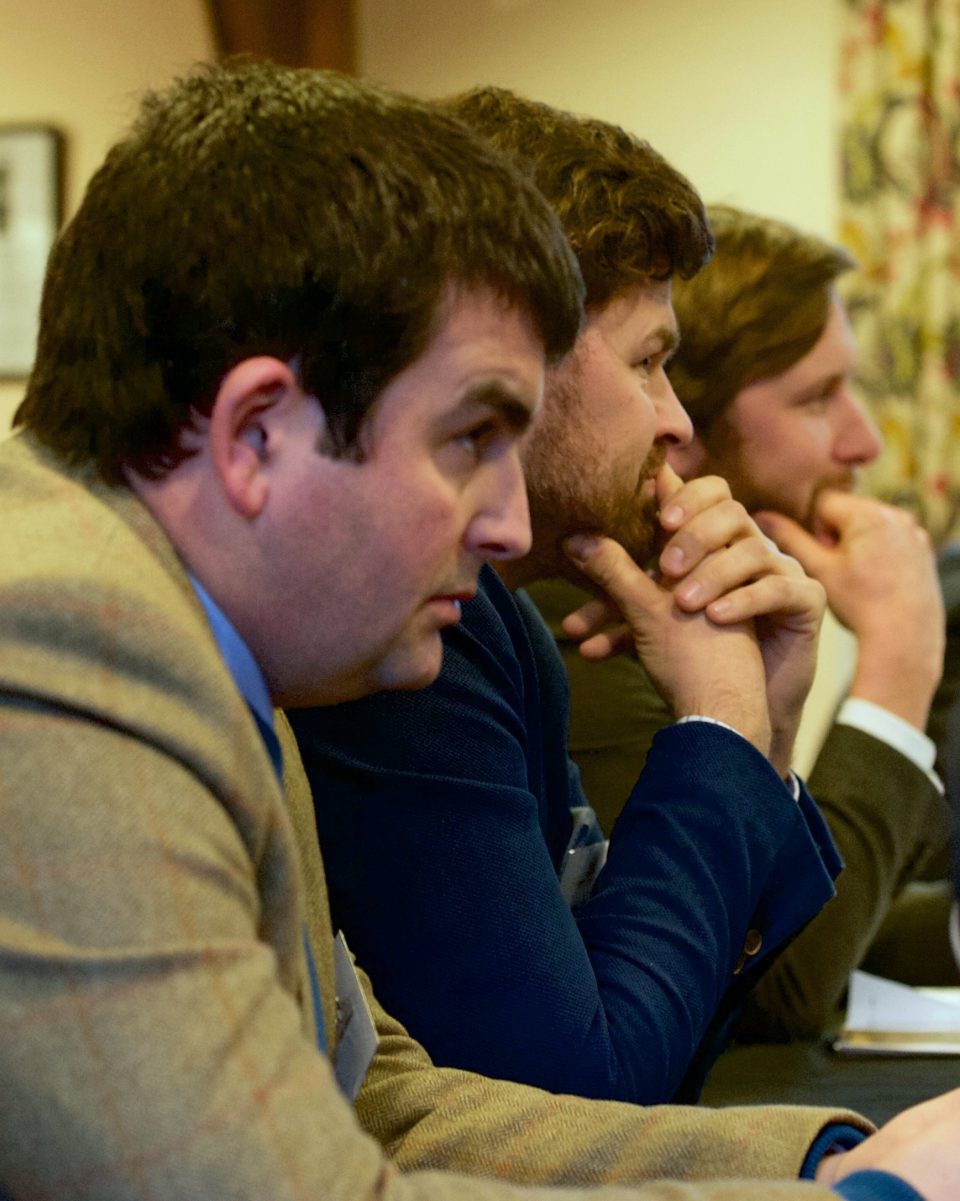 A full list of delegates attending the 66th ACABM
Contantin Paeschke - Germany
Mauritz von Wersebe - Germany
Simon Mattson - Australia
Alister Morbey - Cambridgeshire
Thomas Morton - Cambridgeshire
Anna Leadbetter - Cambridgeshire
Sam Philips - Gloucestershire
Joseph Edwards - Hampshire Richard Evans - Kent
Paul Waterfall - Leicestershire
Charles Anyan - Lincolnshire
Rowan Adams - Northamptonshire
Emma Harle - Northumberland
Paul Raymond - Pembrokeshire
Chris Owen - Shropshire
David Ullyat - Wiltshire
Jonathon Smales - Wiltshire
David Helliar - Wiltshire