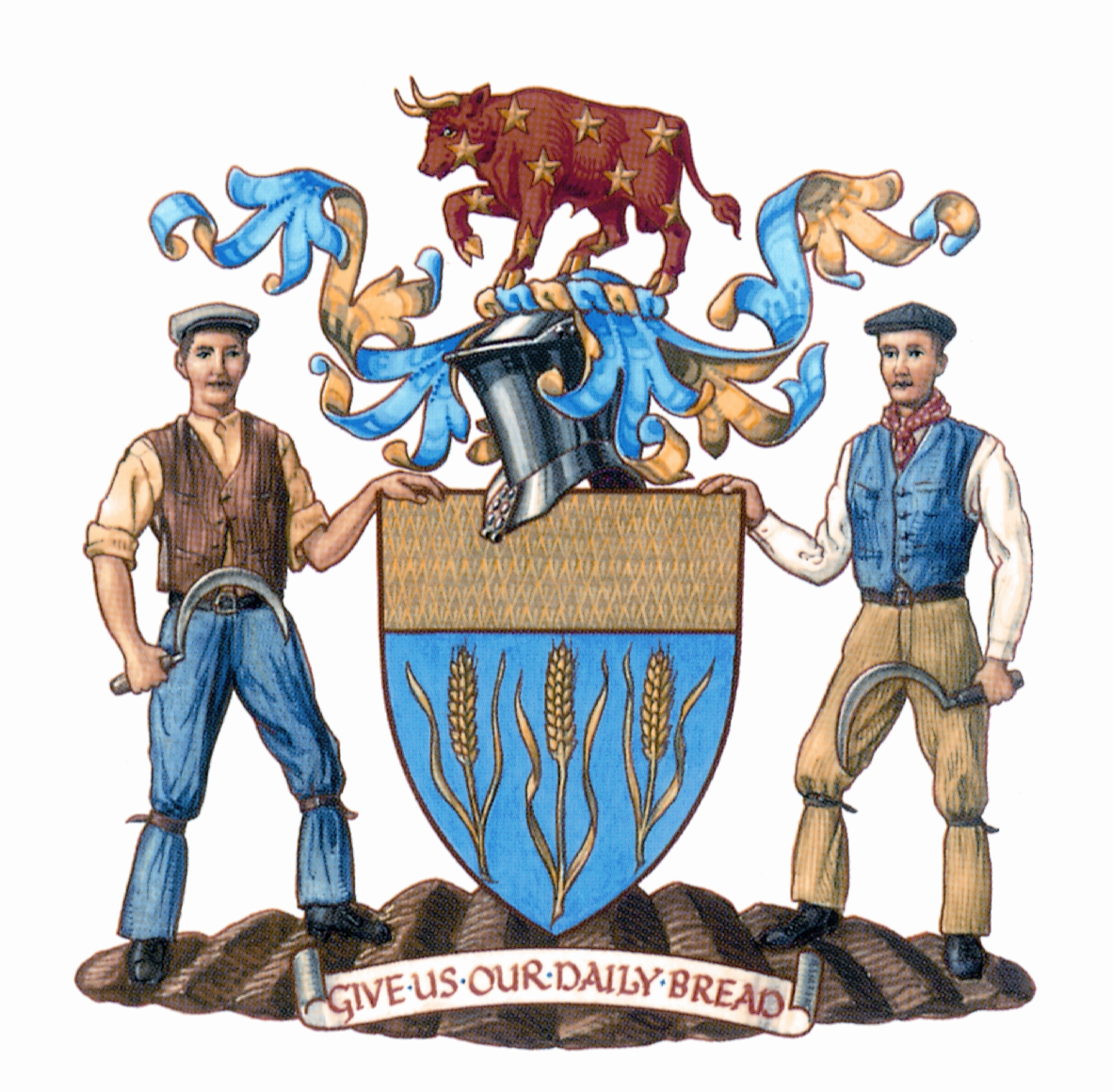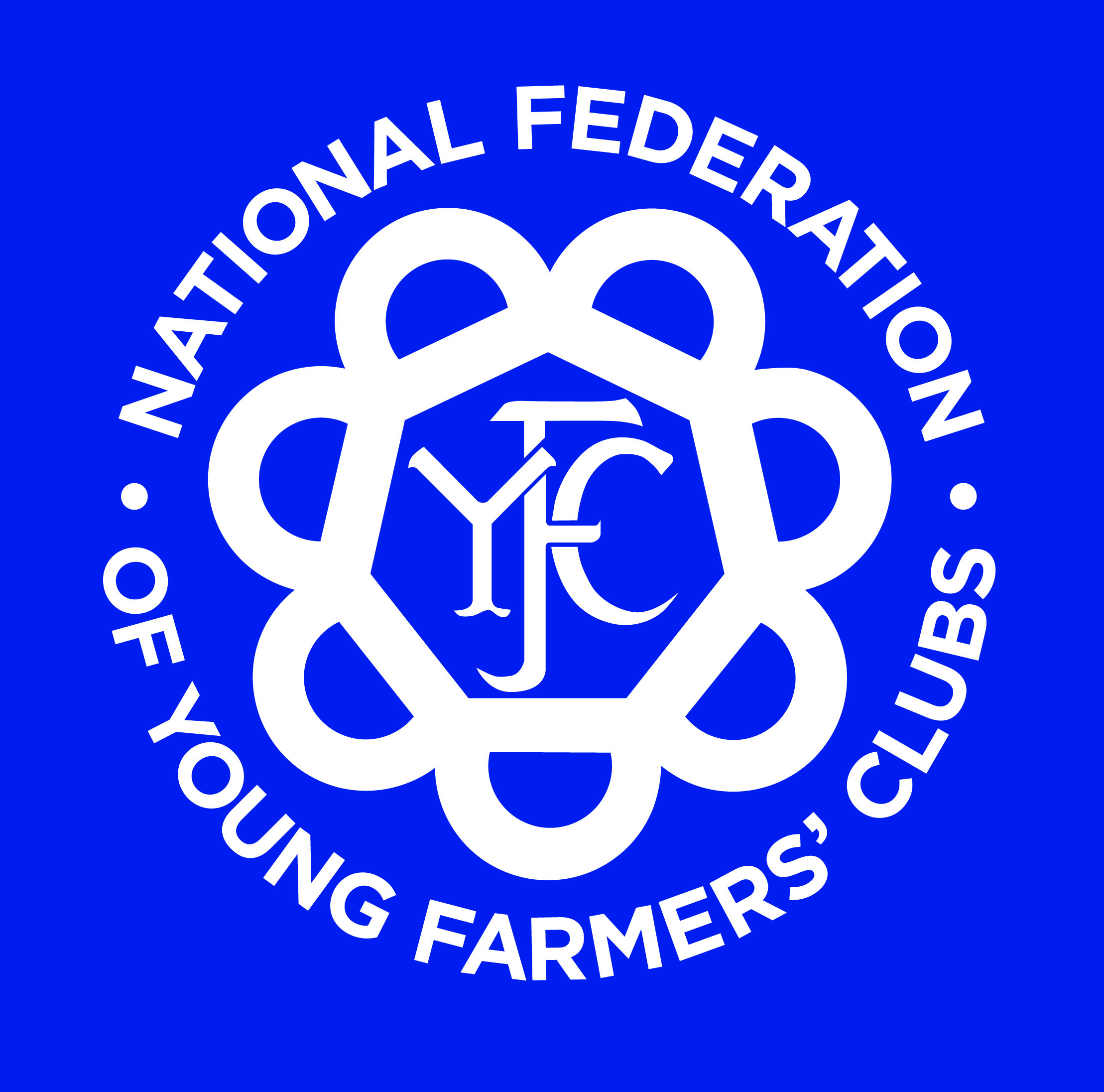 The Jubilee Scholarships
During her year as Master in 2001/2002 HRH the Princess Royal helped the Company establish a Scholarship Fund to celebrate the 50th Anniversary of the Farmers Company and Her Majesty The Queen's Golden Jubilee.
Awards are made each year to assist younger members of the agricultural community with their educational training expenses. The awards are made through the National Federation of Young Farmers Clubs. As well as receiving an award of £500 for training purposes, recipients are also allocated a 'Livery Buddy'.
The 'Buddy is selected to be relevant to area of interest of the recipient, this helps create the opportunity for them to be directly involved in the area of agriculture that most interests them. The 'Buddy' also helps them become involved with the Company so that they make the most of the Company's contacts and expertise.

The 2017 Awards
For 2017 the arrangements for making awards have been changed to reflect the entries we have had in previous years. So for 2017 there will be three age categories instead of two; 'Under 18 years'. '18-21 year olds' and 'Over 21 years old'.
The 2016 Awards
Three Awards were made in September 2016
21 years and Over – Matthew Denby from Lincolnshire. His Livery buddy is Scott Norris
18 – 21 – Chloe Dunne from Leicestershire. Her Livery Buddy is Grant Burton
Under 18 – George Smith from Warwickshire. His Livery Buddy is Thomas Wheatley Hubbard.
Each of the Award winners receive £500.00 for training that has to be completed by April 2017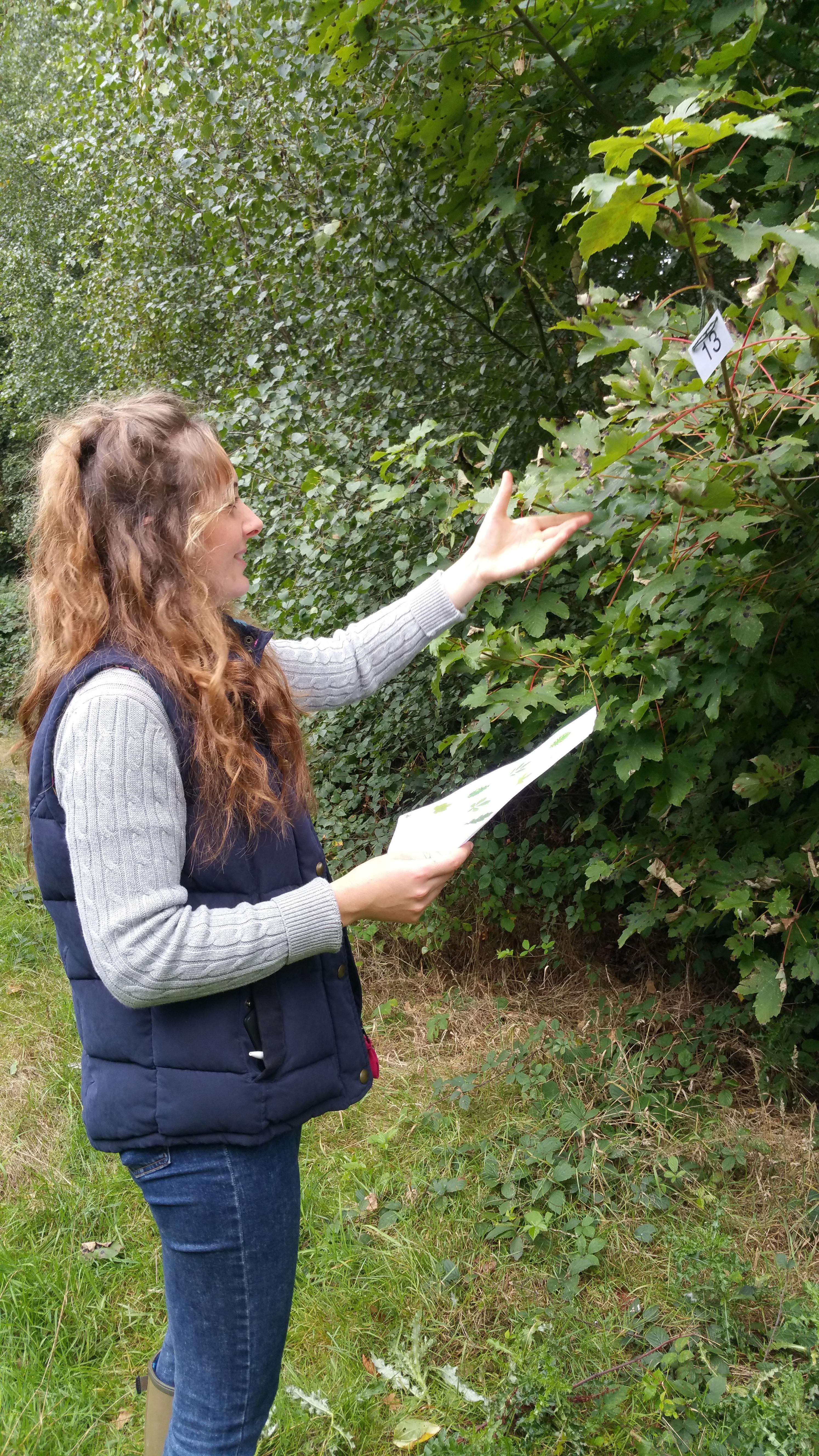 Chloe Dunn - My WCF Jubilee Award
Introduction
Last year, I was lucky enough to be granted the Training and Development scholarship from the Worshipful Company of Farmers, in association with the National Federation of Young Farmers Clubs. This gave me £500 to use towards completing my 'Transportation of Animals' license, as well as the training and assessment of PA2. Additionally, I was also allocated Grant Burton, as my 'Livery Buddy'.
At present, I am a student at the University of Nottingham studying Integrated Agriculture and Business Management.
Visits
Blakenhall Park, Countryside Education Site
My first visit as part of the scholarship was organized by Karen Mercer to Mercer Farming at Blakenhall Park to visit their countryside education site.
The day started with meeting Sally Mercer and Vicki Boothby, who showed me around the learning area; a big field complete with converted picnic tent, learning tent, a pond, a pen of pigs and a pen of sheep.
The children arrived via pick-up truck and trailer and headed straight to the woods where they were taught about what animals they could find here. It was a great, interactive activity that the children really seemed to enjoy - they seemed quite surprised by some of the facts they learnt about the woodland animals too!
The next activity was a 'leaf trail'. The children (and any big- kids-at-heart) were given a 'key' of leaves to look for and collect during the woodland walk. This was really fun and occupied us all until lunchtime.
After lunch inside the picnic tent, the children were taught about the pigs and sheep: what type of animal they are, how they are looked after, and what they are bred for.
We then split into three groups and the children rotated between pond dipping with Vicki, a machinery talk from Roy, and frog and insect hunting with myself. This brought the day to a close and, after one boy protesting leaving because he had enjoyed the farm so much, they were eventually taken back through the fields to meet their coach.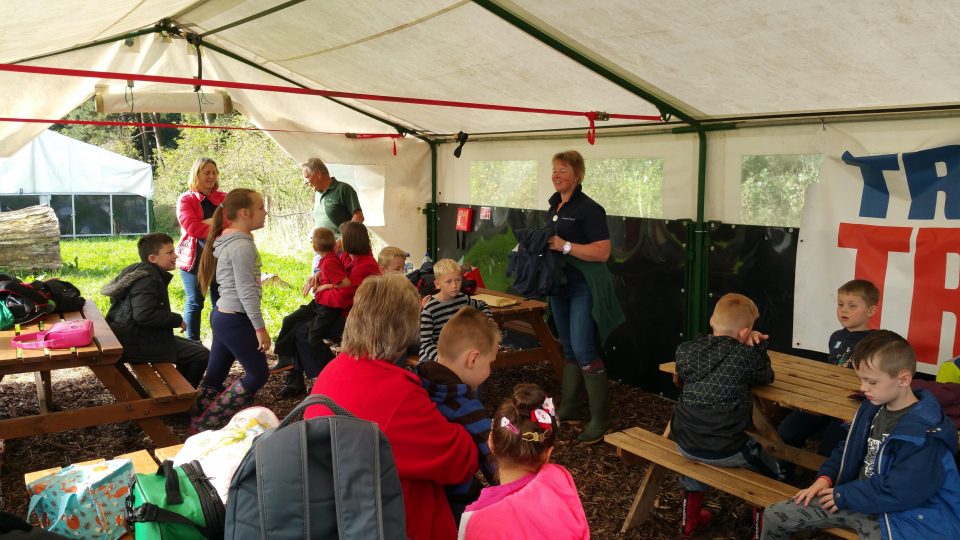 The day was particularly special, as this hadn't been an average trip. The 
group that day was a smaller group of rather challenging children, who aren't normally allowed out on school trips. The countryside classroom is an exception to this, due to its very nature. It was really rewarding to see how much they enjoyed the freedom of the day and the smiles on their faces.

Mercer Farming - Nuffield Scholar and Packington Pork
Karen Mercer also arranged for me to accompany Rob and Sally Mercer on trip for Rob's 'Nuffield Scholarship study' looking at supermarket supply chains, and how unsold food can be used to feed the hungry.
Unfortunately, one of the producers we were meant to visit cancelled at short notice, so with a free morning, Rob and Sally used the time to show me around some of their local free-range 'Packington Pork' sites. I found this experience amazing and had the best day seeing and hearing about how the business works. I was so impressed by the sheer size and management of the enterprises, and was really inspired by the business as a whole. Coincidently, we had recently done some coursework at university about intensive pig production, thus I had lots of questions about this more extensive method which kept us occupied whilst travelling between sites.
In the afternoon, we went to a vegetable packing house to talk to them about some of their waste. The scale of the operation amazed me, however, seeing the amount of waste was shocking! Learning that so much perfectly acceptable (not even misshapen!) food was being rejected or massively de-valued because it was marginally too small or too big was really eye-opening.
Here, Rob and Sally saw an opportunity and after a lengthy chat with the managers, who were similarly passionate about reducing food waste, and helping those less fortunate in society; came to an agreement whereby the Mercer's could take as much of the rejected vegetables as they wanted, putting it towards making some fresh 'food banks' for the disadvantaged.
FACE Farmer Training Day
My 'livery buddy' Grant Burton also arranged for me to gain some work experience with FACE (Farming And Countryside Education), whereby I travelled to 'Matlock Meadows' to attend a training day for farmers hosting school visits on their premises.
The day began with a talk from Derbyshire County Council about the benefits of outdoor learning. I found this talk useful as it put into words, so much that can be taken for granted, regarding our freedom to experience the great outdoors. It was also interesting to see from a scientific point how beneficial it is to spend time outside especially the huge benefit to school children. We were also given a health and safety talk about reducing the risk of salmonella.
Our host farm was located just outside Matlock, Derbyshire. 'Matlock Meadows' a dairy farm which had diversified into hand making ice-cream from its own milk and locally sourced ingredients. They also had a cafe, farm shop and a farm park. We were taken out in the tractor and trailer for a tour of the fields; explaining how the school visits normally work. We were then shown around some of the cow sheds and silage clamps. We talked about how and what the children can be taught here.
Following this, Alison Pratt from the NFU gave a workshop on promoting your farm and how to make the most of social media. We were given different scenarios to deal with and explain how we would employ media to convey our messages. Two of the scenarios centered around promotion of a farm event, whilst I found the most thought-provoking scenario was what to do when you receive bad publicity or feedback.
The final workshop of the day was from East Midlands FACE Coordinator, Bobbie Harvey. Much of the day and many of the attendees' farm visits were aimed at primary school children, so Bobbie gave a talk about working with Secondary children, and how to expand to cater for their needs also.
This day provided me with a better perspective of what setting up and running a farm school entails. Listening to some great speakers about the benefits of countryside education has helped me be able to communicate the points more clearly. One aspect that particularly stuck with me, was from Alison's talk, about dealing with negative publicity was the importance of maintaining integrity and openness to preserve the image of the business/industry, and its relationship with consumers.
Training
The other part of the scholarship was focused on completing my PA2 and Transport of Animals license.
PA2
The first training I undertook was the PA2 award, at Parkhill Training Centre, Loughborough. The first day of training was quite full-on and there was a lot to learn; we started off in the office where I learnt lots about the theory surrounding operating a tractor operated boom sprayer, this included; legal requirements, regulations, sprayer requirements, interpreting product labels, nozzle type and size and how this affects spray quality and volume.
In the afternoon, we continued our learning through undertaking a site environmental risk assessment, identifying parts and controls of the tractor and sprayer, practicing carrying out pre- and post-use checks, learning how to work safely around chemicals, practicing safe filling procedure and changing filters and nozzles. We then moved onto checking that the sprayer was working properly, calibrating the implement, and collecting data which we would use later in the day to calculate spray rates.
The next afternoon, I returned to the training center to undertake the assessment. I was quite nervous, but luckily the training day had prepared us very well and I passed the course.
Transport of Animals
I used the second part of the training fund to sit my transport of animal's licenses with Clare Booth at Brackenhurst College. This was a bit quicker than sitting the PA2; I researched the areas beforehand and turned up on the day to sit the multiple-choice tests on Cattle and Sheep, Pigs, Goats, Horses and Poultry.
The tests covered aspects such as journey time, fitness to travel, vehicle and loading facilities, separation of stock, prohibited methods of handling, recognizing signs of good and ill health, and some legislation surrounding authorization and certification. Having read through the information beforehand and made a mental note of anything I wasn't certain on, most of the questions were fairly straightforward and I was really happy to pass all the tests.
Conclusion
I found all of the experiences I gained through the WCF Scholarship extremely beneficial in helping me to gain a clearer picture of areas I might like to explore further in the future. The unexpected visit around the Packington Pork pig farms and the vegetable packing house really inspired me, so much so, that I am now looking into research topics for my dissertation surrounding either waste in UK post farm-gate supply chains, or consumers willingness to pay for more premium British products.
Spreading the message to the general public of how great British farming is, is still something I am really passionate about and I had such a great time looking around the countryside education site and attending the FACE farmer training day. I can take this useful and inspiring information and use it to spread the message further.
The PA2 and Transport of Livestock qualifications have already been useful assets to my CV, and I can't wait to put them in to practice. When I have attended interviews for 'industrial placement years' (between years 2 and 3 of my degree), they have stood out and helped to illustrate my keenness. I am looking forward to starting a placement year with the NFU in June, the interviewer noticed the scholarship on my CV and asked me about it - naturally, I had lots to tell them!
Thank you
Finally, I would like to take this opportunity to sincerely thank the 'Worshipful Company of Farmers,' 'National Federation of Young Farmers Clubs' and everyone who has helped me. I have seen and experiencing so much. It has been a fantastic opportunity and I thank all those that have made this possible for me.
Chloe Dunne
The 2015 Awards
The 2015 recipient of the '18 years and under' Award was Henry Scholefield. Henry used his £500 award to help fund City and Guilds equipment handling courses for 'Sit Astride' and Forklift vehicles. Henry's Livery Buddy was jointly Tony and Will Pexton. Henry also spent time with the Pexton's agronomist. His report can be found here Henry Scholefield Report.
The recipient of the '21 years and under' award was Rikki Trim. Rikki used his £500 to take butchery training.
Rikki's 'Livery Buddy' was Court Assistant Karen Mercer. Rikki spent time with Karen and two of her sons. Son Robert has a free range pork business (Packington Pork) and son Alec is in free range poultry (Packington Poultry). Rikki also gained valuable experience with local butcher, Peter Coates of Alrewas. Starting in the abattoir he worked his way through to the butchers shop, experiencing and understanding each step in the chain as he went. Rikki's report can be found here Rikki Trim Report.