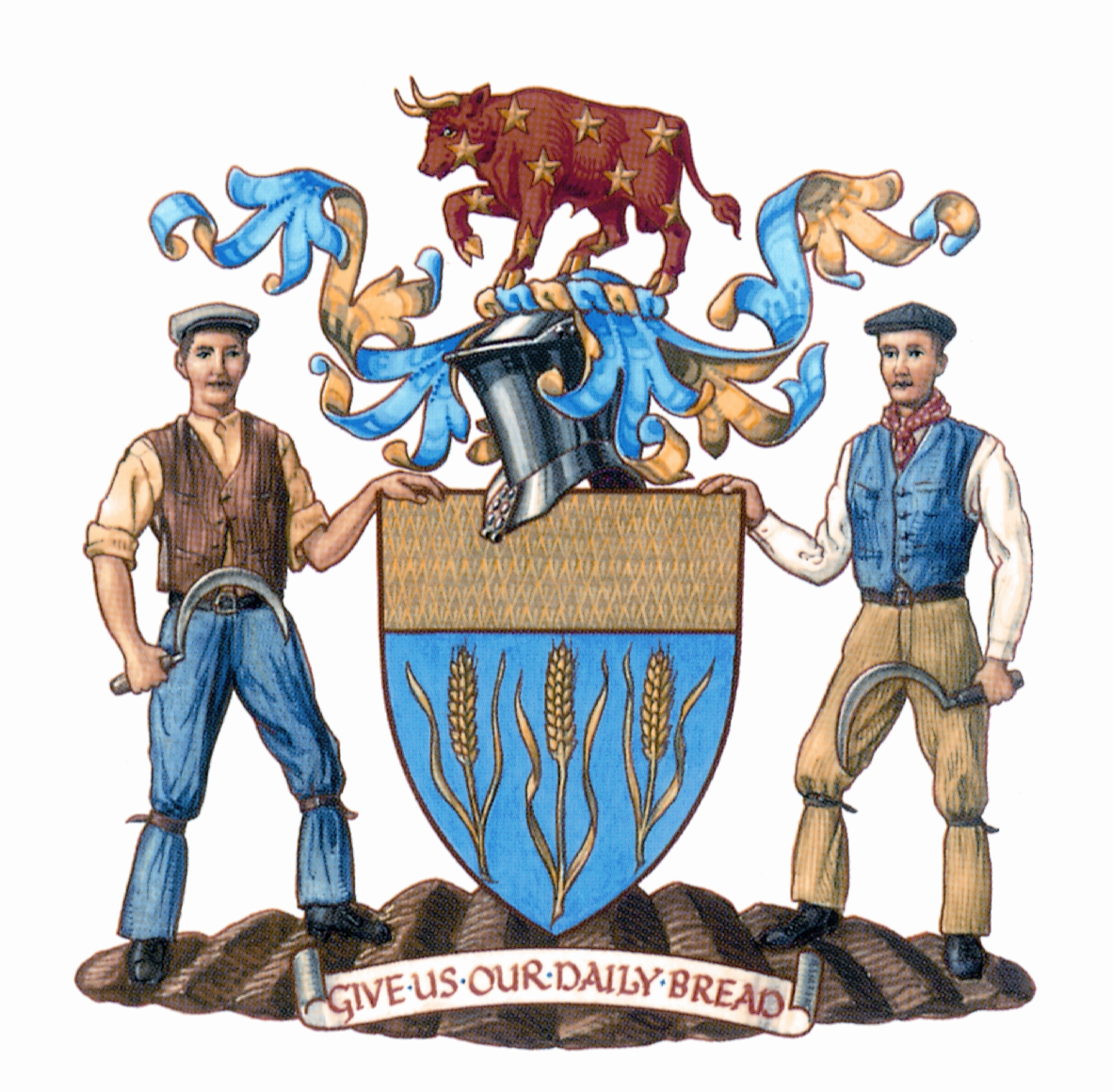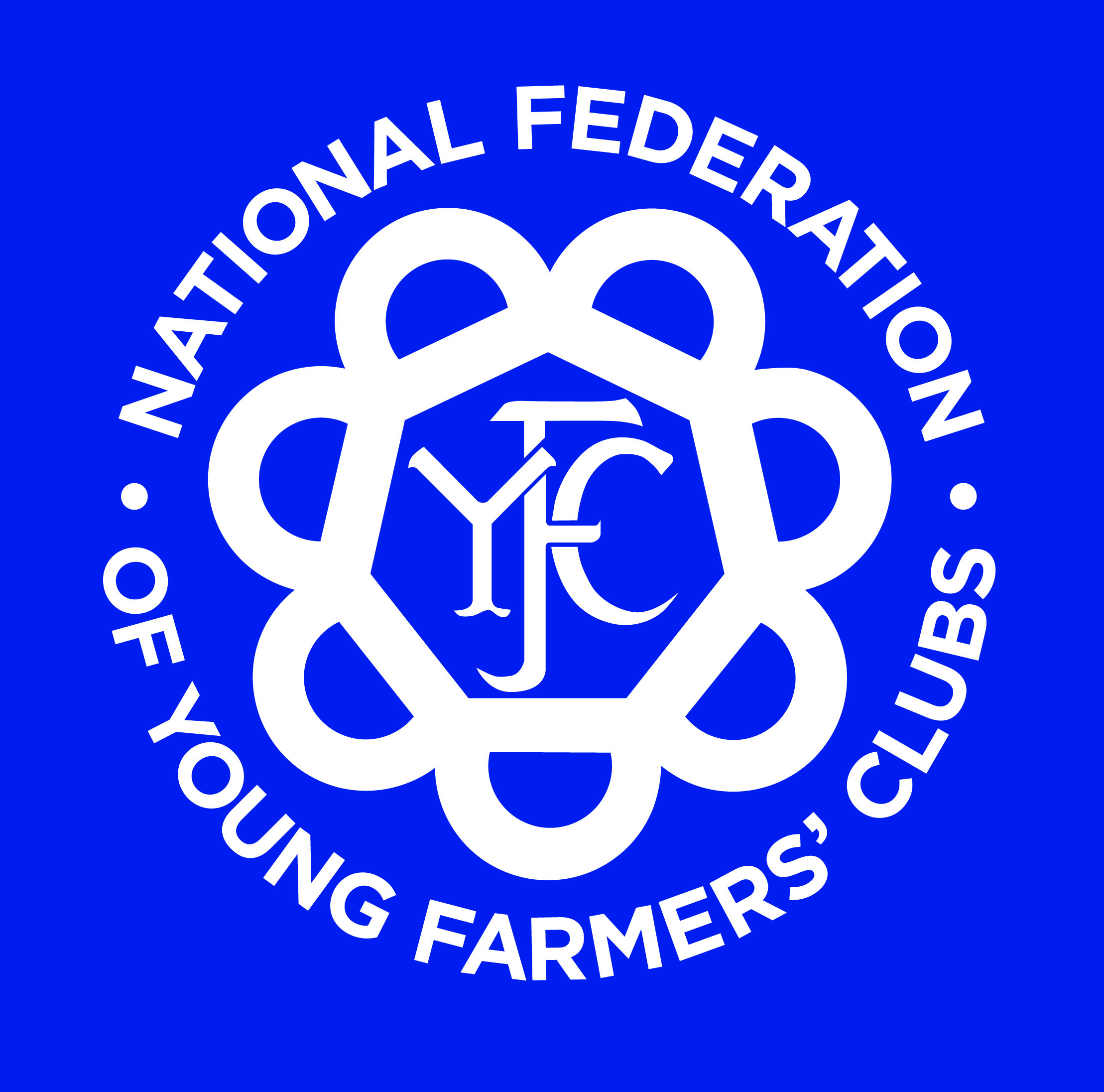 The evolution of our Jubilee Scholarships
During her year as Master in 2001/2002 HRH the Princess Royal helped the Company establish a Scholarship Fund to celebrate the 50th Anniversary of the Farmers Company and Her Majesty The Queen's Golden Jubilee.

Awards are made each year to assist younger members of the agricultural community with their educational training expenses. The awards are made through the National Federation of Young Farmers Clubs. As well as receiving an award of £500 for training purposes, recipients are also allocated a 'Livery Buddy'.
The 'Buddy is selected to be relevant to area of interest of the recipient, this helps create the opportunity for them to be directly involved in the area of agriculture that most interests them. The 'Buddy' also helps them become involved with the Company so that they make the most of the Company's contacts and expertise.
From 2017 onwards, the arrangements for making awards was changed to better reflect the distribution of entries the Company received in previous years. The awards are now made in three separate age categories rather than two; Under 18 years, 18-21 year olds and 'over 21 years old'.

Our 2018 Jubilee Scholars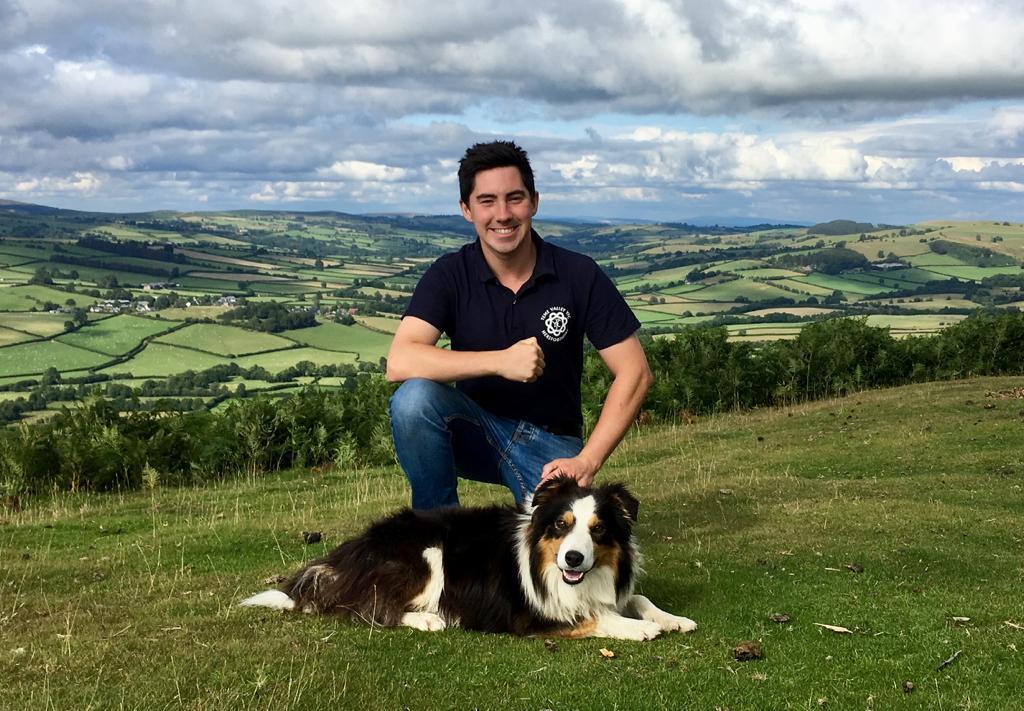 Each year we hear back from the previous year's cohort of Jubilee Scholars and reading their fascinating reports just confirms and reinforces the importance and value of the awards the Company makes through its Jubilee Fund.
The 2018 Jubilee Scholars couldn't be a more diverse, or more representative group. They highlight not only the of diversity amongst young members of the agricultural community but the importance of being able to access funds to help with training and development. The 2018 crop comprises a first generation shepherd on an upland farm in Mid Wales, a Harper Adams University student from a National Trust tented farm in Devon, a Charnwood YFC member from Leicestershire and a bio-chemistry student at the University of Sussex.
The grants our Jubilee Scholars received helped fund training, including for one student, Lantra safe working, pesticides and transporting courses and another tractor driving and spraying courses. Claudia Sheridan used her award to help fund her FACTS Fertiliser Advisor Certificate.
Three of the four were also allocated Livery buddies to provide on-going advice and support. John Thorley for Ernie Richards; Philip Halhead for Annis Ferrey; and Mike Young for Claudia Sheridan.
To read more about the backgrounds, experiences and thoughts of our scholars here are their reports:
Ernie Richards Jubilee Scholar 2018
Katie Ackland Jubilee Scholar 2018
Claudia Sheridan Jubilee Scholar 2018
Annis Ferry Jubilee Scholar 2018
Grace Gibbs 18 to 21 year old category award for 2017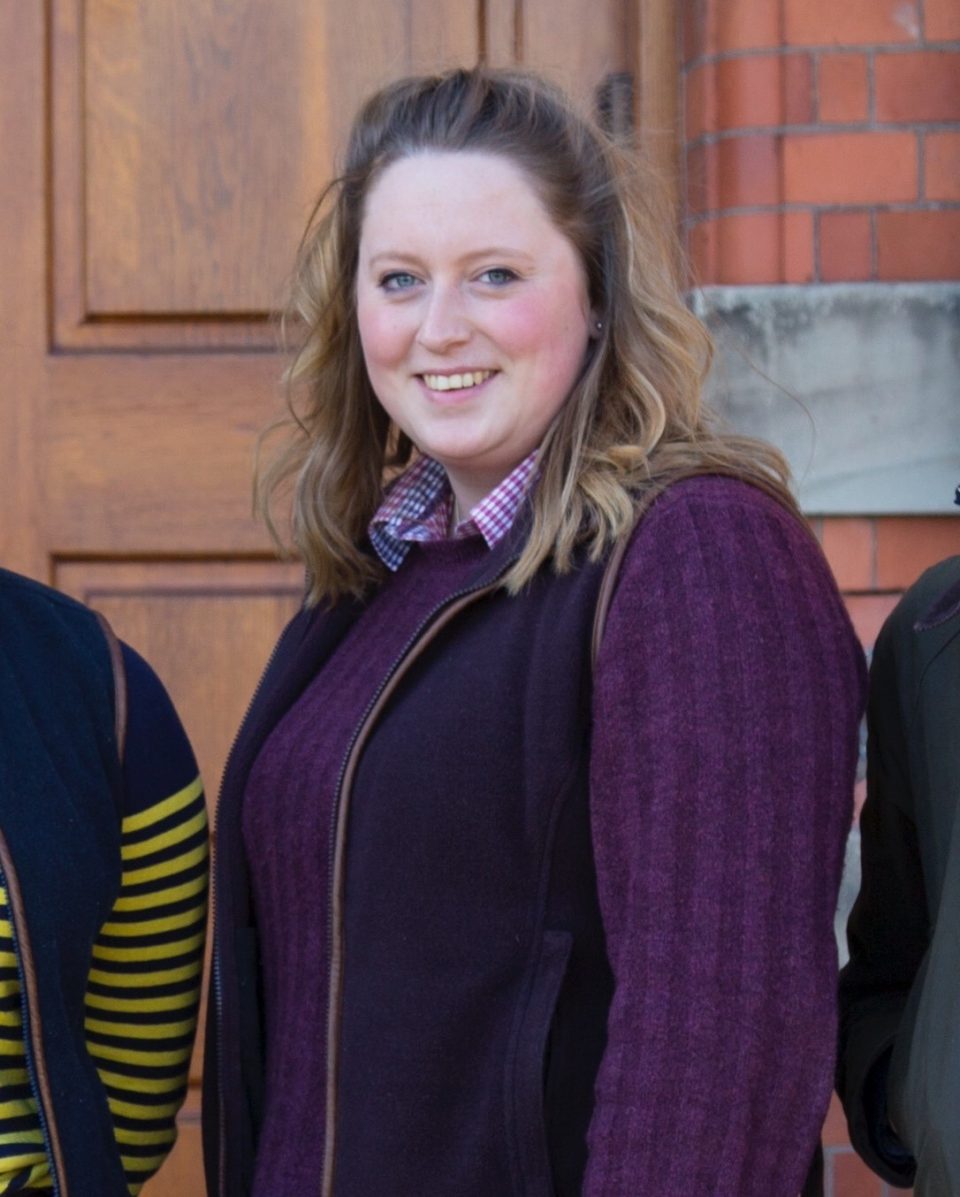 Introduction
I am originally from a beef and sheep farm in the Peak District, but at present I am finishing my degree in Agri-Business Bsc (Hons) at Harper Adams University. This degree has allowed me to explore the areas of agriculture and business that I find the most interesting, whilst enabling to undertake a one year placement at Just Crisps & Just Oil that helped me to use my practical skills further.
In September I was luckily awarded one of the Training and Development scholarships from the Worshipful Company of Farmers, in association with the National Federation of Young Farmers Clubs. The scholarship gave me £500 to use for land-based training, and this enabled me to complete my trailer test (B+E). Aside from this the Jubilee award meant that I was assigned a 'Livery Buddy' who was Karen Mercer. Karen helped me throughout the year to meet and speak to people within the agricultural areas that I am interested in.
My visits
Whilst being mentored by Karen I had the opportunity to speak to and meet multiple people within the agricultural industry. Firstly I spoke to Pat and John Stanley about their herd of Longhorn Cattle, this was very interesting and allowed me to understand the passion behind the development of their animals. Next I spoke to London's closest glamping and outdoor wedding venue, this was very interesting and I loved learning about how they really used their location to their advantage, basing a lot of their advertising on the closest tube link.
Karen also helped me to organise a visit to Farmer Gow's, a farm park based between Oxford and Swindon, that offers a farm experience for children. The day started at 9.30am, where I met Anne in the farm shop area of the farm, she introduced me to several members of the team, and set me off shadowing Chloe. Anne explained before this that they were expecting four different school classes (100 children around the age of 6/7) to arrive at 10am, and therefore it would be all hands on deck until they got here. Here Chloe explained that she was making bottles for the goat kids and the lambs, and the children would feed them in the meet the animals, everything was very organised with each bottle having a different colour lid, that matched the colour of the mark on the animal. I helped to fill the bottles with Chloe and then was collected by Dale, as the children started to arrive. The children were each given a sticker to keep them in a group, the stickers were animal themed, and this allowed the team members to differentiate between the groups and allow them to be able to collect there group easily.
Once all of the children had arrived, each team member took a group to an activity, the first one I saw in action, was chick handling. Here the children had the opportunity to have a chick and a gosling on their knee, allowing them to be shown how to handle the animal appropriately with the help of their teacher. This was brilliant, it was excellent to see how happy the children were once they had accomplished this, and it was also interesting to see their initial reactions as well as hearing the questions they asked.
Next we moved into the large barn, and all of the four groups of children came together with all the teachers, and also the members of staff. That's over 100 hundred people in one barn! Here they ran a workshop call 'Meet the animals', all the children sat down, and first of all the pigs were brought out, then the geese, then the moment I had been waiting for… the bottles were brought out and the teachers handed these to the children, first they fed the goat kids and then the lambs! This activity was brilliant to watch, such an excited atmosphere, and the children clearly loved the animals and the feeling was mutual with the staff.
The next activity was egg collecting with Dale, here the children had the chance to collect the eggs from coop, and this was an interesting activity to watch as each child had their own routine. The final activity of the day was the tractor ride with Mark, who showed everyone to the trailer and ensured everybody was on board safely, he then took us on a ride around the farm. Half way around the farm he stopped the tractor and everyone got off to feed some pigs. This was brilliant as the children's reaction to the muddy pigs was quite funny, but Mark explained by pigs got so muddy in the hot weather to the children, and I heard a lot of them telling their teachers about it on the ride back to the farm.
At 2pm, the children left Farmer Gow's and I helped Dale to tidy up, as well as watching his routine. After this I asked Anne any questions I had thought of throughout the day, and told her that I had enjoyed it as much as the children!
Then Anne showed me the other enterprises on her farm, as she rents out sections of land to tenants. Firstly there is a campsite that is run on the farm, this enterprise Anne explained does provide some revenue through the farm shop too. Aside from this there is the Oxford Yurt Company, where a luxury glamping experience is ran. Although this enterprise is only a short walk from the farm, you wouldn't really know it was there until you got up to it! Showing how unobtrusive the glamping really is. The glamping is only ran at weekends (Fri-Sun) throughout the summer months and is mainly marketed at Hen Partys/ group gatherings but I thought the site was lovely and it complimented the farm very well.
Training
The other part of the scholarship focused on the land based training. Here I used the scholarship to undertake my B+E trailer test so that I could pull livestock, and to help me with my up and coming business venture in the future. This involved three days of intensive training, including driving on the main roads, a reversing exercise and also unhitching and hitching up the trailer. After these three days of training, I took a two-hour practical examination, which I passed successfully!
The visits that were organised by Karen Mercer and myself were very interesting and I am sure I will find them very useful in the future as I have throughout my fourth and final year at Harper Adams. The training will aid me well in the future months as well, as I prepare myself now to go to New Zealand in January to work on a beef, sheep and dairy based farm in Waikato.
My conclusions
Overall, the Jubilee Award from the Worshipful Company of Farmers has helped me a great deal, both with the visits and opportunities to speak to members in areas of the agricultural as well as non-agricultural industry that I am very interested in and with the chance to complete my B+E trailer test that I have wanted to accomplish for many years. I would like to thank the Worshipful Company of Farmers, Karen Mercer as my livery buddy, and also the National Federation of Young Farmers. I would also like to thank everyone else who has been involved for making this opportunity possible.
Joe Wilshire 18 to 21 year old category award for 2017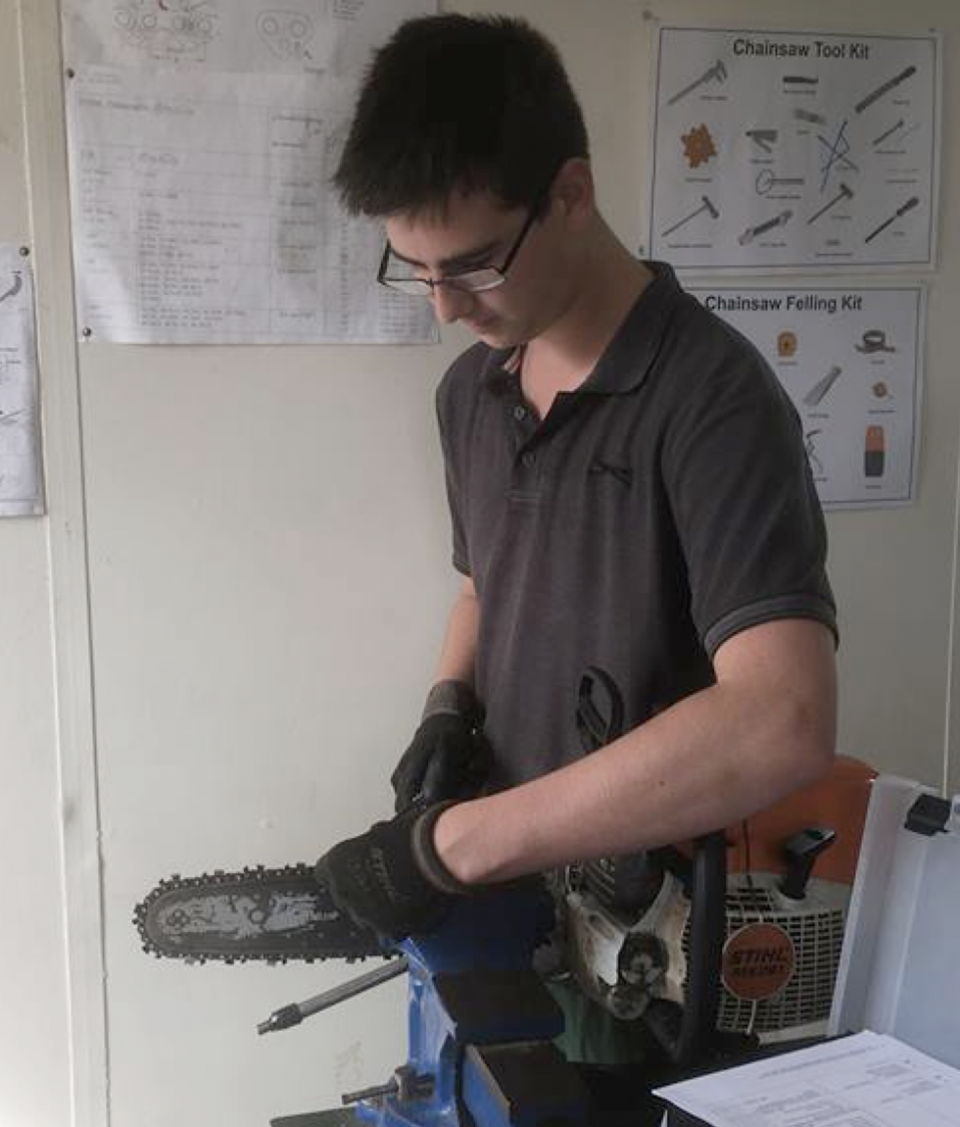 I have recently undertaken both my B+E trailer test and my chainsaw certificate with funds from the Worshipful Company of Farmers.
My trailer test was taken in a new Mitsubishi l200 with A Class trailer training in Shrewsbury with Richard as my instructor who was excellent. The training consisted of learning to couple and uncouple the trailer correctly and ironing out years of bad habits. This training will help me in my third year at Harper Adams to get a good placement as well as being essential for my future plans to take over the running of the family beef farm going to and from markets and taking cattle to the abattoir.
My chainsaw test will also help make me more employable for my placement year and has given me a much greater understanding of the safe use of chainsaws This can only be a good thing in an industry known for the high number of accidents. I have learned to strip down, maintain, reassemble and sharpen a chainsaw safely. We also covered things like site safety, safe starting procedures, body position and cutting techniques as well as dealing with issues in the field which could lead to a dangerous situation, such as a trapped chainsaw or logs under tension and compression.
I would like the thank the Worshipful Company of Farmers for giving me this opportunity as I have thoroughly enjoyed both training courses and have learned many things which will help me in my career in agriculture.
Harry Fletcher under 18 category award for 2017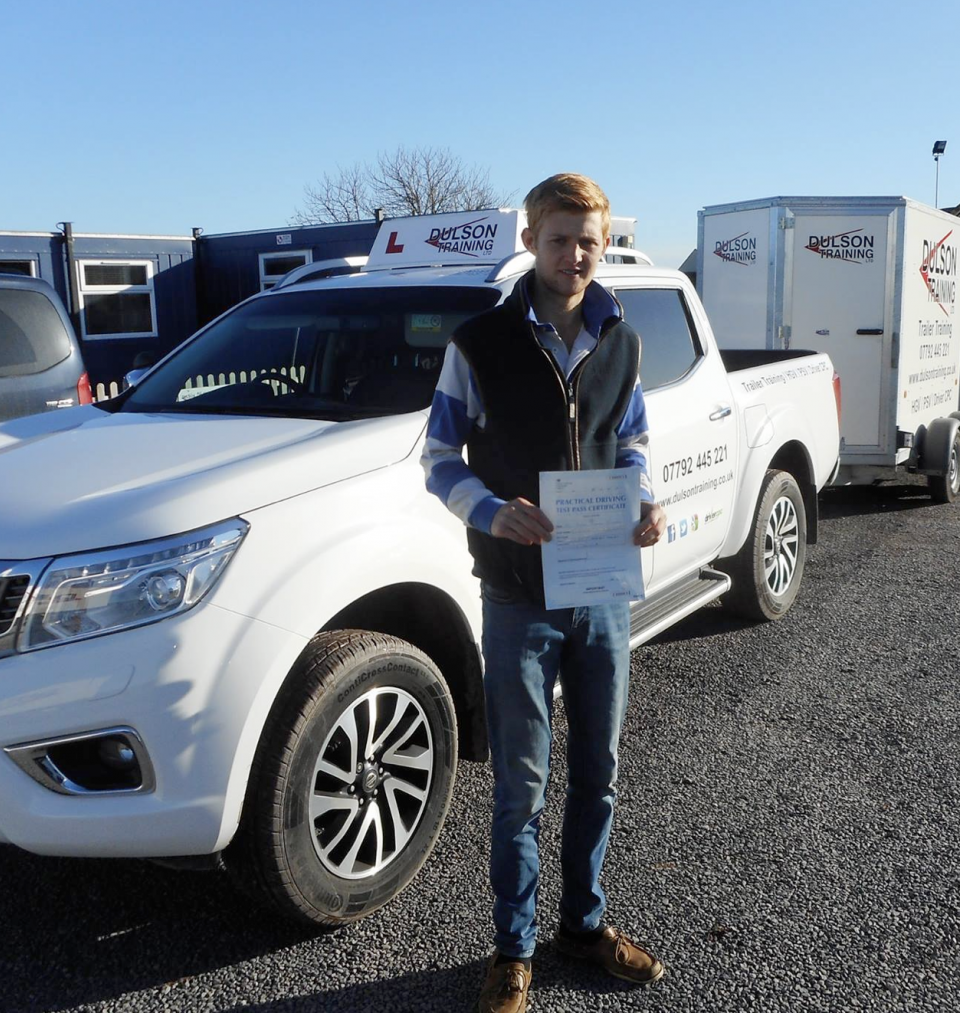 My name is Harry Fletcher, I am 17 and part of Shawbury Young Farmers Club (YFC) in Shropshire. I have been a member of YFC for 4 years now and I really enjoy it. I am also a current student at Reaseheath College studying Agriculture. I'm on my 2ndyear which is a placement year, which is on a mixed farm in Shropshire. Weston Park Farm totals 2000 acres of arable land and milks approximately 150 Holstein cows, as well as a small flock of sheep.
The training I took was the B+E trailer test. I did this test to allow me to do more at work, such as moving dry cows from farm to farm and moving the young stock and sheep around.I think this will also help in the long term with my career, as a lot of work on farms is done with truck and trailer such as hauling bales, materials, machinery and diesel to the combine. I will also be able to move materials around for my Young Farmers Club float, this is a great advantage for our club as there is only a couple of us that are able to do so.
In my private life I have a horse, that I like to take places and compete, so doing this training will allow me to take him to different competitions and to my friend's yard to go for rides, this will be great news for my mum as she won't need to come with me anymore.
I took the training towards the end of the summer and thoroughly enjoyed it. I did two 4-hour training sessions before taking the test. These were really helpful as although I already knew how to tow a trailer the sessions highlighted my bad habits and all the things I wasn't doing correctly so it gave me time to learn and perfect the correct way of towing. On the test, I was required to do a 40-minute drive justlike on a normal driving test and then one reversing manoeuvre, a thorough check of the trailer and an unhitch and re-hitch of the trailer. The training taught me the safe and correct way of doing these tasks. Below is a diagram of how the reverse should be done. All of the training and test is done with a twin axle box trailer which is loaded with 500kg, this is to simulate a tow you may incur once passed.
I carried out my training with Dulson Training who I would highly recommend. They are based in High Ercall and my test was taken around Shrewsbury.
I learnt a lot more than I thought I would, for example I didn't know that you should wind the jockey wheel back down once the trailer is attached to the vehicle to see if it properly attached; this is to check that it raises the back of the vehicle, then it can be wound back up and out of the way. I also learnt that you should never climb over the drawbar as it is clearly a hazard. I also learnt about the speed limits with a trailer, such as 50mph restrictions on single carriageway roads and 60mph restrictions on a dual carriageway. Learning these restrictions was really beneficial and I feel I am now equipped to tow a trailer safely on the road.
Overall, I am really pleased that I have taken this training as I feel as if I have learnt a lot and I feel that it will give me more opportunities on farm and in my future career on farms, this is a good achievement to put on my CV that will hopefully help me to stand out from other applicants as I could possibly be more practically qualified and it could be what future employers are looking for.
Finally, I would like to thank the National Federation of Young Farmers and The Worshipful Company of Farmers for the support and opportunity to do my trailer training and test.
Thank you Worshipful Company of Farmers - I really appreciate your help.
The 2016 Awards
Three Awards were made in September 2016

21 years and Over – Matthew Denby from Lincolnshire. His Livery buddy is Scott Norris
18 – 21 – Chloe Dunne from Leicestershire. Her Livery Buddy is Grant Burton
Under 18 – George Smith from Warwickshire. His Livery Buddy is Thomas Wheatley Hubbard.
Each of the Award winners receive £500.00 for training that has to be completed by April 2017
Chloe Dunn 2016 18 - 21 award winner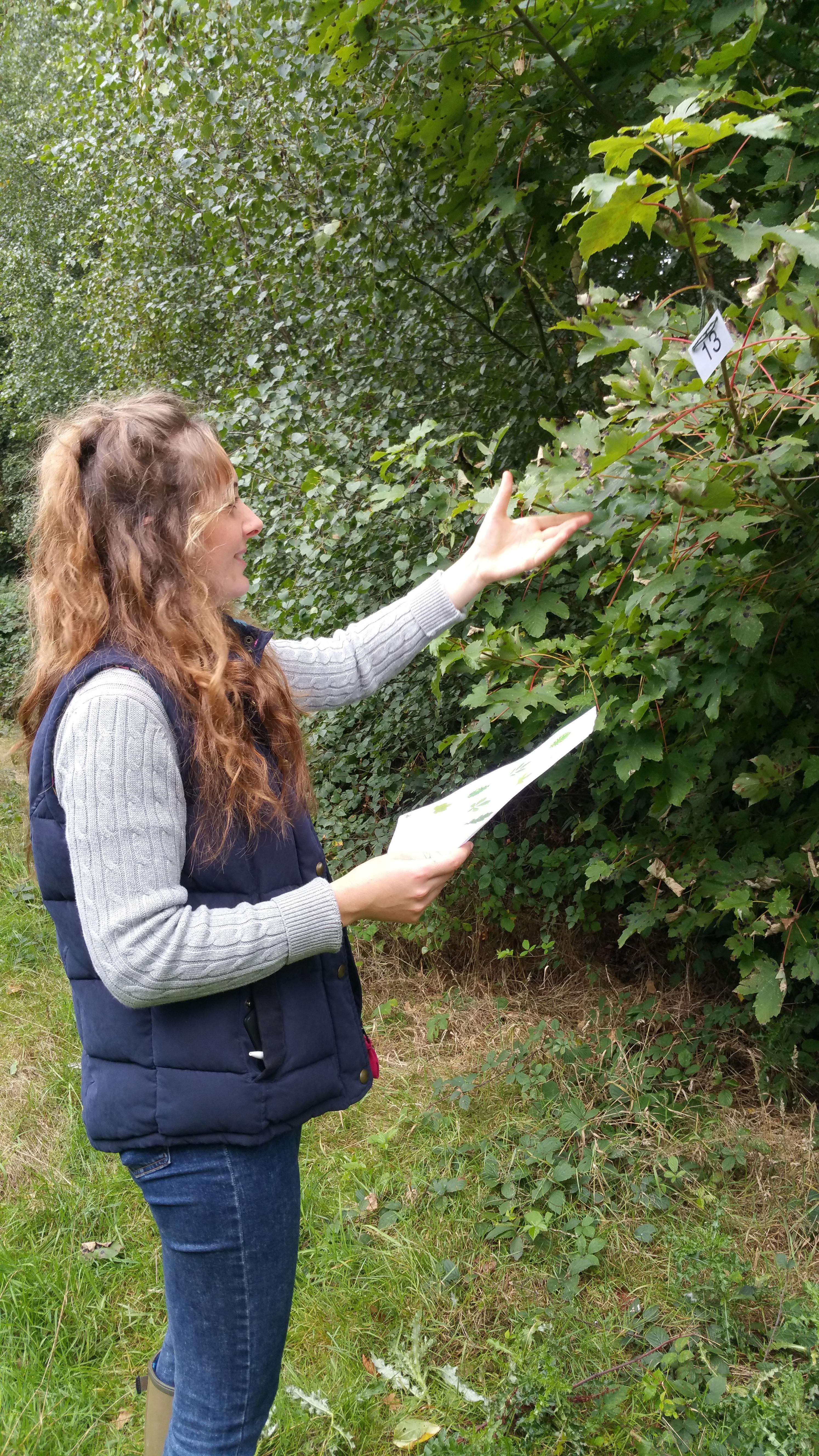 Introduction
Last year, I was lucky enough to be granted the Training and Development scholarship from the Worshipful Company of Farmers, in association with the National Federation of Young Farmers Clubs. This gave me £500 to use towards completing my 'Transportation of Animals' license, as well as the training and assessment of PA2. Additionally, I was also allocated Grant Burton, as my 'Livery Buddy'.
At present, I am a student at the University of Nottingham studying Integrated Agriculture and Business Management.
Visits
Blakenhall Park, Countryside Education Site
My first visit as part of the scholarship was organized by Karen Mercer to Mercer Farming at Blakenhall Park to visit their countryside education site.
The day started with meeting Sally Mercer and Vicki Boothby, who showed me around the learning area; a big field complete with converted picnic tent, learning tent, a pond, a pen of pigs and a pen of sheep.
The children arrived via pick-up truck and trailer and headed straight to the woods where they were taught about what animals they could find here. It was a great, interactive activity that the children really seemed to enjoy - they seemed quite surprised by some of the facts they learnt about the woodland animals too!
The next activity was a 'leaf trail'. The children (and any big- kids-at-heart) were given a 'key' of leaves to look for and collect during the woodland walk. This was really fun and occupied us all until lunchtime.
After lunch inside the picnic tent, the children were taught about the pigs and sheep: what type of animal they are, how they are looked after, and what they are bred for.
We then split into three groups and the children rotated between pond dipping with Vicki, a machinery talk from Roy, and frog and insect hunting with myself. This brought the day to a close and, after one boy protesting leaving because he had enjoyed the farm so much, they were eventually taken back through the fields to meet their coach.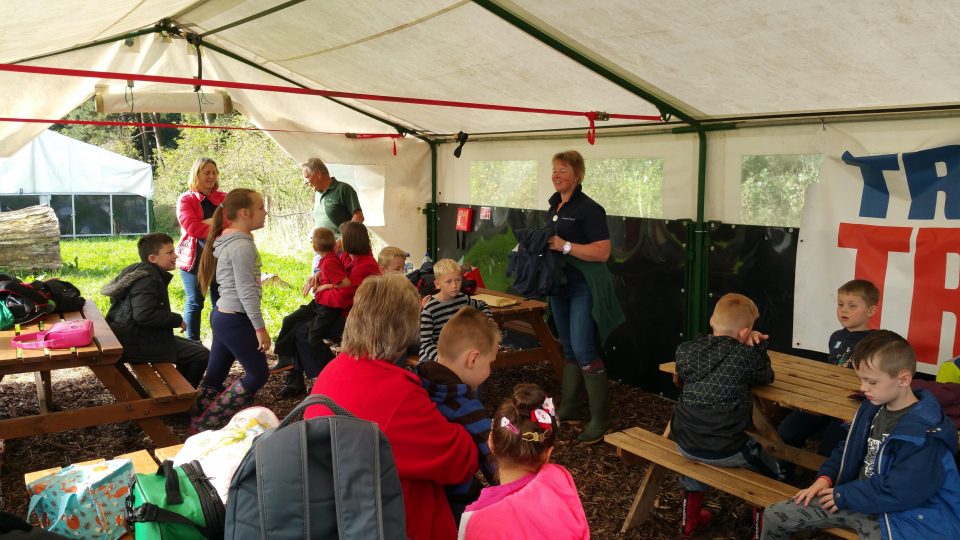 The day was particularly special, as this hadn't been an average trip. The 
group that day was a smaller group of rather challenging children, who aren't normally allowed out on school trips. The countryside classroom is an exception to this, due to its very nature. It was really rewarding to see how much they enjoyed the freedom of the day and the smiles on their faces.

Mercer Farming - Nuffield Scholar and Packington Pork
Karen Mercer also arranged for me to accompany Rob and Sally Mercer on trip for Rob's 'Nuffield Scholarship study' looking at supermarket supply chains, and how unsold food can be used to feed the hungry.
Unfortunately, one of the producers we were meant to visit cancelled at short notice, so with a free morning, Rob and Sally used the time to show me around some of their local free-range 'Packington Pork' sites. I found this experience amazing and had the best day seeing and hearing about how the business works. I was so impressed by the sheer size and management of the enterprises, and was really inspired by the business as a whole. Coincidently, we had recently done some coursework at university about intensive pig production, thus I had lots of questions about this more extensive method which kept us occupied whilst travelling between sites.
In the afternoon, we went to a vegetable packing house to talk to them about some of their waste. The scale of the operation amazed me, however, seeing the amount of waste was shocking! Learning that so much perfectly acceptable (not even misshapen!) food was being rejected or massively de-valued because it was marginally too small or too big was really eye-opening.
Here, Rob and Sally saw an opportunity and after a lengthy chat with the managers, who were similarly passionate about reducing food waste, and helping those less fortunate in society; came to an agreement whereby the Mercer's could take as much of the rejected vegetables as they wanted, putting it towards making some fresh 'food banks' for the disadvantaged.
FACE Farmer Training Day
My 'livery buddy' Grant Burton also arranged for me to gain some work experience with FACE (Farming And Countryside Education), whereby I travelled to 'Matlock Meadows' to attend a training day for farmers hosting school visits on their premises.
The day began with a talk from Derbyshire County Council about the benefits of outdoor learning. I found this talk useful as it put into words, so much that can be taken for granted, regarding our freedom to experience the great outdoors. It was also interesting to see from a scientific point how beneficial it is to spend time outside especially the huge benefit to school children. We were also given a health and safety talk about reducing the risk of salmonella.
Our host farm was located just outside Matlock, Derbyshire. 'Matlock Meadows' a dairy farm which had diversified into hand making ice-cream from its own milk and locally sourced ingredients. They also had a cafe, farm shop and a farm park. We were taken out in the tractor and trailer for a tour of the fields; explaining how the school visits normally work. We were then shown around some of the cow sheds and silage clamps. We talked about how and what the children can be taught here.
Following this, Alison Pratt from the NFU gave a workshop on promoting your farm and how to make the most of social media. We were given different scenarios to deal with and explain how we would employ media to convey our messages. Two of the scenarios centered around promotion of a farm event, whilst I found the most thought-provoking scenario was what to do when you receive bad publicity or feedback.
The final workshop of the day was from East Midlands FACE Coordinator, Bobbie Harvey. Much of the day and many of the attendees' farm visits were aimed at primary school children, so Bobbie gave a talk about working with Secondary children, and how to expand to cater for their needs also.
This day provided me with a better perspective of what setting up and running a farm school entails. Listening to some great speakers about the benefits of countryside education has helped me be able to communicate the points more clearly. One aspect that particularly stuck with me, was from Alison's talk, about dealing with negative publicity was the importance of maintaining integrity and openness to preserve the image of the business/industry, and its relationship with consumers.
Training
The other part of the scholarship was focused on completing my PA2 and Transport of Animals license.
PA2
The first training I undertook was the PA2 award, at Parkhill Training Centre, Loughborough. The first day of training was quite full-on and there was a lot to learn; we started off in the office where I learnt lots about the theory surrounding operating a tractor operated boom sprayer, this included; legal requirements, regulations, sprayer requirements, interpreting product labels, nozzle type and size and how this affects spray quality and volume.
In the afternoon, we continued our learning through undertaking a site environmental risk assessment, identifying parts and controls of the tractor and sprayer, practicing carrying out pre- and post-use checks, learning how to work safely around chemicals, practicing safe filling procedure and changing filters and nozzles. We then moved onto checking that the sprayer was working properly, calibrating the implement, and collecting data which we would use later in the day to calculate spray rates.
The next afternoon, I returned to the training center to undertake the assessment. I was quite nervous, but luckily the training day had prepared us very well and I passed the course.
Transport of Animals
I used the second part of the training fund to sit my transport of animal's licenses with Clare Booth at Brackenhurst College. This was a bit quicker than sitting the PA2; I researched the areas beforehand and turned up on the day to sit the multiple-choice tests on Cattle and Sheep, Pigs, Goats, Horses and Poultry.
The tests covered aspects such as journey time, fitness to travel, vehicle and loading facilities, separation of stock, prohibited methods of handling, recognizing signs of good and ill health, and some legislation surrounding authorization and certification. Having read through the information beforehand and made a mental note of anything I wasn't certain on, most of the questions were fairly straightforward and I was really happy to pass all the tests.
My conclusions
I found all of the experiences I gained through the WCF Scholarship extremely beneficial in helping me to gain a clearer picture of areas I might like to explore further in the future. The unexpected visit around the Packington Pork pig farms and the vegetable packing house really inspired me, so much so, that I am now looking into research topics for my dissertation surrounding either waste in UK post farm-gate supply chains, or consumers willingness to pay for more premium British products.
Spreading the message to the general public of how great British farming is, is still something I am really passionate about and I had such a great time looking around the countryside education site and attending the FACE farmer training day. I can take this useful and inspiring information and use it to spread the message further.
The PA2 and Transport of Livestock qualifications have already been useful assets to my CV, and I can't wait to put them in to practice. When I have attended interviews for 'industrial placement years' (between years 2 and 3 of my degree), they have stood out and helped to illustrate my keenness. I am looking forward to starting a placement year with the NFU in June, the interviewer noticed the scholarship on my CV and asked me about it - naturally, I had lots to tell them!
Thank you
Finally, I would like to take this opportunity to sincerely thank the 'Worshipful Company of Farmers,' 'National Federation of Young Farmers Clubs' and everyone who has helped me. I have seen and experiencing so much. It has been a fantastic opportunity and I thank all those that have made this possible for me.
Chloe Dunne
The 2015 Awards
The 2015 recipient of the '18 years and under' Award was Henry Scholefield. Henry used his £500 award to help fund City and Guilds equipment handling courses for 'Sit Astride' and Forklift vehicles. Henry's Livery Buddy was jointly Tony and Will Pexton. Henry also spent time with the Pexton's agronomist. His report can be found here Henry Scholefield Report.

The recipient of the '21 years and under' award was Rikki Trim. Rikki used his £500 to take butchery training.
Rikki's 'Livery Buddy' was Court Assistant Karen Mercer. Rikki spent time with Karen and two of her sons. Son Robert has a free range pork business (Packington Pork) and son Alec is in free range poultry (Packington Poultry). Rikki also gained valuable experience with local butcher, Peter Coates of Alrewas. Starting in the abattoir he worked his way through to the butchers shop, experiencing and understanding each step in the chain as he went. Rikki's report can be found here Rikki Trim Report.