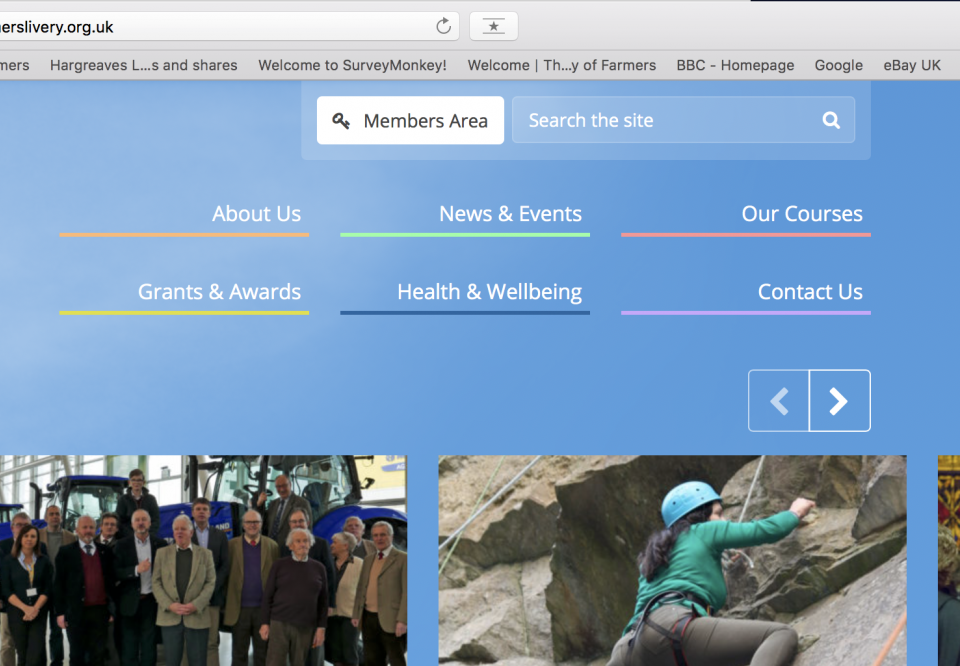 WCF Alumni association update
WCF Alumni Chairman - Richard Davies reports on progress with the formation of the new association
I am delighted to be able to tell all alumni of Worshipful Company of Farmers courses that we have now officially launched WCF Alumni - the new alumni association along with its new website and its private database and that we have begun the process of recruiting alumni members.
The initial stage of recruitment was to meet the delegates of our two 2018 residential, management courses – the Challenge of Rural Leadership and the Advanced Course in Agricultural Business Management - at their wash-up sessions. I was able to introduce them to the newly formed organisation and to sign them up as the very first, official members. I am delighted to say that the response to the news about the association was overwhelmingly positive.
We have now followed this up by sending invitations to join to all the existing alumni for whom we have email addresses. Of approximately fifteen hundred alumni who have attended one of the WCF courses, we have contact details for around eight hundred.
I hope very much, if you are a WCF alumnus and we hold your details on file that you have by now received an emailed invitation to join the association – if you haven't, first check your spam folder and if you still don't have it, then get in touch with our association secretary at this address Duncan@farmerslivery.org.uk, he will arrange for a new mail to be sent.
You can also access the association's website through the alumni portal on the WCF website – you will find it in the top right hand corner next to the WCF Member Area (see picture above).
You might be asking why you should consider joining the WCF Alumni association. You will find all the key benefits below.
1. An exclusive, private database of members and mentors
This will include all members of the association, with each member able to manage their own entry in the database online. Plus those members of the Worshipful Company of Farmers prepared to offer mentoring to members of the alumni association. The database will allow WCF Alumni members to search for other members, or groups of members, by course; by year; by industry sector and by geography (or any combination of these criteria). Password controlled access to the database will be via the WCF website and only available to paid-up members.
2. Mentoring
The database will also include a facility for individual members to flag their willingness to act as mentors to other members and for members to indicate that they are seeking mentoring – a sort of mentoring dating app! 3. Annual WCF Alumni - Learning Extension Day This event will be free to WCF Alumni association members. It will take the form of a one-day, practical workshop, intended to allow the alumni to meet and mix, to share experiences, post their courses and to continue to develop their personal skill-set, through working sessions, hosted by experts and course tutors from the WCF courses. The day will also include an opportunity to participate in Speed Mentoring. Short, 10 minute, one-to-one conversations with a variety of industry and educational experts, where members can get advice on topics of particular interest to themselves.
The Learning Extension Day will conclude with a dinner (this will be charged for).
4. Free membership for twelve months
Annual membership, to cover the cost of administering the association, is £95, this includes a charitable donation of £25 to go towards a fund to support potential delegates less able to afford course fees and costs. Each year alumni receive their membership for the year in which they attended a course for free. Subscriptions become due on January 31st each year. 5. Reduced price tickets for WCF Events – including the Annual Lecture and Dinner
6. Invitations to participate in further WCF sponsored, training and development
7. A WCF Alumni badge
An exclusive, members only badge, that may be worn at all WCF Alumni and WCF events
---
The WCF Alumni is your chance, not only to benefit from the alumni network and extra training, but also to personally put something back into the industry and the work that the Worshipful Company of Farmers does through its courses, by providing financial support for less less well-off candidates and by providing vital mentoring time to other alumni of our courses, based on your own experience in the industry.
If you would like to talk to someone about the WCF Alumni association, or perhaps even volunteer to help administer it by joining the committee, then contact either our secretary Duncan Couper duncan@farmerslivery.org.uk , or me Richard Davies richard@redcomms3d.com the Chairman of the WCF Alumni Management committee.