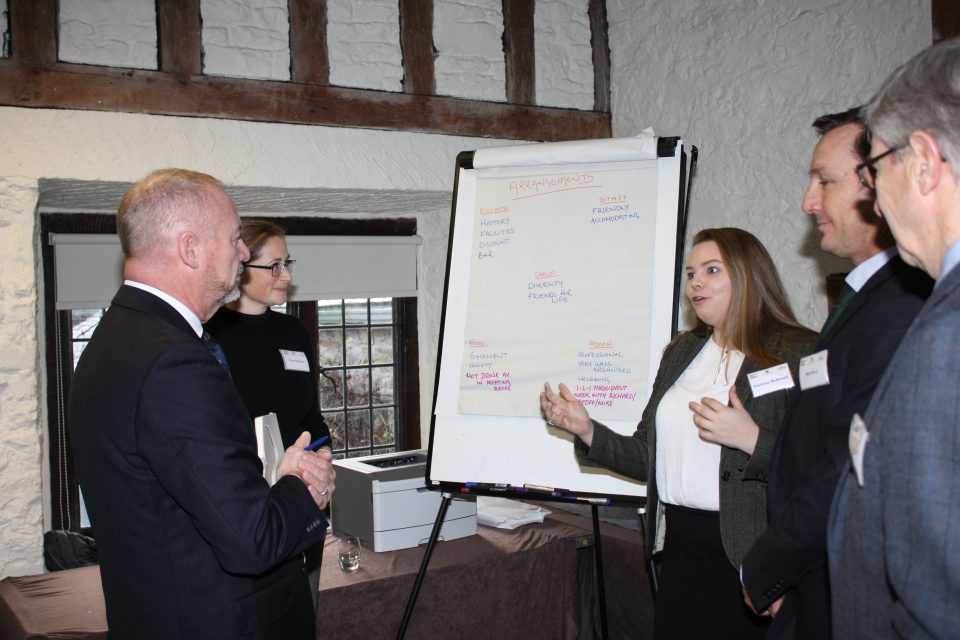 The Challenge of Rural Leadership Course (CRL)
The future for the rural and agricultural sector has never been more challenging.The domination of the food supply chain by giant global businesses companies, changing consumer attitudes, increased demands for countryside access and changes to government and political representation, nationally, EU wide and internationally, are just some of the obstacles which face the industry.
The Challenge of Rural Leadership, which started in 1996, is managed for the Worshipful Company of Farmers by The Rural Business School at Duchy College, part of The Cornwall College Group. The course is aimed at individuals in already management positions within the agri/food sector and comprises an intensive programme of management and leadership skills development and training.
Delegates are addressed by and work with, internationally recognised speakers and guests from important commercial businesses, not-for-organizations, government agencies and the armed forces who contribute to the course delivery and provide a very wide perspective on the challenges of leadership and man management.
The aim is to provide high-achieving managers with the skills and capabilities to grow and thrive in continuously changing and increasingly challenging conditions.
This is a higher-managerial and strategic leadership course. It is designed to help delegates to increase their influence not just within their own businesses but in the larger rural community, both nationally and internationally and also to gain a greater insight into the political, financial and environmental challenges affecting the future of rural industries.
The Challenge of Rural Leadership is run by the Worshipful Company of Farmers, and financial assistance towards the cost of the course is available, for qualifying candidates, from the WCF Charitable Fund.
For more information please contact the Course Director, Richard Soffe on 0845 458 7485 or email leadership@duchy.ac.uk
22nd CRL January 2018
Gemma Smale-Rowland reports
Our family's farm business sits on the Cornwall/Devon border, I am the third generation to farm here and with my parents I manage the Glebewin herd of pedigree Holsteins. I am also a farmers' representative on the Dairy Crest Board and privileged to hold the position of Club Leader for one of the largest Young Farmers Clubs in Cornwall.
The agricultural landscape is currently evolving at a faster rate than ever before, the rise in acceptable standards for farming and food production as a whole has meant the concept of being average is no longer financially viable, excellence is the new norm. Participating in the 2018 Challenge of Rural Leadership programme, has signifantly improved my skill set, and provided me with the confidence to push myself, in the right way, to help move the industry I am so passionate about onto the next level.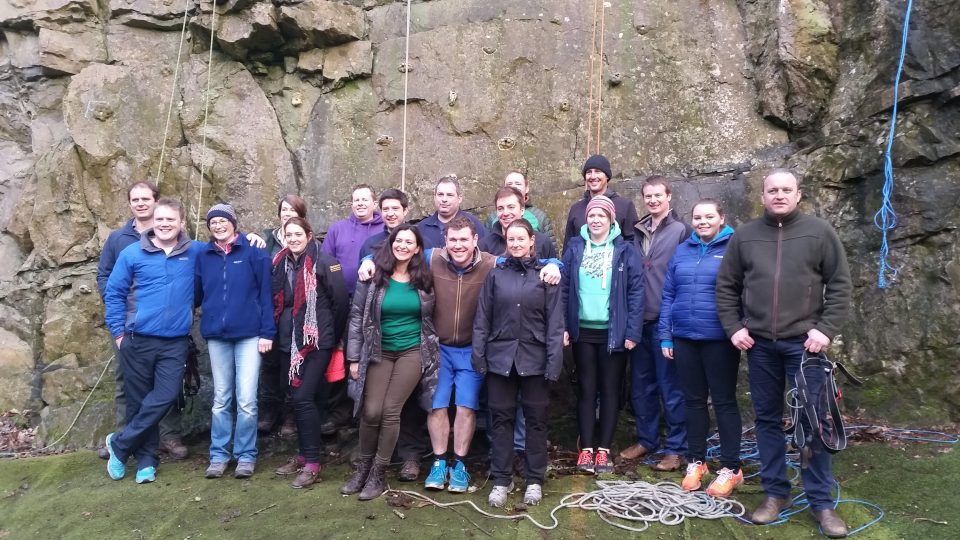 The CRL course I attended was run over a two week period at Dartington Hall, South Devon, a truly fabulous hotel, in a beautiful and peaceful setting with tremendous food and exceptional staff. This ensures you are able to to take a yourself away from the hustle and bustle of normal daily life and work and and fully immerse yourself and concentrate your mind and effort on the course. I always knew two weeks was going to be a significant investment in time, what I din't appreciate was quite how intense and involving the time would be.

To be able to spend two full weeks focussing on yourself and developing your own skills, particularly in the areas of management and leadership, was fantastically valuable and just not possible in the normal working environment. However that is only the tip of the iceberg, because on top of that, we also studied business strategy, creative thinking, how lead and how to conduct difficult meetings and conversations. We experienced role plays, media training, ice breakers and group sessions, as well as taking a very insightful personal psychometric test that helped us all understand more about ourselves and the rest of the delegates and gave us ways of thinking about everyone we know or will meet in business.
There were lectures from some of the most influential people in their respective fields, many from completely outside agriculture. Some of the topics were intensely thought provoking and challenging and included something of particular relevance in agriculture today how to manage life for your own health and well being.
Along with all the content aspects of the course I was also impressed with the ability of the Worshipful Company of Farmers to carefully craft together a group of eighteen, individually selected individuals from divergent but related fields. A like minded group able to live and work together for two intense weeks. This bonding together of the delegates is the key to the ultimate success of the course. I now feel I have 17 new my best friends, my rocks, my support network, councillors, consultants, who are all themselves truly ambitious and passionate, which helps them understand me and my passion for my farm business. We will all, I am sure, support each other through many thing in life and work in the years ahead.
The course, whilst challenging an hard, also provided lots of fun and rewards. It has taught me so many, very useful, skills, showed me ways to change things for the better and taught me so much about myself that I didn't even realise I needed to know.
To anyone working in an agriculture related, rural industry, who wishes to challenge themselves and develop their skills to the benefit of the industry in the future, I simply cannot recommend this course highly enough
I will be using the passion and knowledge generated by my time on the Challenge of Rural Leadership course, the speakers I met, the ideas I was exposed to and the inspiration I gained from fellow delegates on the course, to inspire people within my farming network, increase my influence on the rural community, both locally & nationally, and within time I hope, internationally.
The 2018 CRL Course delegates
Matthew Hague, Suffolk
Rebecca Lamb, Kent
Bernadette Mortensen, Australian Nuffield 2015
Bob Nixon, Australian Nuffield 2014
James Speers, Belfast
Vicky Robinson, Oxford
Michael Reynolds, Leicestershire
Andrew Wilson, Suffolk
Jim Hayes, Lincolnshire
Clare Wright, Cambridgeshire
Christine McDowell, Warwickshire
Gemma Rowland, Cornwall
Penny Montgomery, Scotland
Steven Lowe, Derbyshire
Mathew Bell, North Yorkshire
Tim Ledbury, Somerset
Russell Carrington, Herefordshire
Chris Edmunds, Cumbria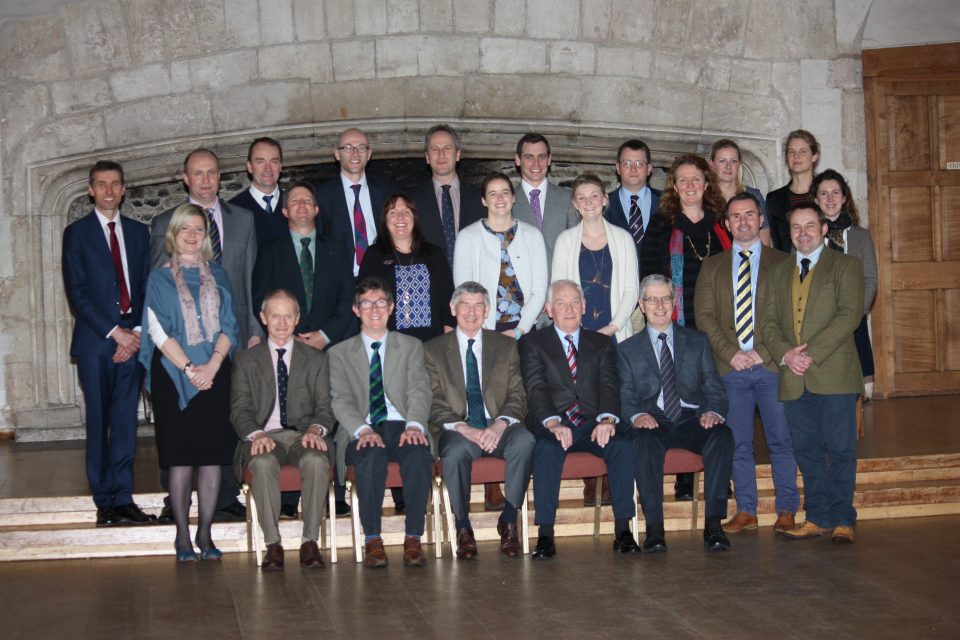 21st CRL January 2017
For its twenty first Birthday, Richard Soffe and Geoff Kerr of the Duchy College Rural Business School led this inspirational course. Held at Dartington Hall between the 22nd January to 4th February 2017 there were eighteen carefully selected delegates; for the very first time a husband and wife team were amongst them. Wayne and Nicki Mann, both Nuffield Scholars, travelled from Australia to join the course. The cohort for 2017 also included Vojech Riha, a Spearhead employee from the Czech Republic, part of a well balanced delegate list of eight females and ten males.

The 2017 speakers included Dr Bryon Walter OBE who gave a very enlightening talk of his experience in the Balkan Conflict as a senior officer making very significant decisions under enormous pressure. Hospital A &E consultant Dr Andrew Appleboam led a discussion on prioritizing – by reference to the situations that he faced in his daily duties. The Minister of Agriculture - George Eustice - addressed the course on the final evening prior to the presentation dinner.
The following are a few short extract from the concluding summary of the two weeks at Dartington submitted by Wayne and Nicki Mann.
Dartington Hall which is a venue oozing with history, character and prestige, so fitting for this course. The minute one arrives and sees the gorgeous, immaculately kept gardens and the grand buildings you feel like royalty and have to step-up and play the part, which is just like leadership.

Every single participant was an accomplished, highly successful individual but so personable and passionate to help one another achieve a common goal of improving ourselves for the betterment of the agricultural sector. This greatly added to the success of the course.
We have formed friendships, allies, mentors, confidants as well as bonds for life. There is a phenomenon that groups that have attended this particular course in the past still gather annually just to catch up, visit farms and generally keep each other motivated and focused on the bigger purpose. I can see this year's group being no exception.
Richard Soffe and Geoff Kerr, ably assisted by Chris Godolphin, spend all year ensuring they get the best selection of speakers to present to the course, they also interject with a strong framework of leadership tools to equip and assist us all get a chance to maximize our success as future leaders. There is opportunity for role play, work-shopping ideas and getting into the nuts and bolts of what it is to be a successful leader which sometimes includes very difficult and hard to make decisions, uncomfortable conversations or actions which can be very isolating and make us question ourselves and our purpose.
The first week revolves the group doing a case study on an agricultural based business located within 200kms of Dartington. Every year the business selected for the course to perform the case study on changes. This year it was a family owned and operated business with its principle activities being farmhouse cheese making, packing and selling; dairy, beef, arable and pig farming; plus an agricultural contracting 50/50 partnership as well as a countryside education program operated through a charity developed from an in-house education initiative. This gave the group a nice set of diverse challenges to get to grips with.
The second week focused more on individuals looking at 'work/life balance', emotional intelligence, 'wellness', 'thinking politically', viewing situations from 'the balcony and not just the dance-floor', considering other people's points of view, encouraging and opening up to feedback, empowering team members by 'giving the work back' and giving confidence to step-up do a 'power-pose' and have those uncomfortable conversations we often avoid.
We all had opportunities to be the chairperson for the day to fine tune our leadership skills. Every participant had to present to the group on our background, our farming business, our goals and aspirations which was so impressive, exhilarating and challenged us to push ourselves further to keep up with the amazing people we were surrounded by.
The course concluded with a champagne reception with the Master of the Worshipful Company of Farmers and some of their senior members PLUS the UK Minister of Agriculture attended and addressed this function.
The delegates for the 2107 CRL course were as follows ..
Nicki Mann - Australia*
Wade Mann - Australia*
Vojtech Riha - Czech Republic
James Orr - Scotland
Roger Lewis - Wales
Emily Borton - Cornwall
Andrew Smith - Cumbria
Timothy Isaac - Essex
Graham Clark - Gloucestershire
Fiona Anderson - Isle of Man
Sebastian Edwards - Norfolk
Simon Bainbridge - Northumberland
Mark Cox - Somerset
Jennifer Hunter - Somerset
Katie Chapman - Yorkshire
Alice Midmer - Warwickshire
Vivienne Harris - Wiltshire
Holly Parry - Yorkshire
Testimonials