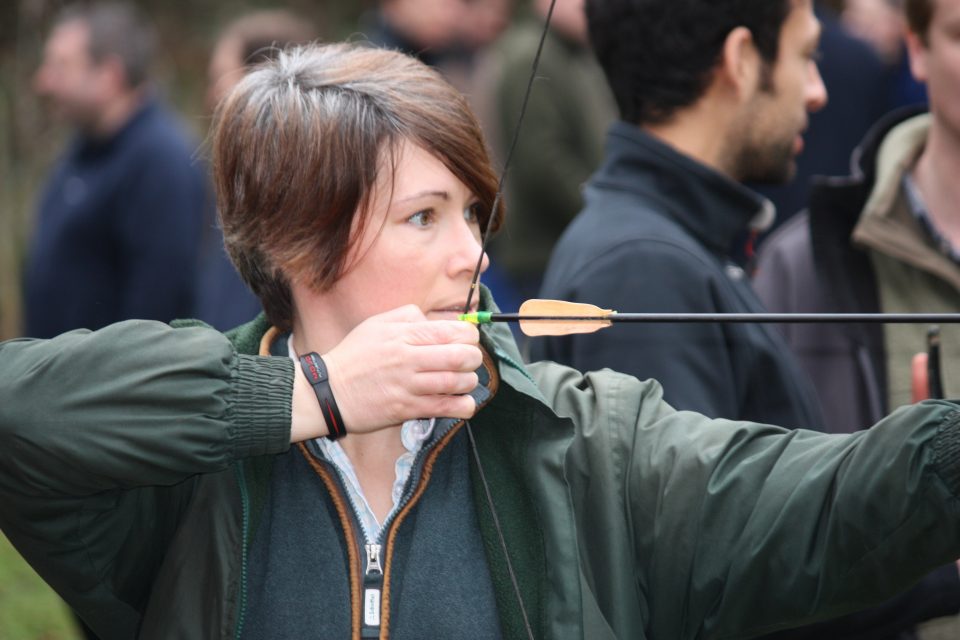 The Worshipful Company of Farmers and Education
A key goal of the Company is to develop the skills of everyone involved in the farming industry, especially the development of leadership and management skills. The Company where appropriate, through its Charitable Trust, can provide substantial financial support to students to attend its educational courses.
In summary our current education portfolio consists of this range of offers (you can download a copy of this chart here - Wcf Educational Portfolio)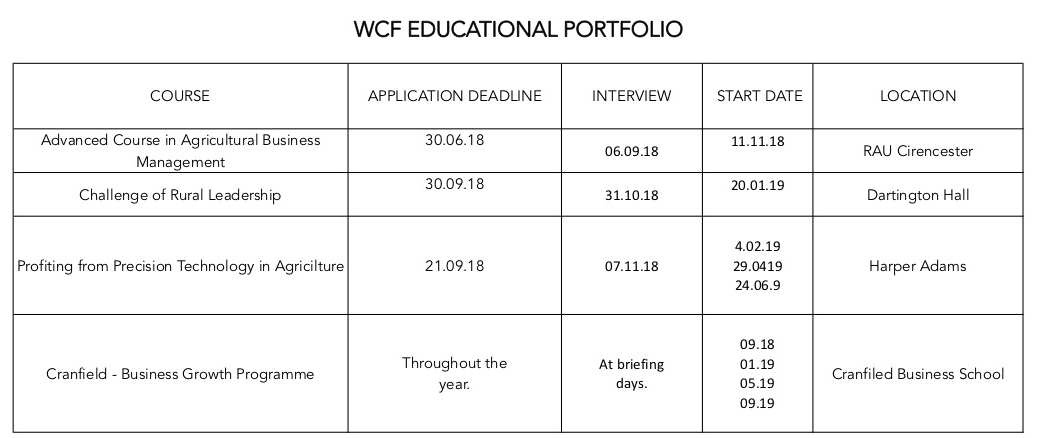 Advanced Course in Agricultural Business Management
An immersive and intensive, 18-day, residential management training course designed for farm/estate managers/owners, land agents and farm management advisors and those senior in agribusinesses serving the sector keen to develop the business skills and acumen needed to directly influence the performance and prospects of their organisation.
The focus of the course is on giving delegates the opportunity to review and understand all the internal and external factors that are likely to determine the success of the business they work in and to begin to develop plans, and the skill-set required, to grow, add value and/or diversify successfully.
Each participant is supported by the University staff and is exposed to a wide range of industry leading, visiting experts and presenters. They work with the rest of their delegate group, in a robust but highly collaborative environment to establish a clear vision of the future for themselves and their business.
RAU Cirencester.
Course Director: Keith Barriball
Established in 1963
The Challenge of Rural Leadership
Our immersive, 13-day, residential leadership programme, willenable you to explore the challenges of leading and motivating an organisation's most important resource: people.Applicants should be highly motivated, high potential, owners or managers of agri-businesses; land management or supply-chain organisations.
The Challenge of Rural Leadership presents the idea of new leadership, helps you better understand your own leadership style and how to apply this within your own organisational context.Whether that be, in your own business, a commercial enterprise, a co-operative or some form of representative or industry body.
With faculty staff and leaders from all walks of life, together with the programme delegates, we develop skills and techniques to communicate and lead effectively. Our goal is to help you understand the need for a deeper level of leadership engagement and to feel motivated and empowered to master this skill in the future.
Dartington Hall,
Course Director: Richard Soffe FRAg.S Rural Business School, Duchy & Bicton Colleges.
Established 1996
Profiting from Precision Technology
There is great interest from farmers globally around the potential of precision agriculture. Around 60% of UK farmers already use some sort of precision agriculture on their farms, but many farmers are still cautious about this approach. There is no doubt that there are many benefits, including reduced input costs (e.g. fertiliser, seeds, fuel, water, fuel) as well as the potential for increased outputs and environmental benefits. This course aims to fill the gap between research, science and technology and the farmers who might use new technologies. The course will enable delegates to use information from their own farms and offers the opportunity for delegates to develop a "Precision Vision" for their own business once the course is completed.

Harper Adams University
Course Director: Simon Thelwell
Established 2019
Cranfield Business Growth Programme
This Development Programme is for Business Owners/Managing Directors, or the person who is in charge of the strategy for growth of a business and given the remit to make it happen.
A modular (4 weekends Friday and Saturday only), residential programme held at Cranfield's Management Development Centre in Buckinghamshire. The dates are structured so that the weekends are not back to back – there are two to three weeks between modules. There will be some further time commitment required when back in your business, but the majority will be exercises that are set for you to work on with your teams. The additional time needed should not therefore be detrimental to your business.
This is a development programme for the business AND the person attending – it is not a text book programme where you are working on case studies or a fictional business. We take you 'out' of your business so that you can work 'on' your own business strategy for the future – not in it! You will be assigned a Counsellor/Mentor, who will work with you – a practitioner/entrepreneur who has a wealth of experience as a business owner themselves and has counselled many businesses across a wide scope of industries.
The BGP helps you create the future you want for your business and for yourself. Whether that's to prepare your business for sale, to deal with succession issues, diversification and challenges that maybe stifling your business. It provides a unique opportunity for you to step back from the day-to-day demands of running your business. The outcome is a comprehensive and robust strategy and a plan for the future, plus a strong network of like-minded business owners that you can trust. Delegates are from a wide spectrum of industry sectors, with turnover from £0.5 to £20m. There are no formal academic entry requirements.
Cranfield University
Established 1993