Date: 8th February 2018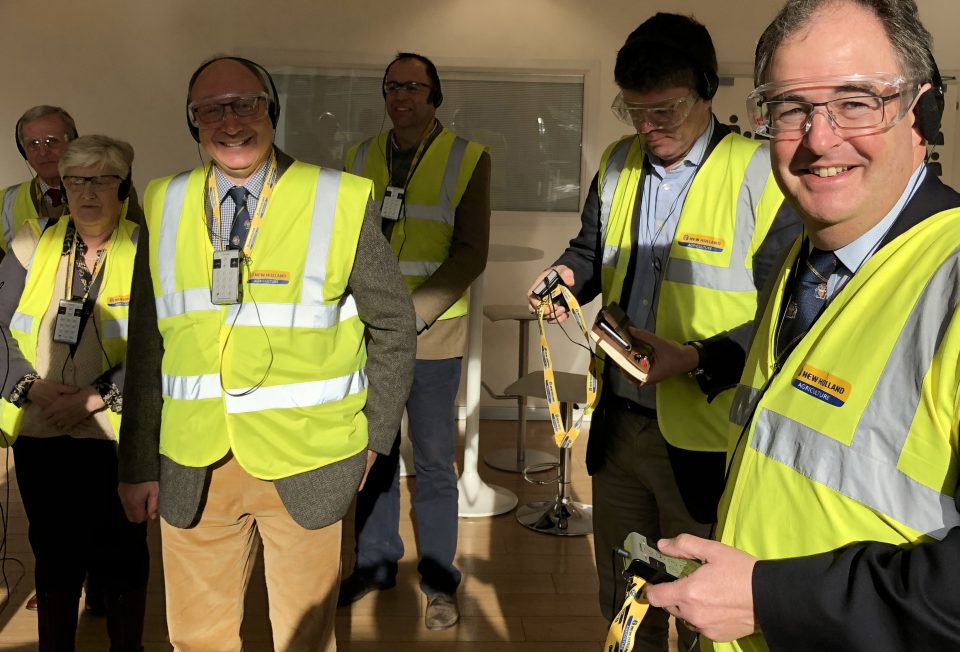 The Master leads a party of fifteen into deepest Essex
Following our highly successful collaboration with New Holland at the 2017 Lord Mayor's Show – our Livery was invited to pay a visit to the company at their Basildon home.
So it was that on Thursday 8th February the Master led a party of fifteen, including Liverymen and guests, along with the Clerk and his wife, down to the very edge of Essex and the CNHi Basildon Plant. We were blessed with a cold but bright day as we assembled to meet our hosts and guides in the plants visitor carpark. The next three hours were to prove interesting and informative.
This plant, which was opened to build 'blue oval', Ford tractors in 1964, now produces around 90 - T6, T7 and T7 Heavy Duty – tractors a week, under the new blue, New Holland and red, Case brands.
With each vehicle taking on average 15 hours to assemble, with a solid 4 hours of this in the robot paint facility, this remains a labour intensive process. There are over 600 people involved on this 40 ha site, three quarters of them working on the 2.5 km long assembly line, which more or less fills around 10ha of buildings. But it is, in essence, only an assembly plant. It consumes in excess of 600 tons of parts every day, the vast majority of these coming from outside the UK on a huge fleet of pantechnicons that, later the same day, leave each carrying three completed tractors. And with the vast majority of production being exported, to we were told, over 120 different overseas markets – the logistics challenge is formidable.
Many of us couldn't help wondering, quite what effect BREXIT would have on this, the only tractor plant still working in the UK, as Britain makes it way into a post Customs Union world. Customs barriers and import and export tariffs would make this operation a very much more difficult proposition one suspects.
But, as was to become clear as we toured the factory with our knowledgeable guides, no two tractors built at this plant are alike. There is no batch building or standardisation here! Each tractor is built to meet a specific order, with its specification chosen from amongst 16,000 options. And although the production plant is highly mechanised (the free roaming, power train delivery robots and the elephant trunk, painting robots were fascinating) the build relies on the personal skill and knowledge of the workers on the line.
Perhaps its this expertise, built up over more than fifty years of continuous tractor production - over 2 million tractors in total - that offer the greatest insurance policy against for this highly skilled and admirable workforce.
Past Master Robin Upton was a member of there Company's delegation for this trip and adds the following comments on the visit
Past Master Robin Upton's Report
As an old codger, I visited the Basildon New Holland Assembly factory with other member of the Livery on 9th February, 2018.
I had visited the site 50 years ago when labour relations were appalling and the foreman's cars had to be parked in a fully protected enclosure.
Now it is an assembly plant employing 5,000 under one enormous roof with an assembly line 1½ kilometres long, putting together many models of Ford tractor from parts from all over Europe and exporting 80% of the production outside Great Britain.
The first impression was a highly motivated cheerful workforce of average age 45 year, not under stress producing 90 tractors a day of various models, there was little threat of robots taking their jobs, in fact we only saw 2, both in the paint shop and those had patch up staff in attendance.
The whole floor and management seemed to work as a team but I personally could not see how it can survive outside Europe. Tariffs on all parts coming in and tariffs against all tractors exported to Europe and the world.