Date: 20th September 2016
Venue: Surrey Docks Farm

Company visit to Surrey Docks Farm
I have been a member of the Company since 1999 and over the years I have met some wonderful people and been on many a fine visit. But I can say with confidence I have never met a group of people, or been on a visit, as inspiring and heart warming as our recent trip to meet our City Farm partners at Surrey Docks Farm.
The Master, members of Court, Liverymen and guests met at the Farmers Club and took the Thames Clipper ferry service down to London's East End. A short walk brought us to the 2.2 acre farm site, which sits directly beside the Thames Path at Rotherhithe. Here we were met and hosted by Farm Manager, Gemma Hooper and Deputy Farm Manager and head of livestock, Claire Elson.
Surrey Docks Farm was first established in 1975 and relocated to the Rotherhithe site in 1986. It is now one of the most successful and oft awarded, working farms in London.
It is truly remarkable just how much the team at the farm have managed to cram into their tiny site.
We saw everything from breeding pigs and cattle to allotments for the local community. From donkeys that provide rides for local children to a fully functional bio-digester that provides gas for the outdoor BBQ. There's even a goat herd, climbing with abandon on artificial rocky outcrops situated in the open animal area in the centre of the site. Its here that members of the local community have the chance to interact with the animals. And towards the western perimeter of the site, beehives where the skills of beekeeping are taught to young and old alike.

The farm works with the people of Southwark and local communities, to provide opportunities for everyone to get to learn about farming, food production and animal management and welfare. And then there's the local version of Young Farmers Club - where the ages are rather lower than we are used to under that title elsewhere - who get the opportunity to not only learn about farming but actually put their knowledge into practice.
The Company have been supporting the farm for a number of years now, and through our main point of contact, Edward Hitchcock, look to provide assistance wherever we can. In fact on the very day we visited Edward's wife delivered a trailer load of hay for the farm's animals.
We were also able to see the new western area of the site - the latest to be brought into production with its new state-of-the-art new muck heap and the much needed new pig breeding unit. Only a team as smart as the one at Surrey Docks Farm would think about inclusion enough, to put windows into, not only the pig unit, but the muck heap as well, and to make sure they were accessible to even the tiniest of visitors, so that now everyone can witness what really happens on a working farm.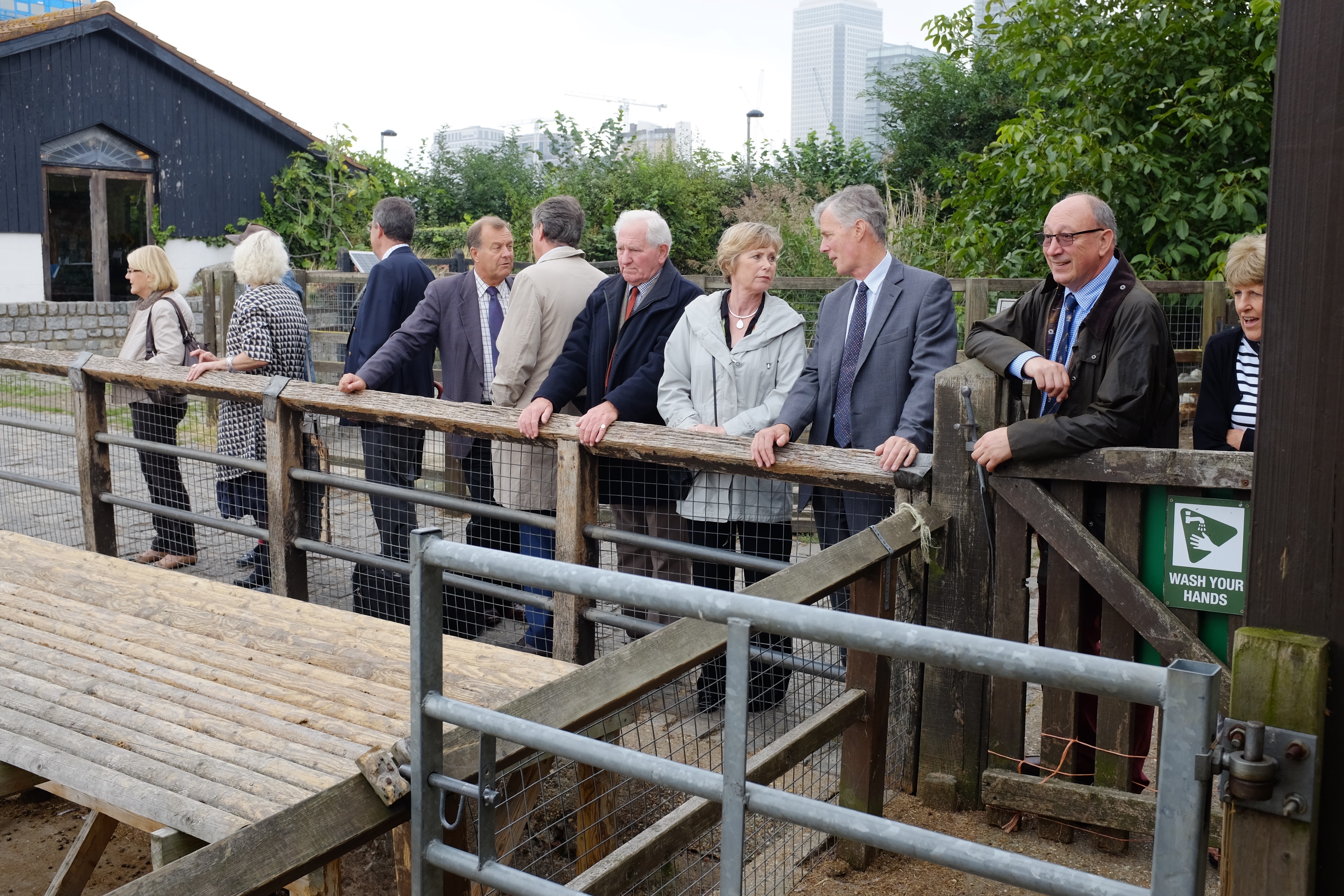 Our hosts could not have been more attentive and welcoming. Listening to them speak, as we toured the manifold enterprises on the site, was fascinating. Both Gemma and Claire spoke with real authority and passion about the farm and it is clear, that not only are they knowledgable and effective as a management team, they are determined and undaunted by the challenges that they face on a daily basis.
Funding is a constant issue, with the constant threat of Southwark's funding being withdrawn or cut. But despite these pressures the farm is clearly moving forward, developing and constantly looking for new ways to engage the community in its work.
At the end of our visit we were treated us to a most enjoyable bangers and mash lunch, with the bangers made with meat from the pig unit, and all washed down, for some of us at least, with the farm's own beer.
I for one left at the end of half a day on the farm, determined to see what I could do to help the farm more. And I am sure the visit had that affect on many of our party. I am definitely going to be going back again soon, and I hope this short piece will encourage more people inside and outwith our Company to go and see what happening at this remarkable place, and to find ways large or small to support it.