Date: 4th October 2018
The Reverend Dr Gordon Gatwood - honoured at the 2018 Farmers Weekly Awards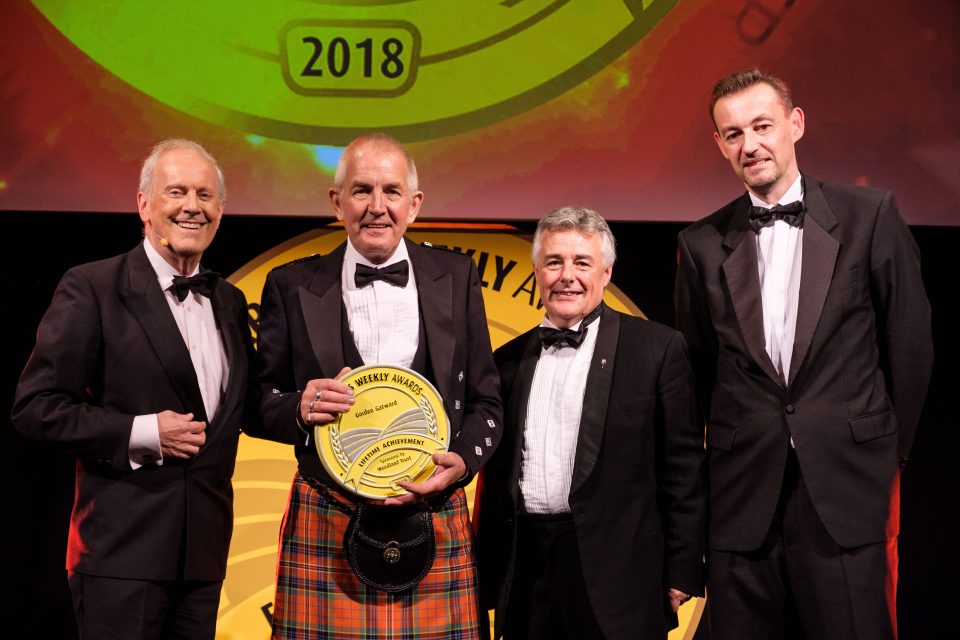 Quite how Immediate Past Master, Julian Sayers managed to get Reverend Gatwood to the Farmers Weekly Awards, without revealing the fact that he was to be the recipient of an important honour, remains a mystery - but manage it he did. So it came as a complete surprise to Gordon when it was announced that he had been awarded the Farmers Weekly Lifetime Achievement Award.
Gordon has a long and much appreciated association with the Company having been honorary chaplain to Past Masters Thomas Wheatley-Hubbard and Julian Sayers and holding the same position for our current Master Rosie Carne. He has also been intimately involved from the beginning in the Company's Health & Wellbeing Initiative - something he now chairs.
In the citation for the award, Farmers Weekly highlighted the enormous breadth of Gordon's involvement in and commitment to UK agriculture, saying: -
'For decades, the Methodist minister has worked tirelessly and selflessly in a host of capacities to help farmers and their families.
His roles have spanned everything from being chairman of the Farm Crisis Network (now the Farming Community Network), chairman of Care Farming UK and a board member of Linking Environment And Farming (Leaf).
It was between 1999 and 2013, though, when he was chief executive of the Arthur Rank Centre (ARC), that he became more widely known.
His achievements at the charity included overseeing the establishment of the Addington Fund in the wake of the 2001 foot-and-mouth epidemic.
Back then the fund provided a lifeline to devastated farmers – it responded to more than 20,000 appeals for help and distributed more than £10m.
He has served on the National Federation of Young Farmers' Clubs board of management, is chaplain to the Royal Agricultural Society of England on behalf of the ARC, and is currently chairman of trustees at Pennyhooks Care Farm in Wiltshire.
Gordon's current responsibilities also include work with the Henry Plumb Foundation, the Gamekeepers' Welfare Trust and the Worshipful Company of Farmers (WCF).'
Speaking after the award had been announced, with secrecy no longer required Past master Julian Sayers said. "He'll travel the length and breadth of the country and do whatever it takes to help others. "It's been a huge privilege that he has served as my honorary chaplain and led our industry-wide health and wellbeing initiative."
I am sure everyone in the Farmers Company will want to join Julian, Rosie and Thomas in saying, that we all think the award is not only richly deserved but could not have been given to a more worthy, or humbler recipient.