Date: 17th June 2021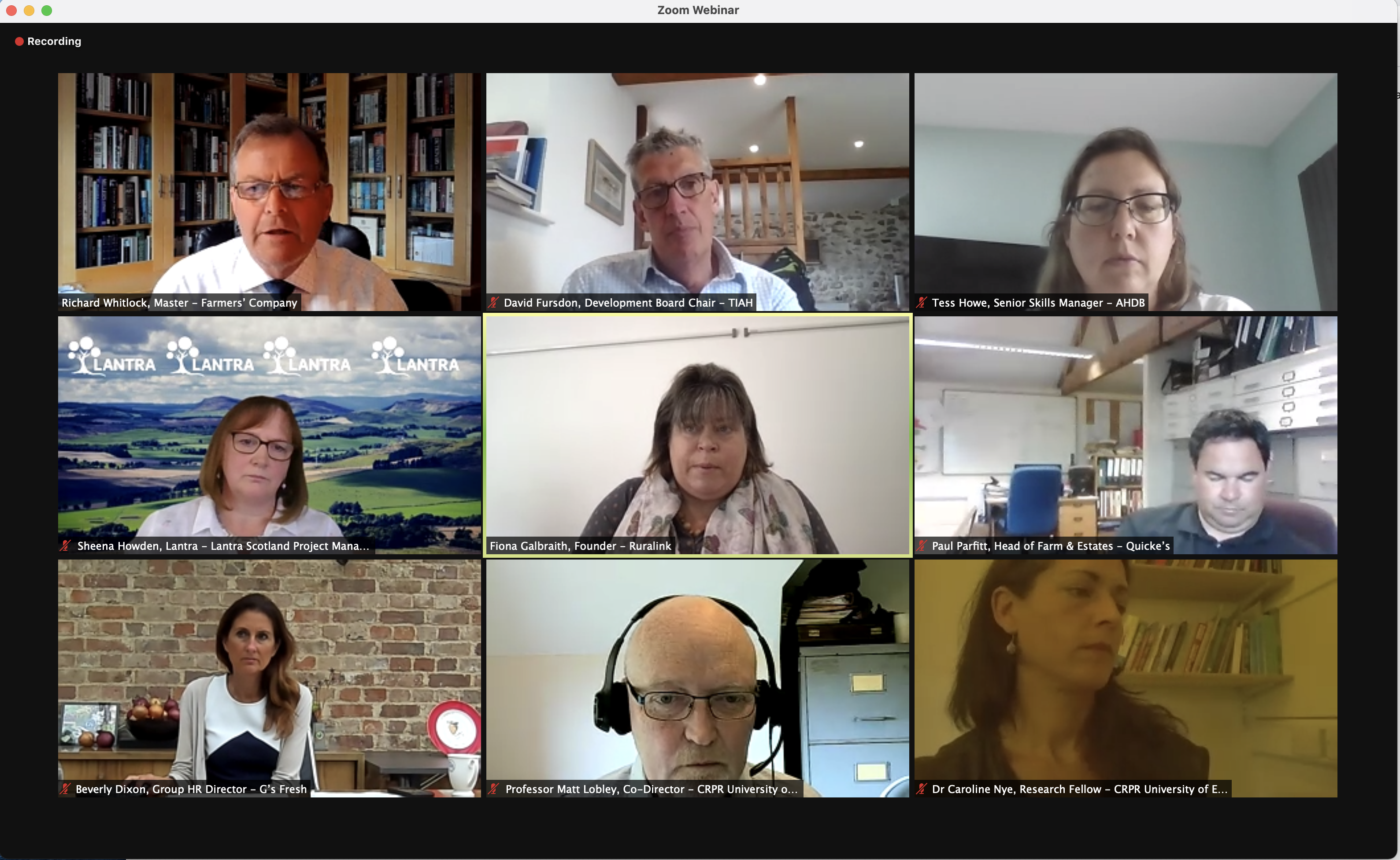 Excellent attendance for launch of an important paper on Farm Labour in the UK
Dr Caroline Nye, Research Fellow at Exeter University's Centre for Rural Policy Research (CRPR) co-author, with Professor Matt Lobley, Co-Director of the CRPR, of the WCF commissioned research report on accessing the workforce the rural industry needs presented a summary of the 62 page report to a virtual audience of close to 100 including Liverymen, industry leaders and the press.
In her presentation Dr Nye highlighted the link between good management of farm businesses and the ability to recruit the right quantity and quality of labour. The UK agriculture industry she said needs to wake up to the need to compete with the rest of British industry for scarce labour resources - and to change its approach to everything from working conditions and hours, diversity and inclusion, creating an environment which allows employees to achieve the right work/life balance right through to succession and farm business management planning.
Without a significant mindset shift farm businesses simply won't be able to recruit the quality of employees and managers that will be needed as the whole industry faces a massive economic and cultural shift over the next few years. "Management and leadership training will be essential if farming is survive, because good recruitment and staff retention requires good management", she said.

In trying to, not only identify the problems in addressing both seasonal and full-time labour shortages but also offer some potential remedies, she suggested a key was the industry addressing the insular and highly conservative attitudes that, for instance, prevented enough women inheriting and managing farms, stopped farmers looking outside of the industry for labour and kept farmer's perception of what is acceptable as acceptable employment conditions rooted in the past not the present.
In addition she said the industry needed to actively work to change non-farming people's negative perception of what modern day farming is like and the substantial career opportunities it offers.
Dr Nye's presentation was followed by a panel discussion involving Dr Nye and Professor Lobley along with Beverly Dixon, Group HR Director - G's Fresh; David Fursdon, Development Board Chair - the Institute of Agriculture & Horticulture; Fiona Galbraith, Founder - Ruralink; Sheena Howden, Lantra Scotland Project Manager; Tess Howe, Senior Skills Manager - AHDB and Paul Parfitt, Head of Farm & Estates - Quicke's chaired by Richard Whitlock, Master - the Worshipful Company of Farmers.
The panel each made their own comments on the paper and their real world experiences in the area of recruitment and retention and then addressed a series of questions from the online audience.
To read a copy of the full report follow this link: 2021 Master's Research Report