Date: 25th July 2015
Venue: Girton College, Cambridge, CB3 0JG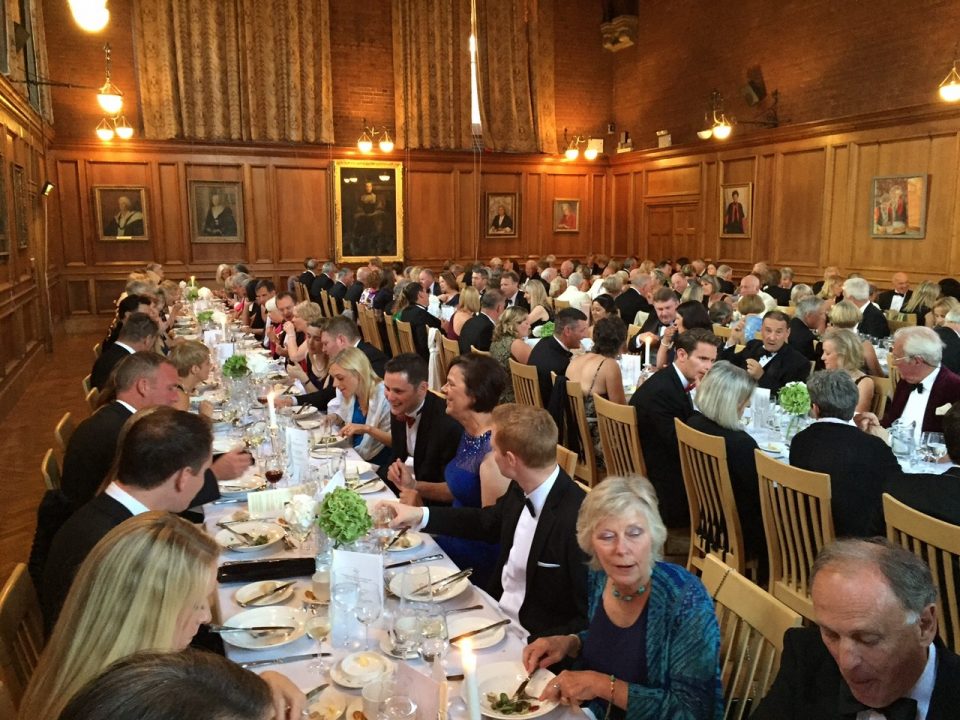 The Company held its inaugural Summer Ball At Girton College, Cambridge on Saturday 25th July. This spectacular event was organised by Liveryman Karen Mercer and her committee and was the event of the year not to be missed! The photograph is of the diners in the Fellows Room at Girton College.
Just under 200 Liverymen and their guests made their way to the splendid surroundings of the once girls only College on the outskirts of the university city, for a champagne reception before dinner. The sun had pushed aside the clouds in this stormy period so that we enjoyed the suntrapped sunken garden. Shortly afterwards the company moved to the almost ecclesiastic Dinning Hall. Almost ecclesiastic, because the walls were adorned with several quite severe looking former Principals of the College, who probably never had to use the word Discipline!
The kilted Master welcomed all, including the guests, notably Sheriff Elect Dr. Christine Rigden and the Deputy Commissioner of Barbados. The excellent dinner was enlivened by Liveryman Julian Sayers who hosted a round of Higher or Lower where each person, having put some money in the pot, has to guess whether the answer to the question is higher or lower than Julian's statement. The last man standing was my guest, The Clerk! However Graham Bamford gallantly stood down and the prize went to second man standing, Louise Holmes.

At the end of dinner, Deputy Master Peter Faulkner conducted the Auction of Promises with some very good Lots, including two from the Duchy of Cornwall, so that these two dinnertime fundraisers raised more than £10,000 towards the Company's charity funds. The Ball Organiser, Liveryman Karen Mercer, thanked her team and the Master thanked her by saying it in the time honoured way, with Flowers!

The band, a Girl Called Sue, struck up with enthusiasm, which drove the octogenarians from the room and others to the bar, but it did leave the dance floor not too crowded with enough space for free expression. By sometime after midnight the band fell silent and the wise revellers made their way to their student rooms, which were surprisingly satisfactory! Those same wise revellers arose for a good breakfast and to greet the other wise people. The Organiser did not realise that the college had other residents, and sold 20 tickets to some Japanese and elderly Americans for next year!

What planning! Much needed rain the day before and the day after but sunshine for the few hours that it mattered. Very well done, Karen!

Report from the Master, Tony Alston.