Date: 9th September 2018
Venue: RAF Northolt
Middlesex Wing Air Training Corps - Competition and Celebration at the Annual Field Day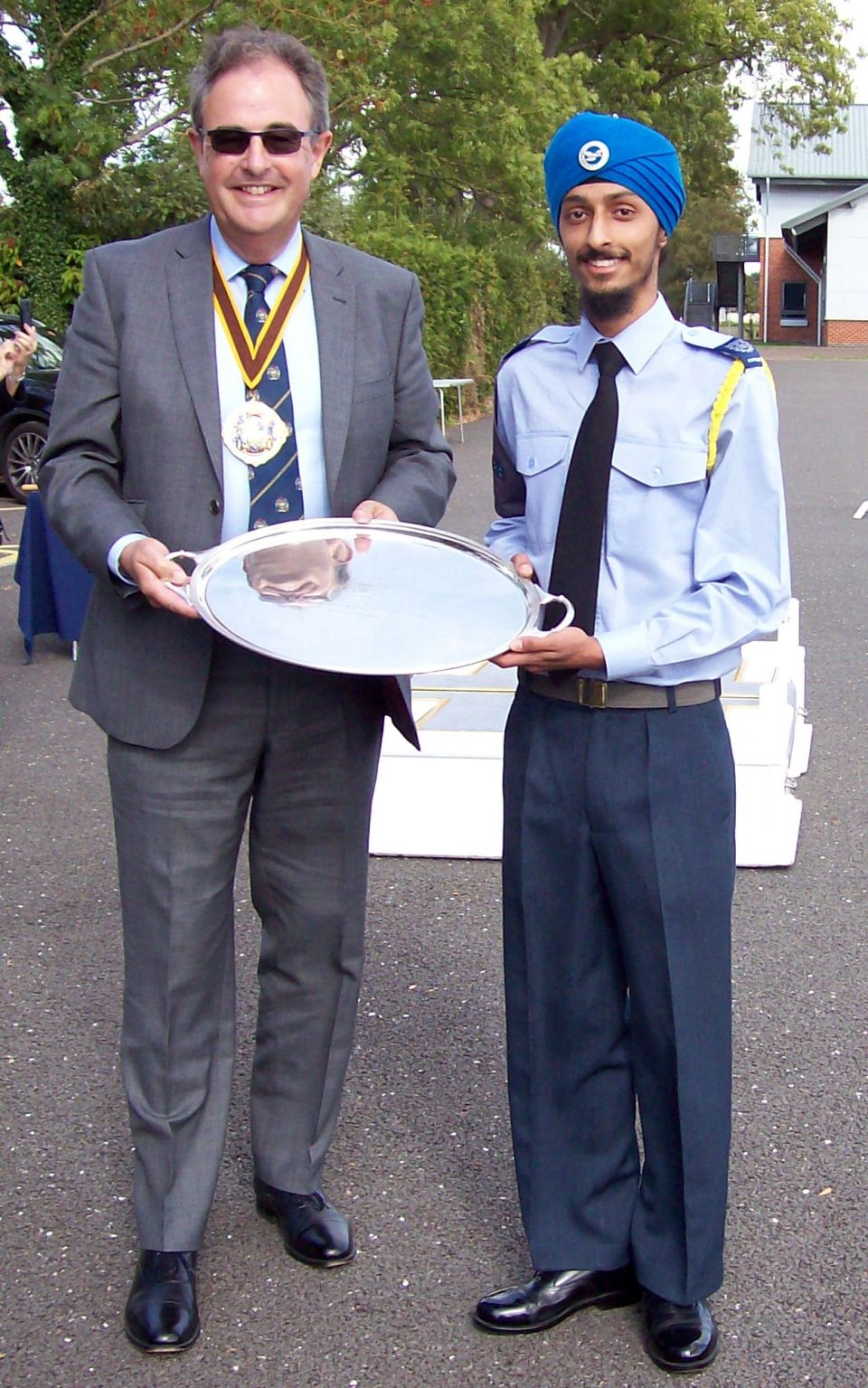 On Sunday September 9ththe Company was again well represented at RAF Northolt to join in with our Cadet Affiliate, the Middlesex Wing Air Training Corps, annual Field Day and Review. The weather was dry and sunny and, as usual, the event was punctuated by the noise of jets taking off and landing from the airfield including one carrying the Prime Minister returning from another 'brexit' meeting.
Some 300 cadets and volunteer assistants took part in the event and it was a pleasure to see so many young people from every ethnic background and gender enjoying the friendship and competition that the cadet organisation provides. The Middlesex Wing has 20 squadrons each one reliant on support from organising former officers and take part in a wide variety of activities during the year culminating in this parade of the whole Wing.
The Company was represented by the Master and Mistress, Liveryman John Evans, Past Master Jeremy Courtney and Liveryman Anne Courtney who maintains constant liaison with the cadets primarily Wing Cdr Dejan (Dan) Mihailovic and Sqd Ldr Cherry Barron. This year our party was given presentations by two cadets who had benefitted from the Company's bursaries to help defray the costs of international travel to meet other Air Cadet groups.
One of this year's winners was Cadet Warrant Officer Tom Hunt who spent two and a half weeks with 26 international cadets from eight countries visiting Canadian air bases and associated organisations including Griffin Helicopters. Tom, who is studying Aero Engineering at Swansea University, aims to become a helicopter pilot and enjoyed flying over fascinating territory. The other winner was Flight Sgt Gulmeyrem Yaman and spent two weeks in the USA near Washington with 28 cadets from various countries and she gave the party an interesting presentation on their activities.
As always there is intense competition between the squadrons, such as very realistic first aid demonstrations, model aircraft construction kits to virtual shooting competition. The winners of each competition are presented with an award and there is obvious joy within the squadrons of being recognised for their effort.
The salute was taken by Group Captain Mike Carver, the Station Commander of RAF Northolt, and the Master presented the Livery Salver, for community involvement, to the winning Squadron 86 Heston and Isleworth Squadron..