Date: 12th February 2019
Start time: 6:00pm
Venue: Farmers & Fletchers' Hall
Master accepts return of Company History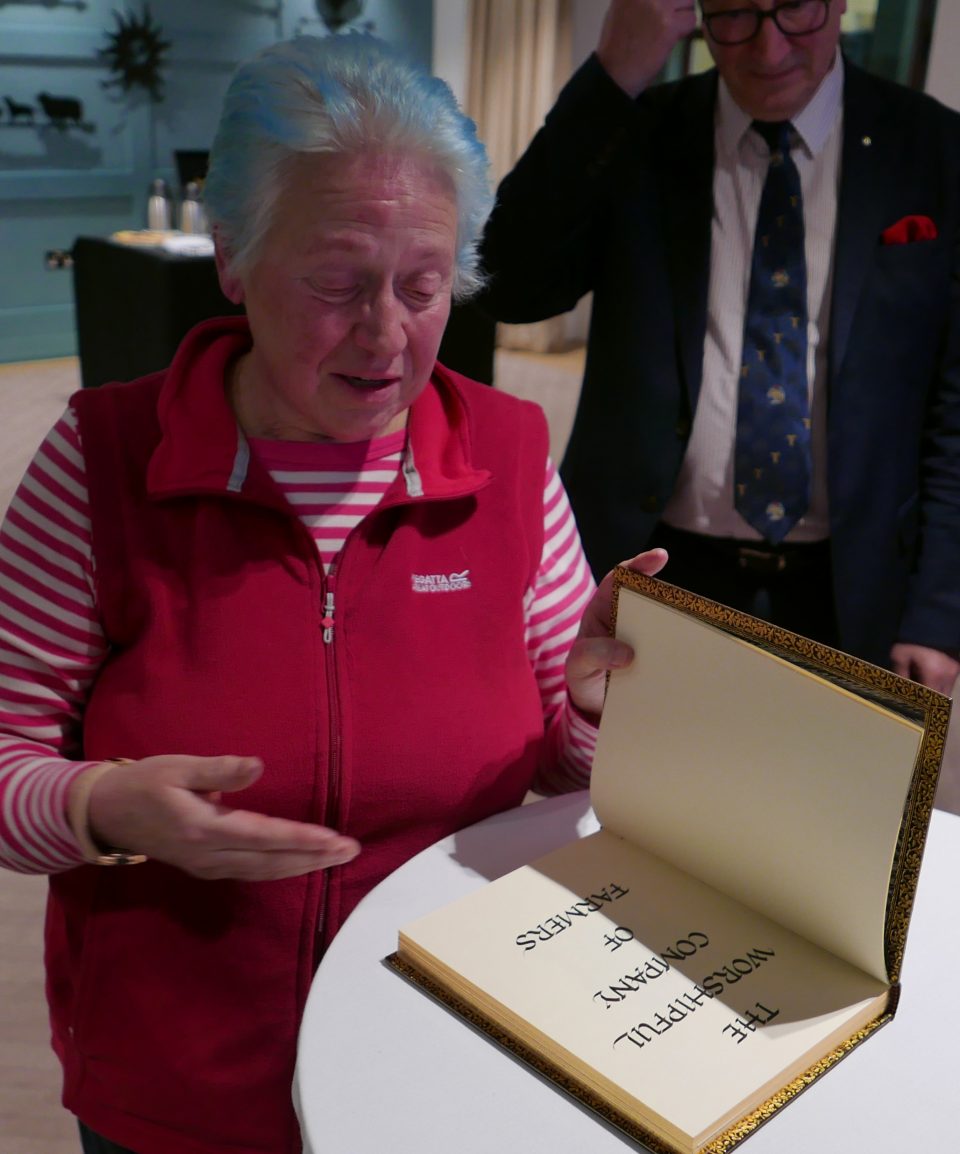 Past Master Follett Balch, with the assistance of several members of the Company particularly Deputy Master, John Reynolds, ably assisted by, friend of the Company, Dennis Chamberlain, has been working on a comprehensive update of the beautiful, hand lettered 'History of The Company' that was originally created when the Company moved into Farmers & Fletchers Hall.
The update, which has taken over two years of dedicated, hard and careful work, adds a detailed record of the Hall Fund Raising Project and a complete list of all those who made donations. Painstakingly researched and written by Follet and edited by Dennis Chamberlain, it covers the Hall refurbishment from conception to completion and re-opening.
As if writing it were not enough of a challenge, modifying the hand-written and bound, vellum paged book, to create the extra space needed for the update, was a huge task. Careful research by Deputy Master John Reynolds allowed the identification of the book-binding company who undertook the original commission. And remarkably, not only were they able to put us in touch with Annie Moring, the calligrapher who hand-lettered the original for us but they even had a small supply of vellum identical to that which the book had originally been made with. This meant they were able to strip down our book to its component parts, add a complete new section of matching vellum and then rebind the whole so that the addition was impossible to detect.
That just left the monumental task of hand lettering-in all of Follett's new copy - an undertaking made considerably more difficult by the fact that it had to be done after the volume had been re-bound.
That Annie was still working as a calligrapher so many years after the original commission, was a stroke of enormous good fortune. She was able to match the style of her original work exactly, so that the new material now blends seamlessly with the old and brings the story of the Company and our Hall bang up to date.
The completed work was eventually returned to the Hall on Tuesday 12th February when the Master accepted the expanded book, on behalf of the Company, at a small ceremony at the Hall. Our calligrapher was able not only to pass the precious book back to the Company but also reveal some of the secrets and mysteries of the calligrapher art, not just in terms of our History of the Company, but also the hand-lettered scroll of contributors that is proudly displayed in the main reception area of the hall - which proved fascinating.
The hope is that a suitable, permanent location within the Hall can now be found to display the revised book, so that members of the Company and guests can share in the pleasure of this beautifully created object.