Date: 13th October 2020
Start time: 11:30am
Venue: The Church of St Mary the Virgin, Mill Street, Ashwell, Herts, SG7 5LY
Richard Whitlock installed as the new Master at an unusual but highly enjoyable ceremony in Hertfordshire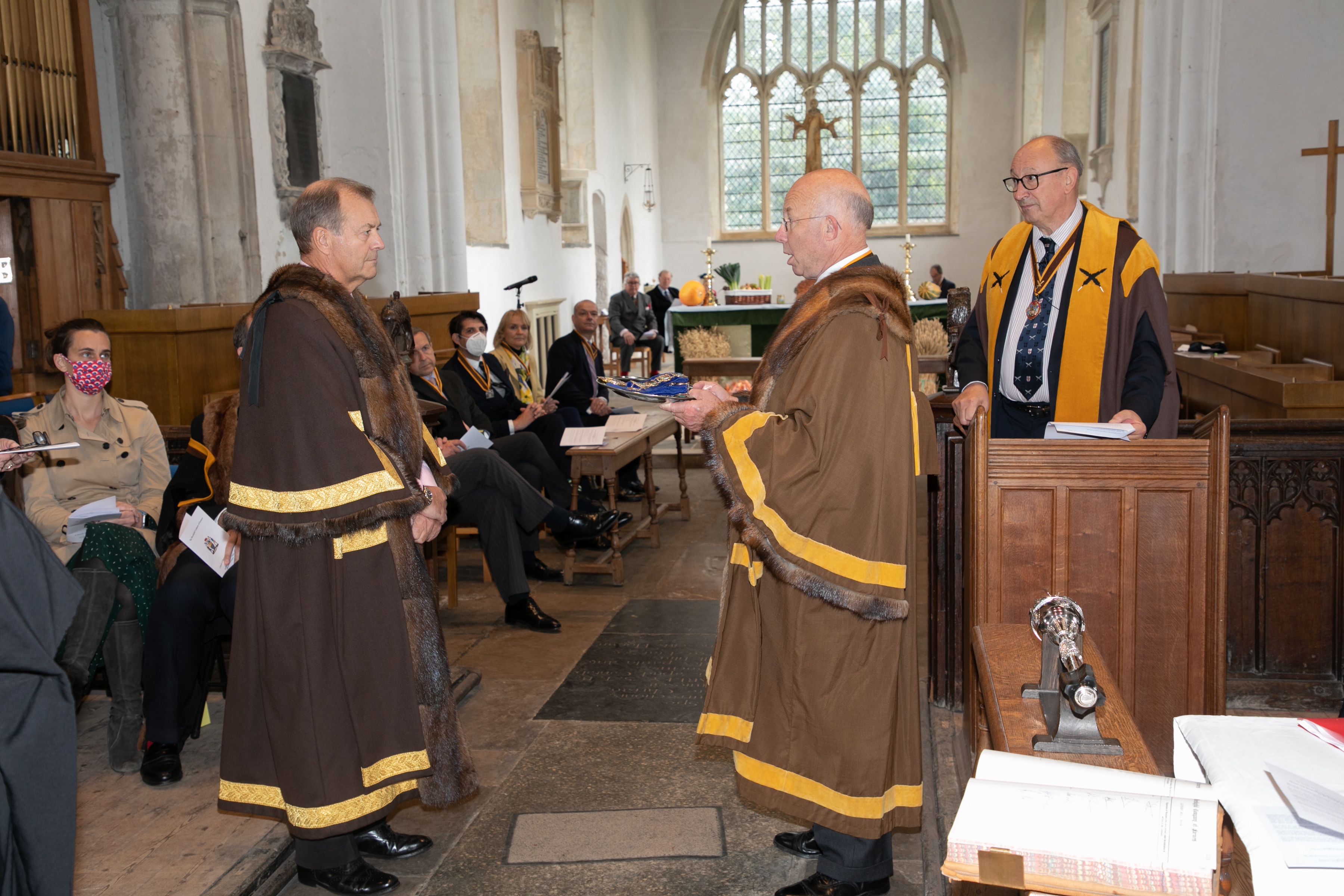 Quite how many different plans for the installation, the incoming Master and the Clerk created before one could finally be settled upon is a matter of some conjecture. That there were many, and that all but this final iteration had to be scrapped to cope with the ever-changing Covid-19 restrictions, is beyond doubt.
In the end what the new Master and the Clerk were able to put together was quite excellent. So detailed was the Clerks planning that it went off without a hitch and a great deal of the ceremony and theatre of our usual St Bartholomew the Great event was wonderfully preserved. Recognising the fact that, despite these arrangements, far fewer members of the Company and guests would be able to attend the ceremony the decision was taken that the whole event would be covered by video and broadcast live to allow those unable to attend to at least witness proceedings. For those not able to either attend in person or to watch live an edited highlights package of the service can be found here Highlights of the Harvest Thanksgiving Service & Installation
The church of St Mary the Virgin sits in the beautiful Hertfordshire village of Ashwell. The Grade 1 listed building was constructed in the 14th Century and poignantly, in these times of global pandemic, its construction had to be paused for nearly 20 years because of the Black Death plague. Our own precautions, extensive as they were, were rather less drastic.
The fact that the local vicar, The Reverend Robert Evens, was kind enough to allow the Company free rein for the day and the preceding evening was what made it possible for the event to be held at all. His very welcome presence together with the incoming and outgoing Masters' chaplains made for quite a sight and hopefully set the new Master's year off on a good and Godly note.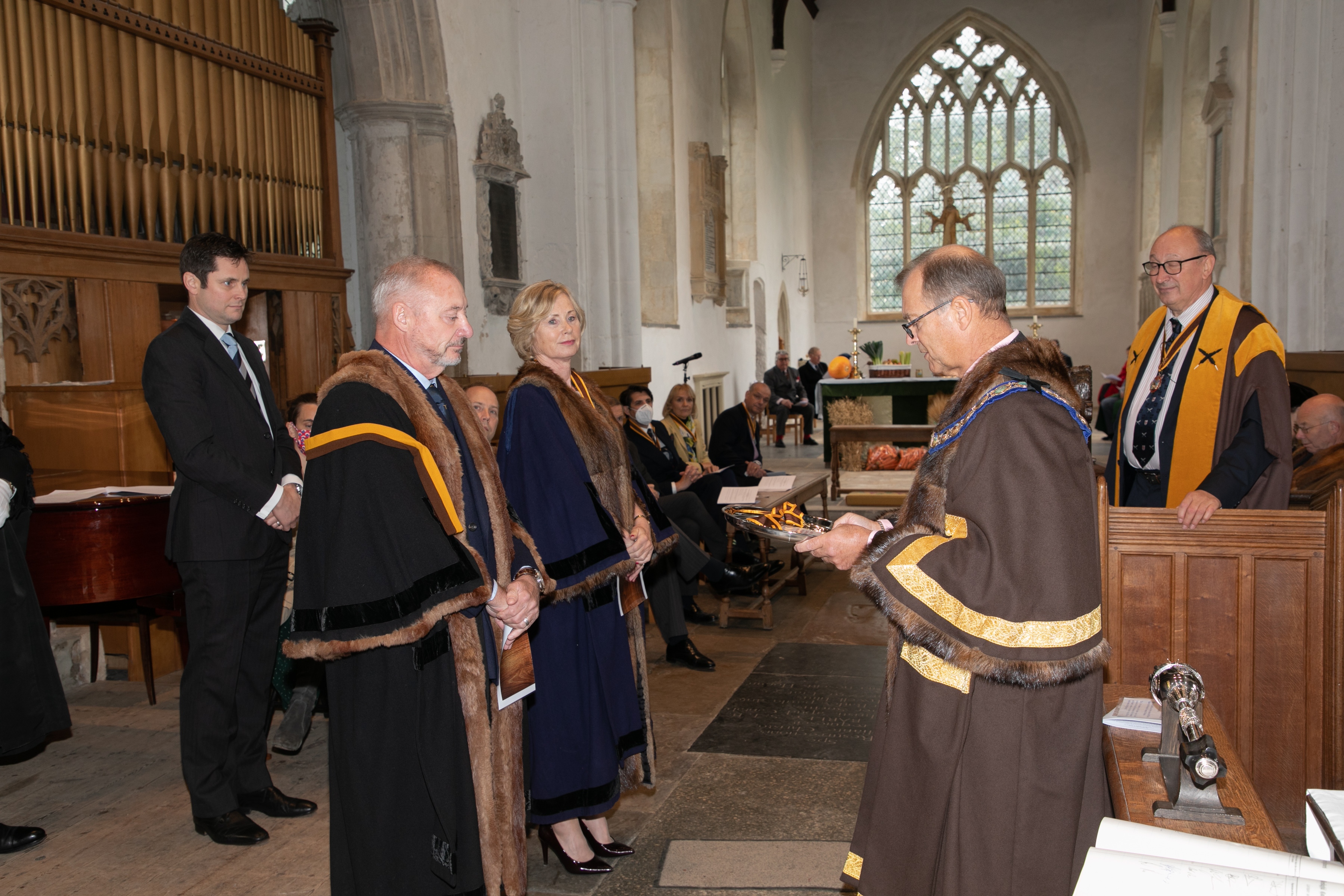 The outgoing Master David Bolton handed over the chain of office to the incoming Master Richard Whitlock but unusually it was not placed around his neck by the Beadle but, due to Covid-129 restrictions by his wife. in a similar fashion the incoming Senior Warden, Karen Mercer, received her new badge from her son Tom and the new Junior Warden Richard Davies received his badge from his wife Terri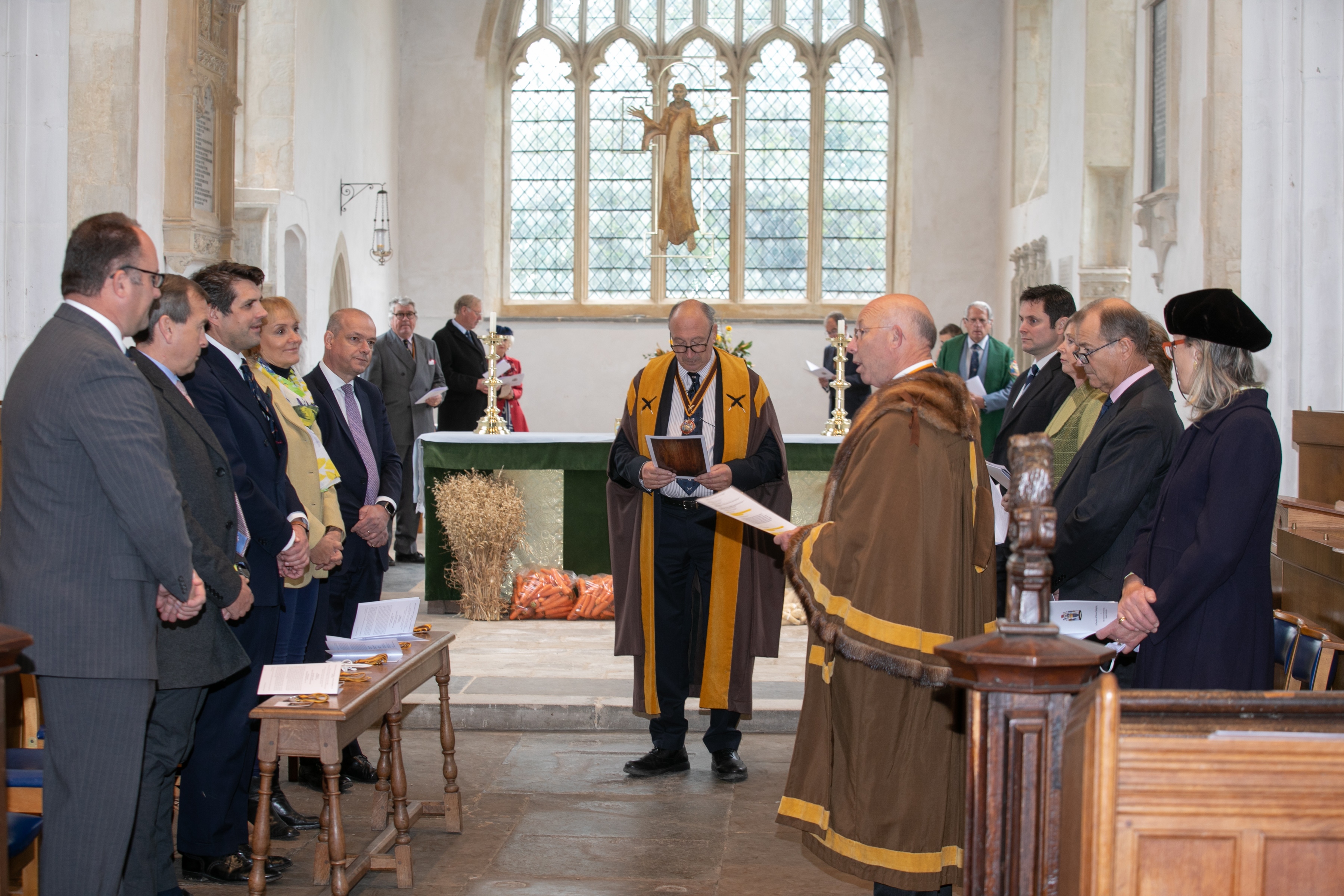 Uniquely our traditional Harvest Thanksgiving service and Installation was coupled with the clothing of three new Liverymen - Richard Anthony Price, Christopher Spokes and Paul Rous and the elevation to Court of five new assistants Mark Hall, Gavin Lane, Peter Wiggins-Davies, Mary Foster and Nicholas Major.