Date: 11th November 2017
Venue: City of London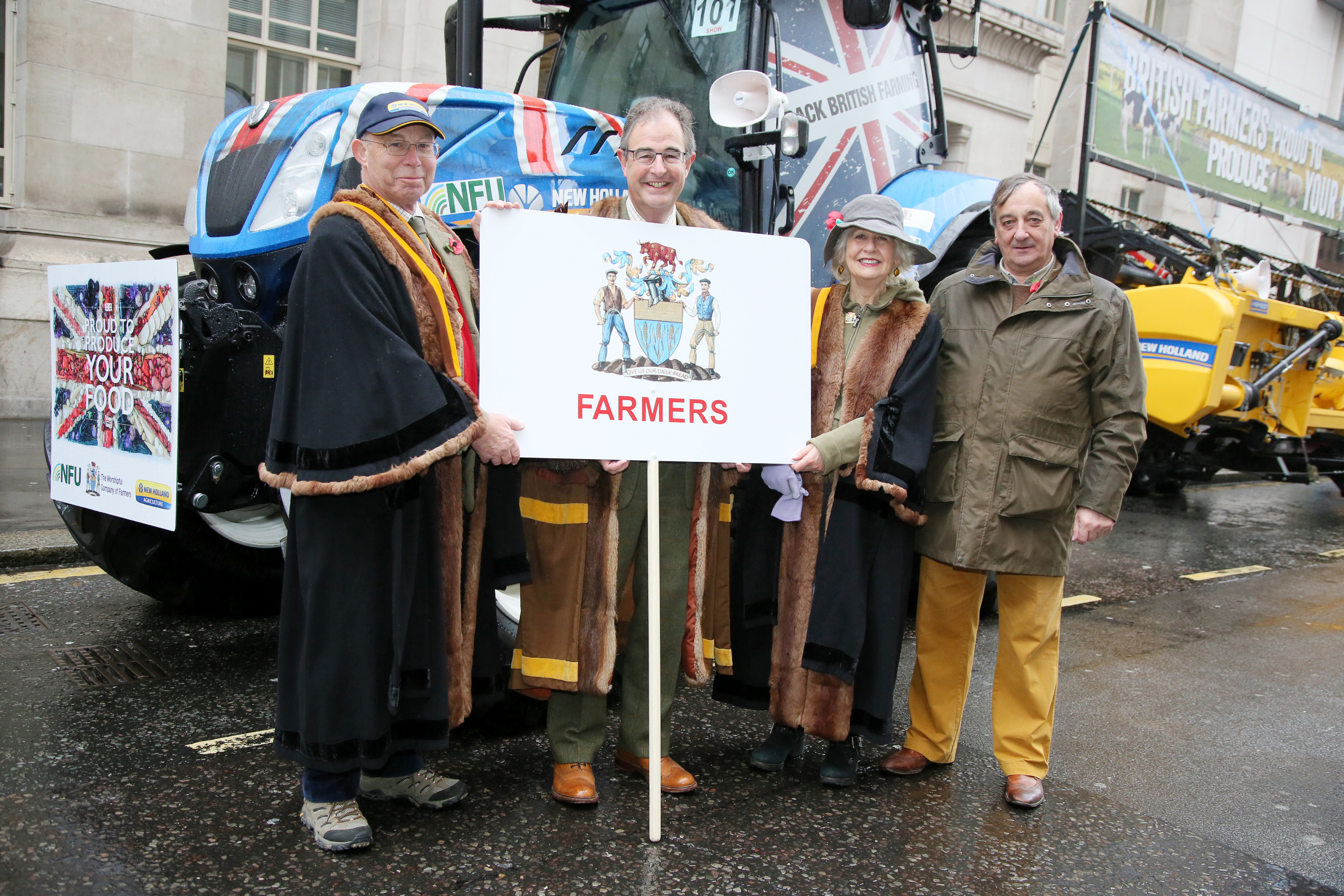 2017 sees the Farmers have their own entry in the Lord Mayor's parade for the first time
This year was the first time the Worshipful Company of Farmers has paraded as a stand alone entry, rather than under the banner of the Modern Livery Companies. And, with the immensely helpful support of the NFU and New Holland and a great deal of work by the Master, the Wardens, Liveryman John Martin and many other Liverymen, wives, partners, helpers and friends, the event was a cracking success.
Led by the Master and his Senior and Junior Wardens, our display featured a New Holland T7 270 tractor, built at the company's Basildon plant, and a CR8 80 combine harvester, equipped with a 20-foot header. Eight young farmer ambassadors, each representing an NFU region, also took part.They were chosen after the NFU launched a nationwide search to find young farmers who have made an outstanding contribution to the agricultural sector.
The 802nd Lord Mayor's Show included more than 7,500 participants, 200 horses, 140 floats, 20 marching bands, dancers, performers, armed forces and the various livery companies.
The WCF team took the 'Back British Farming' and 'We are proud to produce your food' messages to the very heart of the capital at a time when greater understanding of our role in society could not possibly be more important.
Speaking immediately after the show the Master said. "The teams from the NFU, New Holland and the Livery were all real stars in my book and worked tirelessly to ensure that once again British Farming was so well represented during the parade. Having spoken to friends, fellow Liverymen and other Masters there is no doubt that we left our mark due to the impressive machines, the flag waving Young Farmers and of course Mike's dulcet tones!
"I am sure the Show will be one of the most memorable events of my year and I felt extremely proud to have been part of the entry. Other members of the Lord Mayor's Guard of Honour remarked on how impressive the Farmers' Company contribution to Show had been once again."
Liveryman John Martin, who coordinated this year's entry, reports that "the weather remained fine, if a little chilly and thanks to everyone at New Holland and Rainthorpe Transport, the tractor and combine arrived on time, in pristine condition and looked stunning."
To get a real feel for the event and our participation, have a look at this great little video from NFU cameraman Dominic Swire WCF at the 2017 Lord Mayor's Show.