Date: 7th March 2017
Venue: Farmers & Fletchers Hall
2017 March Court and Livery Luncheon
The Court of Assistants met in the Farmers & Fletchers Hall on March 7th 2017 with, as is usual for these quarterly meetings, a very full agenda. The items to be covered included discussions on the progress with the commercialisation of Farmers & Fletchers' Hall; reports from the Master and Committee Chairmen; the results of the recent ballot to elect new Assistants to the Court, the outcome of which will be announced by the Master and the Clerk shortly, plus two Clothings and the ceremony to Bind a new apprentice in front of the Court.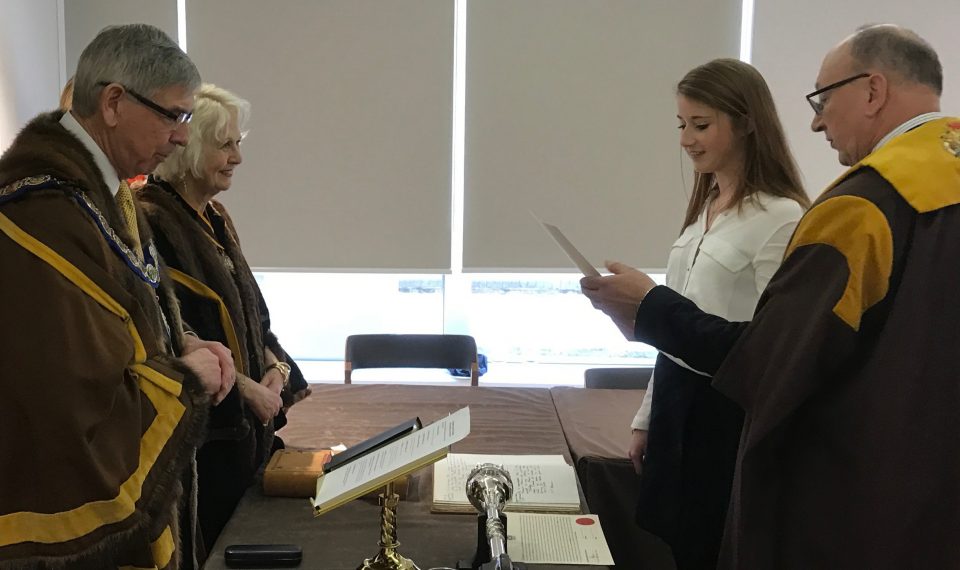 Our two new Liverymen are Mr Robert James Willey, of Roughton Moor, Woodhall Spa, Lincolnshire and Mr Roger James Wyatt of Hampton Hill Farm, Hampton-on-the-Hill, Warwickshire and our latest apprentice is Miss Alice Rayner, bound to her Father and Master, Liveryman Colin Rayner of Berkyn Manor Farm, Horton, Slough. Berks
Luncheon in the Farmers & Fletchers Hall was extremely well attended again and a packed Great Hall greeted the Master as he stood to welcome everyone and to introduce his guests Major Charles Rotheram PY of the Westminster Dragoons, Mrs Anna Baker Cresswell of Highground and the Master's principle guest speaker, Judith Batchelar OBE Director of Brand at Sainsbury's for the last 10 years.
Introductions over the Master handed the microphone to Judith Batchelar who is a biochemist by training and a registered nutritionist with a particular interest in building resilient and sustainable food and farming supply chains.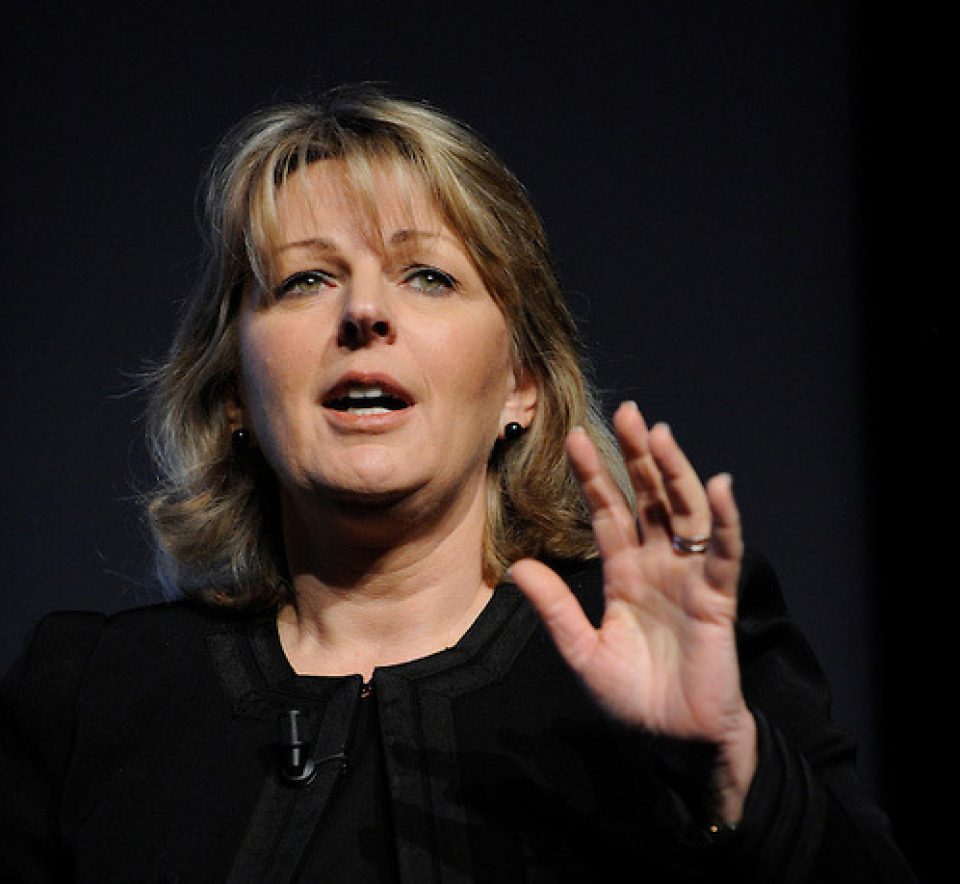 While not talking specifically about Brexit, it was clear that this was the over-riding issue behind many of her comments. She made the point that the UK is becoming less and less self-sufficient in terms of food supply, in a world that is ever more international, our level of self sufficiency having fallen from 78% to 62% in the same 10 year period that has seen world trade treble.
She told the audience that she was particularly keen to see the development of robust, cost-effective and reliable supply chains in UK food production but warned that, post Brexit, we are looking at even more competitive world than the one we trade in today.
Her advice in these challenging times? To be more competitive of course. But not through 'yield at any cost' but by increasing efficiency based on investing resources in three key areas.
By investing in innovation. By investing in access to more and better data. By investing in skills training.
She also advised the industry to work together to negotiate a 'Sector Deal' to allow agriculture to access some of the £6.7B of funds the Government has committed to supporting the changes it sees needed in its White Paper on Industrial Development. Her view being that there are funds available to help make the investments she feels are needed but we have to be smart and organised to get our fair share of them.
Her final point in closing was that the industry needs to be focussed on adding value to its output by differentiating it from competitor imported goods. And again she had three key areas where she thought added value could be created. By developing and promoting health benefits, by developing higher quality outputs perhaps better taste, better condition or better usability and by creating th systems and recording to provide robust 'source' credentials.
And before sitting down she left one final though that suggested that the things she is suggesting are not only not far fetched buttons a large degree already being done - just not by enough producers enough of the time. She closed by quoting that famous science fiction writer William Gibson trope ...
"The future is already here. Just not evenly distributed yet."
After luncheon Anna Baker Cresswell spoke briefly to introduce the Company and guests to HighGround an organisation the Worshipful Company of Farmers is steadily building a relationship with. HighGround, the speaker advised us, is a young charity, formed to assist in the transition from military to civilian life. With an aim to become - the leading organisation for the provision of land-based opportunities for all ex-military personnel and Reservists.
Service in the Armed Forces exposes personnel to working and living outdoors. The land-based employment sector offers an ever-increasing variety of opportunities for Service Leavers, Reservists and Veterans to use their transferable skills learned in the military to pursue jobs, careers and vocational opportunities and HighGround provides advice and Rural Weeks towards employment and fulfilment in civilian life.We are also proud to be providing a Horticultural Therapy service for patients at the Defence Medical Rehabilitation Centre at Headley Court.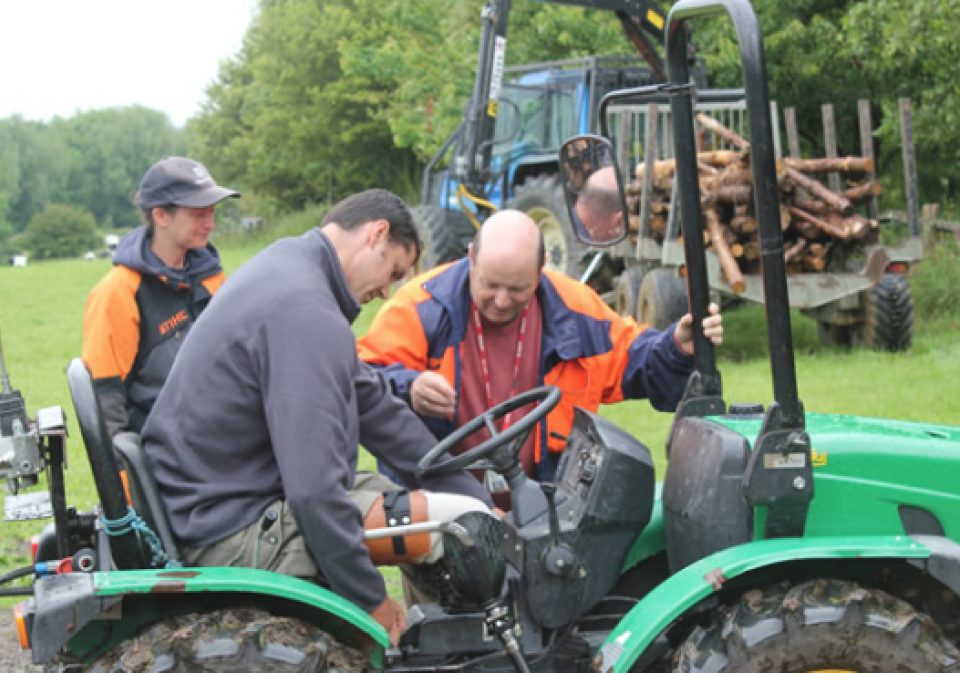 The clear link between HighGround's aims and our commitment to education and training makes it look like the kind of organisation we will be hearing a lot more about in coming months. For those interested in knowing a little more about HighGround you can download the 2016 Executive Summary here High Ground Executive Summary Final Nov 2016
The Master spoke last and thanked his speakers for their time and for the interesting content of their talks. He reported briefly on the progress of his year. Expressing delight at the success of the Banquet andadvising the Company that the ambitious target of filling the Plaisterers' Hall, the biggest Livery Hall in London, with over 300 attendees for the Agricultural Lecture and Dinner, had been all but achieved with just 8 places left to be sold.
He updated the Company on progress to develop an effective Alumni organisation with a meeting of interested alumni due to take place on Thursday 9th March chaired by Liveryman Richard Davies - more news of this was promised at subsequent meetings and via the April edition of there Company newsletter.
And perhaps most importantly of all, the Master reiterated the now established positioning of the Company as being focussed on Inspiring, encouraging and developing excellence in the management of UK Agriculture and said that at every opportunity he is reporting this to the outside world. He asked every Liveryman to try to do the same whenever they were asked about the purpose and aims of our wonderful Company. You will be seeing those words crop up on every piece of print, every issue of the newsletter and hopefully on the walls of the Hall and on every menu in future - so we should all get used to saying it.