Date: 28th February 2018
Start time: 5:30pm
Venue: Guildhall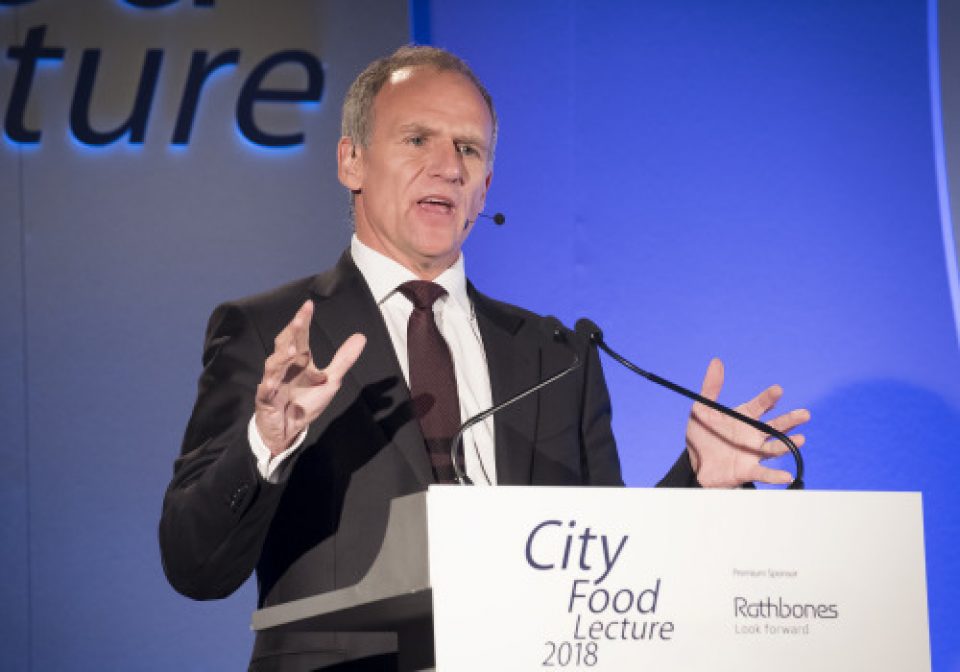 Tesco boss, Dave Lewis delivers the 2018 City Food Lecture
Liveryman Geoff Dodgson reports
Health, environment and affordability are three key drivers for Britain's leading grocer Tesco, according to its chief executive Dave Lewis in his 2018 City Food Lecture.
Mr Lewis made a strong link between food and health. Tesco has a five year deal with two major health charities to look to make a difference to the nation's health through improved diets. Over 4,000 product lines have been reformulated with the result that 94 billion calories have been removed.
Waste and packaging are also in his sights. In the past year, Tesco has donated some 35 million meals to charities using food that can no longer be sold. In addition, new farm contracts are helping ensure produce does not remain on farm and go to waste. And packaging is also coming under the spotlight as the grocer looks to respond to public demand to reduce non-recyclable packaging.
While not explicitly criticising past procurement practice, Mr Lewis highlighted improvements in the relationship between farmer and Tesco. A shift began in 2007 with the sustainable dairy group where farmers operate on cost plus contracts. In the past year, he claimed this had resulted in payments of almost £220million being paid to dairy farmers above the base milk price. Other related projects include the Future Farmer Foundation.
It was a landmark day for the food retail sector as before coming to the Guildhall to deliver his lecture Mr Lewis and past CFL lecturer Charles Wilson, CEO of Booker had – with the backing of shareholders completed the merger of their two businesses.
A lively debate followed involving AHDB Chairman Sir Peter Kendall, Grocer managing editor Julia Glotz, food marketing guru Prof David Hughes and chaired by Chris White, managing director of Fruitnet Media International.
HRH The Princess Royal, currently Master of the Worshipful Company of Fishmongers and past Master of both Farmers and Butchers Company brought the proceedings to a close.
An excellent supper was provided for delegates courtesy of The Clink Kitchens at HMP High Down.