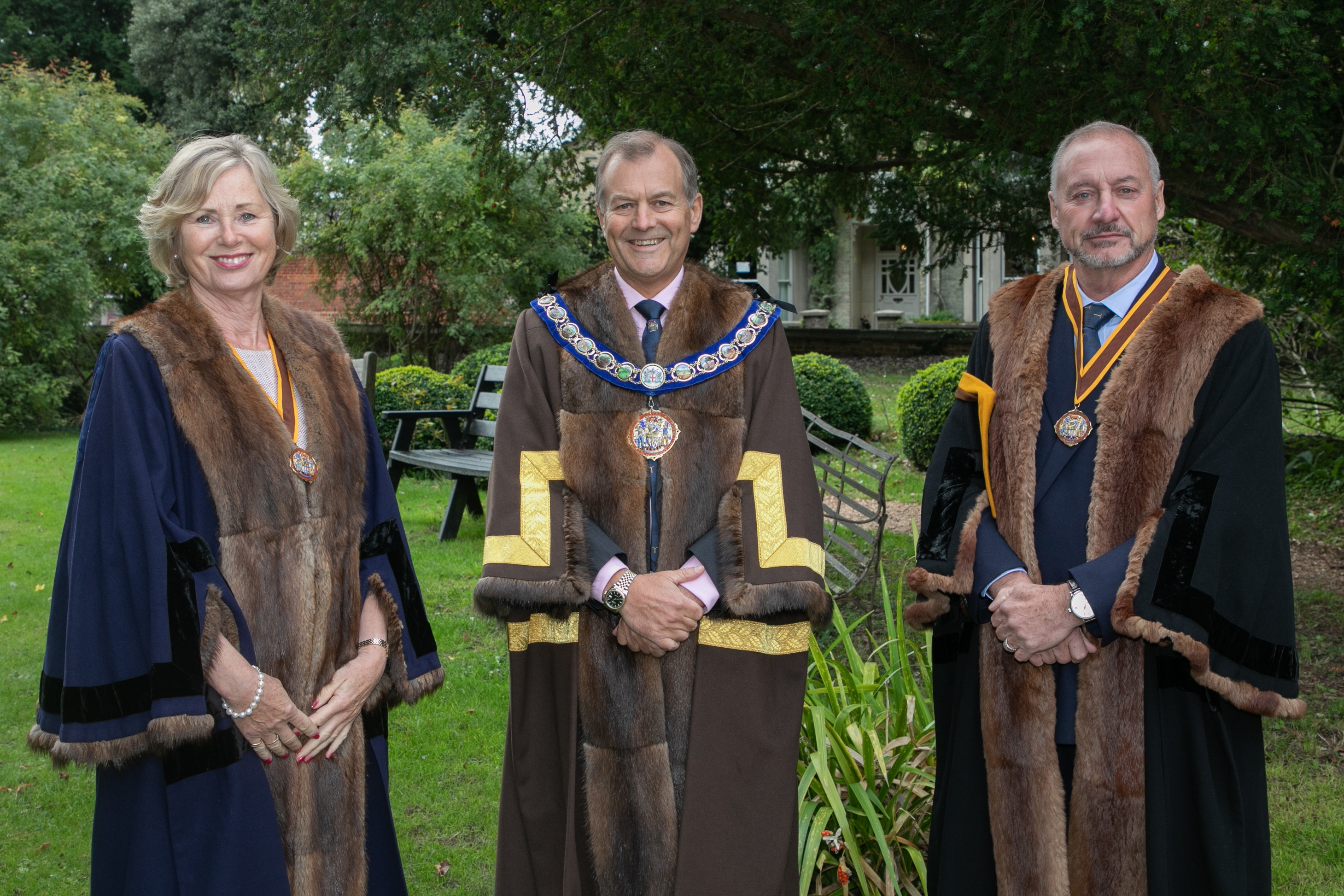 Governance
The Company is governed by a Court consisting of a Master, a Senior and a Junior Warden who are elected from the Court and between fifteen and twenty four Assistants. All members of the Court are elected from the Livery. The majority of the Court of Assistants must be engaged in the farming industry. Past Master Assistants, in descending order of time since passing the chair, leave the Court in turn.

The Clerk to the Company is responsible for carrying out the policies and instructions of the Court and for the efficient running of the Company involving the traditional work of a City Livery Company, servicing and attending Court Meetings and its principal Committees, organising Livery events and maintaining the Company's Administration and Accounts.
The following Honorary Officers of the Company are appointed annually by the Court:
The Honorary Solicitor
The Honorary Surveyor
The Master's Chaplain
The Honorary Archivist
Charity Co-Ordinator
There are four Company Stewards, appointed from amongst the Livery, to act as officials at Court and Livery lunches and also at social events.
Our Committee Structure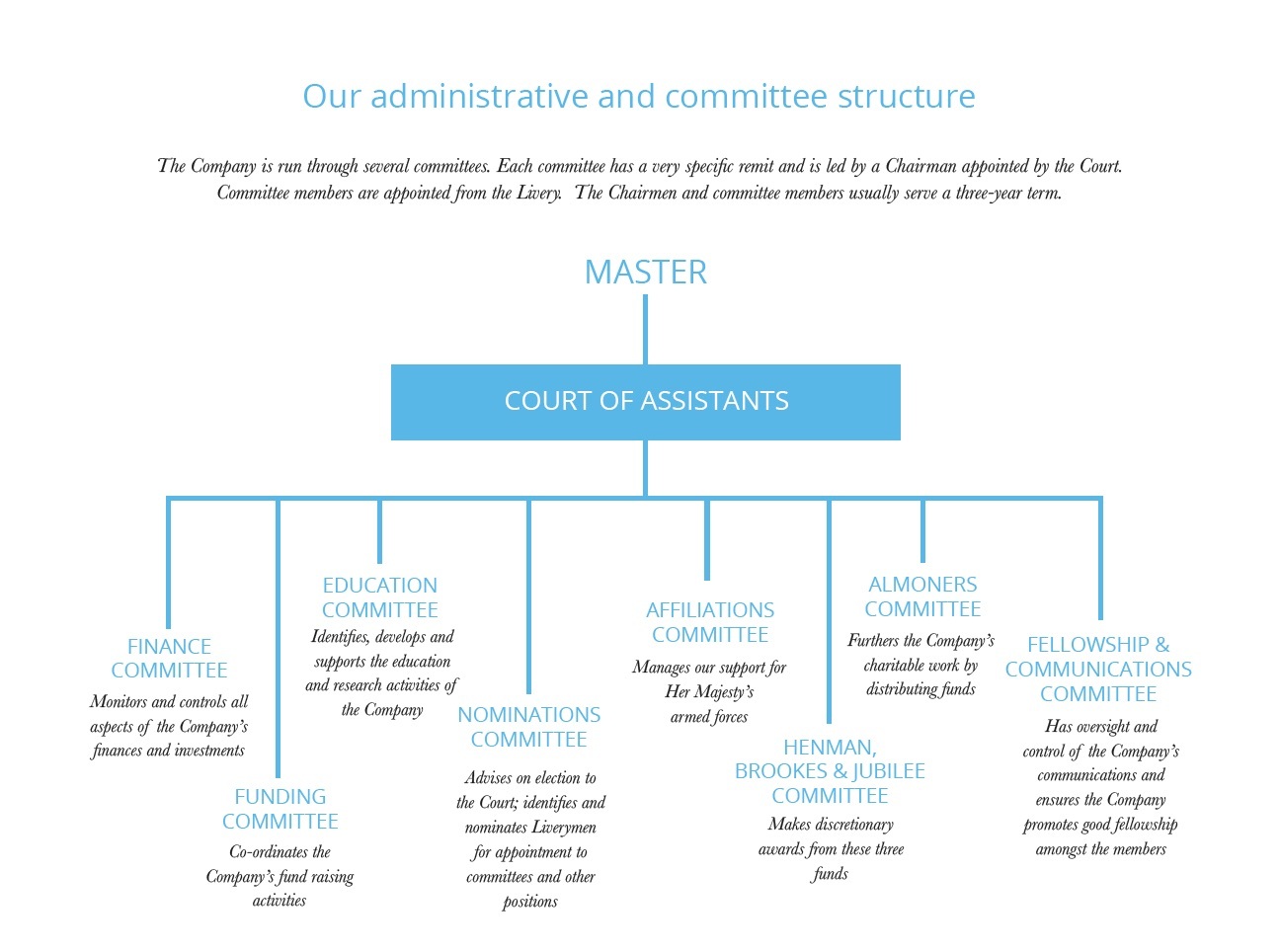 Officers for 2020/2021
The Master - R T Whitlock
The Senior Warden - Mrs K J Mercer
The Junior Warden - R E Davies
The Deputy Master - T H Wheatley-Hubbard
The Immediate Past Master - D J H Bolton
The Senior Past Master - J F Thorpe OBE
The Clerk - G E Bamford
Assistant Clerk - D H Couper
The Master's Chaplain - Reverend Geoff Dodgson
Company Stewards
C J Day
R T Halhead
P D Strawson
H D Wykes
The Court of Assistants
R T Whitlock - Master
Mrs K J Mercer- Senior Warden
R E Davies - Junior Warden
D J H Bolton - Immediate Past Master
J F Thorpe OBE - Senior Past Master
A J Alston - Past Master Assistant
T H Wheatley Hubbard - Past Master Assistant & Deputy Master
P G Wynn - Past Master Assistant
J A Sayers - Past Master Assistant
R E Anscombe
J Boomers
G L Brogden - Hon Surveyor
J G Burton
W R T Crane
J P G Finnis
M P HillMrs M I J Foster
M D Hall
M P Hill
A G A Lane
Mrs B Littler
N C Major
J S Peck
S P WatkinsP W Wiggins-Davies

Archivist
Mrs B Littler - Assistant
Charity Co-Ordinator
J.D. Heath
Honorary Surveyor
G L Brogden
Honorary Solicitor
D Sigournay
Website and Newsletter Editor
R E Davies - Junior Warden
Committee Lists 2020/2021
Master's Committee
R T Whitlock - Master, Chairman
Mrs K J Mercer - Senior Warden
R E Davies - Junior Warden
D J H Bolton - Immediate Past Master
A J Alston - Almoners Committee
W R T Crane - Finance Committee
G L Brogden - Funding Committee
Miss R S N Carne - Affiliations Committee
A G A Lane - Education Committee
J S Peck - Henman, Brooks, Jubilee Committee
M D Hall - Fellowship and Communications Committee
T H Wheatley-Hubbard - Nominations Committee, Deputy Master
Education Committee
A G A Lane - Chairman
S P Watkins - Vice Chairman (ACABM)
Ms R M Watkins - Vice Chairman (CRLC)
Prof Keith Goulding - Vice-Chairman (Research)
P C Bennett - Vice Chairman Cranfield
T A Copas - Past Master Assistant
R G B Parker
B A Parker MBE
Sir Bertie Ross KCVO
Hon C J O Wade
Mrs P A Wheatley-Hubbard
R J Willey
Finance Committee
W R T Crane - Chairman
M P Hill - Deputy Chairman
P G Wynn - Past Master
G W Allen
Dr G J Birch
J Boomars
R G C Cheveley
J Corbett
T M C Green DL
K S Jones
Investment Sub-Committee
W R T Crane - Chairman
M P Hill - Deputy Chairman
R G C Cheveley
Dr G J Birch
Mrs M I J Foster
T J Gibbons
Property Sub-Committee
G L Brogden - Chairman, Honorary Surveyor
P R Faulkner - Past Master Assistant
L R Hickish
K S Jones

Funding Committee
G L Brogden - Chairman
R E Anscombe - Vice Chairman
J Alston - Past Master
J D Heath - Charity Coordinator
P C Bennett
C R Percy
R M Sears
Fellowship and Communications Committee
M D Hall - Chairman
D J H Bolton - Immediate Past Master
A R W Bell
C J Day - Chairman of the WCFA
A I Blenkiron
J S Martin
Mrs H A Russell
H D Wykes

Henman, Brooks Apprentices/Jubilee Committee
J S Peck - Chairman
T H Wheatley-Hubbard - Past Master Assistant
J G Burton
A E J Fowler
N C Major
P D Strawson
P Wiggins-Davies
M F Young
Almoners Committee
A J Alston - Chairman, Past Master Assistant
J F Thorpe OBE - Senior Past Master
F D Balch
Rev Dr S J Burgess CBE DD
J D Heath - Charity Co-ordinator
J W Stanley
Affiliations Committee
Miss R S N Carne - Chairman and Immediate Past Master
Mrs M A Courtney - ATC
Mrs K E R Hall - Navy
G W J Turton - Army
P G Wynn - RAF

The Master and Wardens are ex officio members of all the above committees
Nominations Committee
T H Wheatley-Hubbard - Chairman, Deputy Master
D J H Bolton - Immediate Past Master
Miss R S N Carne - Past Master Assistant
A J Alston - Past Master Assistant
J A Sayers - Past Master Assistant
J F Thorpe OBE - Past Master Assistant
P G Wynn - Past master Assistant
WCF Trustee Company Limited
J A Sayers - Chairman, Past Master
G L Brogdon - Court Assistant
Baroness Byford DBE DL - Past Master
R L Jones - Independant Director
T J Russ - Liveryman

WCF Alumni Committee
C J Day - Chairman
M D Hall - Assistant
R E Davies - Assistant
C Anyan
R Milligan-Manby
H Parry
T Isaac
J Hunter
External Activity Representatives
Agricultural Leadership Group - R E Davies Junior Warden
Agrifoods Charity Partnership - S J Norris
City Food Lecture - R H Fell & G E Bamford
City University - W F Balch
Health & Wellbeing Initiative - J R Hume
Lord Mayor's Show - A I Blenkiron
National Federation of Young Farmers - P D Strawson
Nuffield - P W Wiggins-Davies
Surrey Docks Farm - B A Parker
WCF Alumni Association M D Hall & D H Couper (Assistant Clerk)