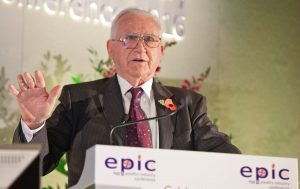 Turkeys are the dominant enterprise on our farm . Having always been intrigued by the 'City of London' joining the Poulterers Livery was therefore an attractive proposition. On passing the reins of the business over to son Paul [now a member of Court], and embarking on improving our beef breeding , it was natural that I should become a 'Farmers' Liveryman.
For many years now it has been a source of great pleasure. The camaraderie at meetings, the interesting neighbours at lunches, and the various outings organised by the company are all a real 'plus'.
Being way past retirement age there are no ambitions to work towards joining the Court, but an input is always possible by supporting the events. Supporting the Master's charity, and the building fund for the new Hall , have also been a source of satisfaction.
All in all, the day I was Clothed into the Livery was the start of many enjoyable years.